Review: Libertine, Freemans Bay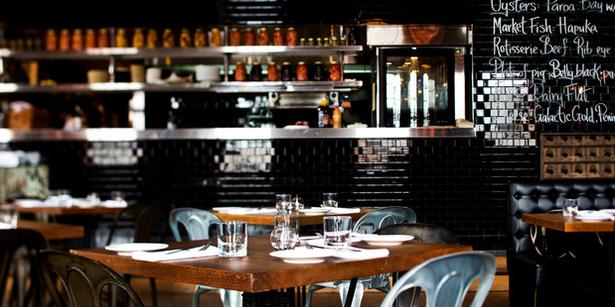 Wednesday July 16, 2014
Address:
 37 Drake St, Victoria Park Market, Freemans Bay
Phone:
 (09) 929 2790
Libertine.co.nz
Cuisine:
 Modern NZ
From the menu:
 Oxtail $18, Crayfish rice $22, Plate of pig $28, Rotisserie beef $32, Apple & quince $14, Cheesecake $14 
Drinks:
 Fully licensed
Rating:
 7/10
It takes more than a terrific chef to make a restaurant truly sing. Libertine is proof of that. Newly appointed chef Sean Marshall (Matterhorn, Roxy) is talented enough but an evening of eating out reaches beyond what our tastebuds experience. What we want, whether we're conscious of it or not, is coherence. From walking in and taking in the surrounds for the first time, to being welcomed, to the initial impression of the menu and onwards from there, we're hoping that everything stacks up to a solid impression of what a place is all about. Is it fine dining or more casual than that, a bistro perhaps? Or a bar with food, or a smart brasserie?
Though it's harder to be prescriptive with labels nowadays, our brains still need it to be something, and that something needs to appear unified. You get the impression at Libertine they haven't yet fully understood what it is they're trying to achieve and no one - or perhaps too many people - have connected the dots and settled on just one style.
The space is casual and a bit bar-like but, despite being cavernous, still manages to feel cosy enough on a winter's night.
The staff are upbeat and efficient. They know their stuff and don't hover unnecessarily. With the change of chef, they've given up on the Latin American bent the restaurant began with two years ago and Marshall has deemed his new menu a "bistro menu". It's not - the food is far more sophisticated than that.
A braised oxtail is finely crafted with gently smoked oysters, cauliflower thinly sliced and crisped as well as reduced to a smooth and heavenly dollop, the earthiness of a beet puree swinging the dish one way and an explosive shower of freshly grated horseradish the other. A bowl of wet crayfish risotto is intensely musky with grapes and verjuice rescuing the dish from being too rich, and pearly morsels of perfectly cooked crayfish meat scattered on the puddle of creamy rice.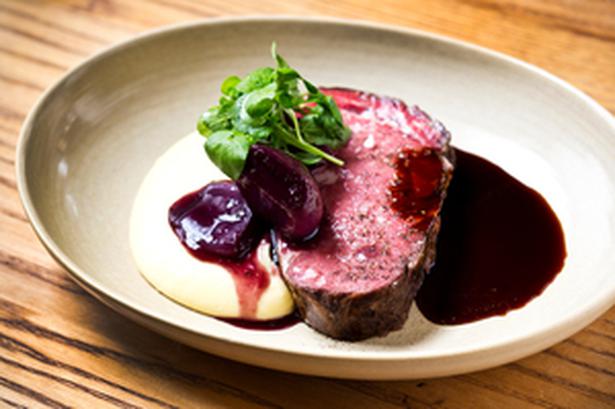 Pork belly is beautifully paired with dark pieces of quince and creamy parsnip and a pickled cabbage to cut through the intensity of the other ingredients. Pork skin is puffed to an impossibly crisp scratching and a slice of black pudding has us baying for more. But for all of this deliciousness and sophistication I envy the simplicity of the dish described plainly as "rotisserie beef" on the menu; a single thick piece of mattressy soft beef, carved from the larger fillet that has been rotisserie-cooked, with a sweet pile of braised red onions and a smooth duck fat mash that seemed gratuitous in the description but is incredible in flavour, and a simple salad of flat-leaf parsley and miner's lettuce.
This food makes sense of the surrounds - comfort food, prepared with finesse, but hearty nonetheless. The other dishes are unexpectedly complex, and I say "unexpected" not in deference to the reputation and skill of the chef but rather because they are at odds with what continues to present as a fairly informal eatery and bar.
From the menu it is difficult to predict what style a dish might take; will "fried chicken with mash and bacon gravy" turn out to be a bistro favourite or an intricate work of art on the plate? How about lamb rump with chickpea and aubergine - comfort or complicated? It is impossible to tell and I'm not sure that's a good thing - there's something jarring when the food doesn't match the vibe.
Still, the dinner is delicious and desserts don't disappoint either. A delicate baked cheesecake is silky beyond belief and the chips of pistachio and coffee flavours exquisite, but to have mandarin segments without the membranes removed seems at odds with the attention paid to the rest of the components on the plate. A creme brulee cleverly turned out of the dish before being torched and served with gorgeous fresh walnuts and poached quince set the seasonal scene perfectly.
Given the name Libertine, which refers to a form of free thinking, perhaps I'm being too strict in suggesting this, but they need to figure out what they stand for. Although the food is brilliant it's probably too formal for the environs and the expectation of diners anticipating either bar or bistro fare. So though I'd unreservedly recommend going to Libertine for dinner, don't ask me for what sort of occasion.
Share this: