Review: Loop Dining, Kingsland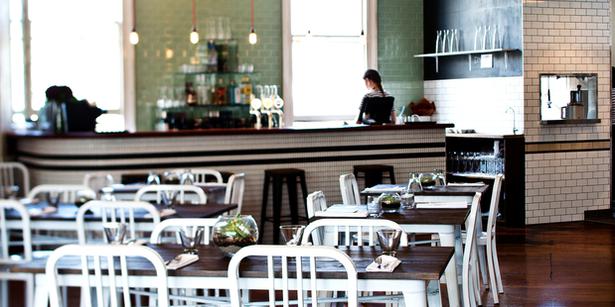 Wednesday April 16, 2014
Address: 462 New North Rd, Kingsland
Ph: (09) 849 4448
loopdining.co.nz
Cuisine: Modern
From the menu: Bacon & Eggs $14.50, Goat's Cheese Souffle $13.50, 24hr Daube of Beef $27, Roast Chicken Breast $26, Side of Vegetables $8.50, Bread & Butter Pudding $11, Coconut Mousse $11
Drinks: Fully licensed 
Rating: 6.5/10
We were happy with our find. A newly opened restaurant with a classic menu of entree, main and dessert. A light and airy dining room. The ability to book a table. We're in Kingsland but not as you know it.
Loop is a refreshing new beginning at the site Blunderbuss previously occupied and it's the first venture for three hopeful young owners - Scotland-born chef Craig Rodger (ex-Pyrenees in Remuera), his New Zealand wife Hailey Rodger, and her brother, Elliot Boock. They're standing behind a philosophy of sustainable, local, healthy and the rest, which they sum up as "food with thought".
We smile when the waitress informs us thus and we try to embrace it as though it's the first time we've heard of it.
The menu is strong on the classics - cheese souffle and daube of beef, terrine and even a waldorf salad - but there are abbreviations such as GF and V beside more than half of the dishes. Proof that Loop is in the loop when it comes to dietary trends among the healthy and wealthy right now, there's another one to come to grips with - LCHF. Low carb high fat, don't you know.
Crikey, it was enough to make me want to txt.
My first dish is designated LCHF and GF but it's the name, bacon + eggs, that tempts my taste buds. What arrives is a beautifully presented dish, refined and much more sophisticated than any acronym could do justice to.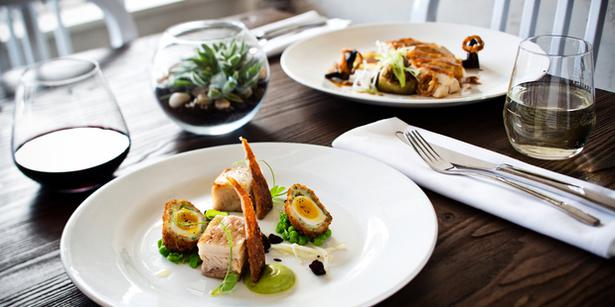 "Bacon" turns out to be squares of soft pork belly, and the eggs are soft-boiled quail eggs encased in chorizo and squid meat, scotch-egg style. There are peas, whole, pureed and the tendrils, triangles of crackling, and celeriac and apple salad, which is crisp and lively. Every mouthful is a treasure.
My dinner pal opts for a "V" option - goat's cheese souffle. The glaring issue with this dish is that the souffle - of the twice-cooked variety - hasn't had long enough in its second cooking so is barely warm and lacks the cheesy gooeyness and soft, airy texture that is imperative to this classic's appeal. Loop's version is cold in the centre and stiff.
Both of our main meals come dripping with signs of excellent classical training but with modern twists that have us lauding them as the stand-outs of our evening. A daube of beef, 24 hours in the cooking, is meltingly gelatinous and tender.
Serving it on an Asian-inspired spiced coconut emulsion, beautifully balanced with coriander and warming ginger, is a stroke of genius. So are the ribbons of cucumber, slivers of crisp, peppery radish and toasted peanuts that accompany it - together they lead this traditionally rich, dark and moody dish to an altogether more lively, fresh place.
A roast chicken breast is just as brilliantly well-crafted, the most perfectly cooked "roast chook" you can imagine. It was the taste of my childhood, back when chicken was a luxury, the treat I would choose for every birthday dinner.
Loop kitchen turns out a plateful of succulent leaves of breast meat, fanned out with crisp onions and soft leeks, sweetcorn puree and dark thigh meat, shredded from the bone and assembled in a pile, all of it drenched in a jus so comfortingly seasoned it makes me smile with memories of my nana's famous roasting pan gravy.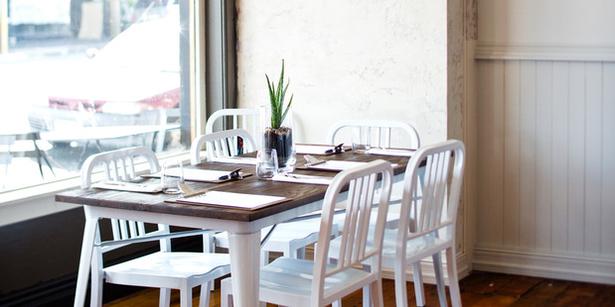 Oh, and by the way (BTW), both are GF.
The bread and butter pudding is most definitely not GF. The slices of house-baked bread-pinwheel are stodgy and dry and need gallons more sauce to render the pudding edible.
My dining pal didn't bother pretending to enjoy it and I sampled only a mouthful before going back to my own choice, a wildly refreshing and dazzling coconut mousse laced with the flavours of tropical mango and local passionfruit.
Chef Rodger clearly knows his craft and the niggles that thwart our evening will be ironed out with more weeks' trading under their belt I'm sure.
What is unquestionably obvious as I leave Loop is that I've eaten an entire meal - and plenty of it - that is innovative, and dishes that are accidentally, or incidentally, free from gluten. As a result, I feel completely satisfied and replete, without a scrap of that heavy feeling that can bring on diners' remorse. Now that's food for thought.
Share this: