Review: Mexico, Auckland CBD
Mexican street food is being served up at Mexico in Britomart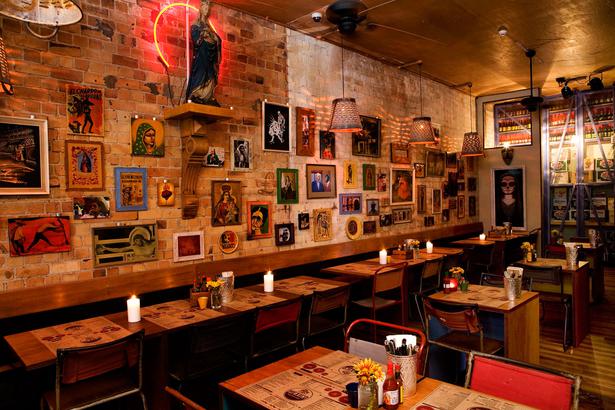 Friday Feb. 24, 2012
Address: 23 Britomart Place, City
Phone: (09) 366 1759
Cuisine: Mexican
Rating: 7/10
As the James Taylor song goes "oh Mexico, it sounds so simple I just gotta go" and that's what I thought when I heard that Mimi Gilmour and Warren Turnbull, of District Dining, had launched their latest venture and called it, Mexico, plain and simple. I flung myself into the colourful chaos of this buzzy new bar and eatery in the Kiwi Tavern building at the Britomart precinct, and was happy we'd gone early enough to get a seat, as it's already madly popular.
The interior is gorgeous. The dining space out back is secretive and rustic, just like the best of the old-man bars in Mexico, the walls cluttered with colourful Mexicana knick-knacks, Day of the Dead artwork, candles dripping wax and fans swishing lazily overhead in an attempt to move the sultry air.
Out front, the barman shakes up margaritas and pops caps off bottles of Mexican beer with reckless abandon.
It looks like they're following the trend set by the likes of Mamasita (Melbourne), Barrio Chino (Sydney) and others that are providing seriously fresh, street food-inspired Mexican cuisine whilst embracing the whole "tequila bar" concept, where the magical drink is given the respect it deserves by being sipped, not slammed.
The menu at Mexico reads "food and liquor", but with 20 choices of tequila and mezcal compared with only 17 food choices, I'd describe it as a food-oriented bar where you can get some fast eats with your drink, rather than the other way around.
We ordered widely because it's so cheap and because it all sounded so deliriously good that we wanted everything.
While the condensation streamed off our tumblers, we eyed the treats being ferried past our table and got excited.
Soon it would be our turn.
First to arrive was our corn cob - just the one. We both stared at it like a Mexican stand-off . Chop it in half? Not worth the scalding. Eat half each? Most things are good for sharing but gnawed corn cob is not one of them. The staff could have let us know and we'd have ordered one each. Despite the lime-chilli butter offering a serious jolt, it was disappointing. Serving it, husk and all may look cool, but the actual corn gets no benefit from the chargrill flavour-wise.
Moving right along. The fried chicken scored loads of points with us - crispy batter, succulent flesh and a searing hot chilli mayo brings this dish home. Thank you to the kitchen for being so brave with the seasoning - it's the only way to go. Equally spectacular, but for different reasons, was the quinoa and corn salad. Soft, cool and comforting, this grain-based salad with its sweet agave dressing was sheer pleasure for the mouth.
Alas, a pattern began to emerge with our food - we'd have perhaps two dishes that were fabulous, then the third would be boring. The prawn salad was pointless, with flaccid boiled (or just thawed?) prawns, laying limply on a chilli corn salad that was devoid of chilli and a mayo that had none of the trademark smokiness of chipotle. Then the soft shell taco and quesadilla appeared and we were back on a winning streak again. Well, almost. The choice to use flour, as opposed to corn, tortilla is a travesty. I hope it's a temporary supply issue and not a cost decision, because that would be unforgivable when you're laying claim to serving "authentic Mexican street food". Corn tortillas are the standard in Mexican cuisine.
But the fillings were tasty and fresh, dancing with the flavours of lime and coriander and in the case of the pulled pork, a wonderful pineapple and chilli salsa. The chicken quesadilla, served with a jar of smashed avocado and lime, put smiles on our faces as we merrily crunched our way through Mexico's version of a toasted sandwich.
I'd put in a late order for the red and green salsas and these arrived looking every bit the part, their vivid colours shining through their little glass serving jars. But looks can be deceiving. Neither had much flavour and this so concerned me that I returned the very next day to re-try them, hoping it had been a one-off. It hadn't. They were both as bland by daylight as they had been the night before.
Mexico has a lot going for it. Go if you want to have a fun and noisy encounter. Go if you appreciate top-quality tequila. Go if you want some cheap, lively snacks to go with your drinks. But what will have me running back there is if they'd make a few tweaks, even if it means some added pesos to the price, so that every dish is a genuine fiesta of flavour.
From the menu: Red and green salsa $6, guacamole $8, chicken quesadillas $8, soft shell tacos - skirt steak, grilled fish, pulled pork all $6 each, prawn salad $12, quinoa salad $10, fried chicken $14
Drinks: Great selection of tequila, Mexican beer, margaritas
Share this:
More Food & Drink / Dining Out