Restuarant Review: Miss Clawdy, North Wharf
This promising southern-style eatery is exactly what North Wharf needs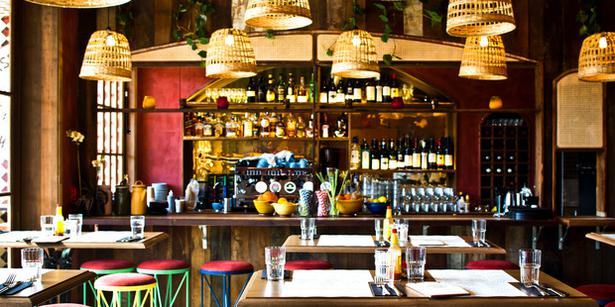 Thursday Sept. 5, 2013
Address: 12 Jellicoe St, North Wharf (base of new ASB building)
Phone: (09) 969 6986
Cuisine: South US & Central Americas
Rating: 8.5/10
Oh my, how I do love a pleasant surprise. When I heard a new eatery had opened down at North Wharf and that it was promising a lil' Southern magic, what sprang to mind first was my most recent visit to New Orleans where all I seemed to stumble upon was bland, sloppy grits, fried chicken and lashings of glossy, processed gravy, and don't even get me started on the gumbo - the biggest tourist trap of them all.
So I was thinking, really? Do we need this type of food in our town?
Arriving at Miss Clawdy, however, was like walking into a party that all your friends had been invited to and, after a hasty perusal of the menu and a peek at the open kitchen set-up, I started thinking Miss Clawdy might be exactly what this developing dining strip needs.
It is the brainchild of brothers Tom and Jeff Wiley who, with their father, Denis, have been responsible for Hammerheads, Sausalito and Squid Row.
It is less than two weeks since Miss Clawdy opened but there's no sign of awkwardness - the systems are set and the staff know what they're doing. The front of house team, who make colourful headscarves seem cool, may look cutesy but there's nothing scatterbrained about any of them; when my mother indicated she'd be drinking water only, I noted they made it their business to keep her glass topped up throughout the night. Any questions we fired at them about the menu were answered knowledgeably because, guess what, their training had included sampling every dish on the menu. Bravo.
Head chef Dan Simpson has dreamed up one of those menus from which you want to order everything, it sounds so good. He plays fast and loose with the soul food theme. In reality it spans Cajun, Creole and Mexican cuisine, with even a token nod to Cuban food. They're taking no risks with substandard ingredients, either - all chicken and pork is free range, not that they're making a big deal of it, but isn't it nice to read at the bottom of a menu, almost as an afterthought, that they've tended to this detail, too. Reassuring.
We began with an excellent guacamole - no superfluous extras like tomato thrown in - with thin, crispy 100 per cent corn chips. Scrumptious.
Next a plate of hushpuppies shushes us all right; gorgeous soft, doughy, deep-fried corn fritters with a tomato sauce that was spicy and oh so good. The po-boys - soft buns crammed with battered oysters in one and popcorn-crusted shrimp in the other with shredded iceberg lettuce and mayo - were better than any I've tried in their state of origin.
Then came the fried chicken with its fiery jerk sauce and, at first, I was disappointed with the portion size but then it occurred to me that's what's so fabulous about Miss Clawdy - it could be a food joint that tries to impress with quantity but it's not. It shows restraint and delivers quality.
By now you may be thinking, "lots of fried food, then?". Well, yes, but none of it was in the least bit greasy and next up were dishes that delighted us with their lightness.
A skirt steak is brilliantly rare and tender, served simply with a salsa verde. The pork ribs - of course there were ribs - were not doused in cloyingly sweet barbecue sauce. Instead, they were sticky with tangy balsamic and beer marinade, the meat soft and easy to slip off the bone. But the last of the savoury dishes was the biggest surprise of all - a snapper fillet served with cockles in a broth of heirloom tomatoes and chardonnay. It was sophisticated bistro fare, executed perfectly.
Miss Clawdy does the archetypal Southern desserts proud. A key lime pie is covered with torched meringue, the sweet burnt flavour mingling with the tartness beautifully. Warm beignets were showered in sugar and cinnamon and served with a generous bowl of butterscotch dipping sauce.
But it was the rhubarb and pear cobbler that really knocked me sideways. The cobbler, gluten-free, was made with rice flour and resembled the most delicate shortbread imaginable. The jug of rum eggnog that went with it was another marvellous touch.
Thank you, Miss Clawdy. Dining with you made us want to kick our heels up with joy. You're a true belle.
From the menu: Cajun hushpuppies $6, Guacamole & cornchips $7, Oyster po-boy $14, Popcorn shrimp $11, Balsamic & beer bbq pork ribs $13.50, Southern fried jerk chicken $14, Skirt steak $18, Snapper & cockles $19.50, Rhubarb & pear cobbler $10, Key lime meringue pie $10, Cinnamon beignets $10
Drinks: Fully licensed
Share this:
More Food & Drink / Dining Out