Review: Nishiki, Freemans Bay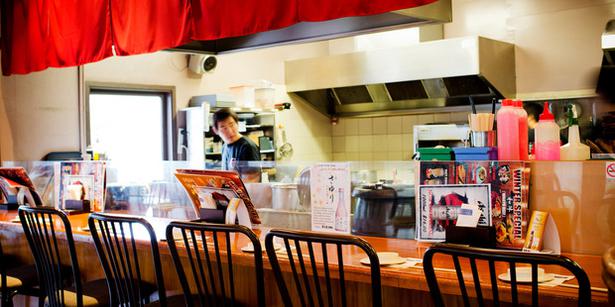 Friday Aug. 3, 2012
Address: 100 Wellington St, Freemans Bay
Phone: (09) 376 7104
Web: nishiki.co.nz
Cuisine: Japanese
Rating: 7.5/10
Confession: since moving to Freemans Bay recently, I have been to Nishiki every week. And it's not just the walking distance from home that has had me returning, again and again ... Nishiki is the type of place that quickly engenders affection. The decor may be a bit worn, a little tired, but this you hardly notice as the mood is always vibrant, starting with the calls of welcome in Japanese from the staff as you enter and enhanced by the near-full capacity of obviously happy diners each night.
Even with huge laminated menus with pictures beside descriptions, our initiation on how to go about ordering was boggling. Nishiki is a robatayaki bar - robatayaki meaning grilled food, mainly on sticks - but there's much more besides. It's a style best suited to sharing, Japanese tapas if you will. You are forewarned that "we try our best to deliver your meals without too much delay, however, there may be some occasions when the kitchen is very busy and it takes some time for your meals to be prepared".
On a busy Saturday night there were four of us and we were all famished. Which probably accounted for our rash of choices, perhaps thinking the more we ordered the better the chance of something turning up quickly. We needn't have worried because soon there wasn't an inch of table space spare.
First up, the "cheese fry"; deep-fried camembert bits served with a decorative squirt of tomato sauce (Watties was our guess). So far, not so Japanese. But deep-fried cheese? Hard not to like. Lovely warm salted edamame beans were hastily popped. Then out came skewers of okra wrapped in bacon which were smoky and delicious, same with the beautifully seasoned grilled pork belly skewers. Our sashimi platter took a little longer to arrive and one of our party decreed that this speciality is the litmus test for good Japanese food. This one passed with flying colours - beautiful cuts of smooth, fresh fish served with shredded white radish, wasabi and soy sauce.
I am sure all Nishiki regulars have a must-have and for us it's the tuna tataki - lightly grilled pieces of tuna sashimi served with tomatoes and avocado pieces and the most heavenly sweet onion and soy sauce. This and the green salad - shredded cabbage and other leafy greens doused in a special Nishiki dressing with that mysteriously moreish umami flavour - can't be done without. The salmon tataki too, with its citrus garlic soy sauce and, interestingly, dollop of sour cream, is lovely, light and flavoursome.
The gyoza and vege tempura were not especially impressive examples but that's not to say they weren't readily devoured. They were possibly just not as memorable as, say, the miso dengagu - deep-fried tofu with a light crunch on the outside giving way to a oozy stickiness and silky interior, served with a mildly sweet miso sauce and topped off with the crunch of shredded spring onion. Divine.
We were all looking forward to the ika maruyaki - grilled whole squid with a ginger soy sauce - and while we were delighted with the cooking of the squid, so very tender, it would've been nice to have tasted the ginger. A choice that exceeded expectations was the imomochi - a deep-fried potato cake with sweet sauce and butter. Creamy and comforting. By the time the negi-cha arrived - Japanese style BBQ pork, which seemed like slices of roast pork to me - we were starting to slow down. Sadly, the last dish to arrive, the grilled chicken thigh skewers with wasabi mayonnaise, was a slight disappointment - they were excessively fatty and verged on being undercooked. To finish with a bang, the decision was made to plough on with some shared desserts, forgoing the Japanese flavoured icecreams in favour of more deep-fried things - bananas served with cream and icecream and a fried apple cinnamon roll. Both were as expected - sinfully nice - although fresh cream would have upped the standard.
The extra dry house sake, warmed to counter the winter evening, accompanied our feast. There are many other options of this Japanese fermented rice wine and suggested food matches for each, which might be a nice way to narrow down dishes for a future visit. And we will be back. Because although the staff seem a little harried at times with the constant flow of diners, the experience is still an enticing one - so many choices, so many delightful flavours and all at reasonable prices. For a casual neighbourhood eatery, it doesn't get much better.
From the menu: Cheese fry $6.50, edamame beans $6, okura bacon $4.50, buta kushi (grilled pork belly skewers) $4.50, large sashimi $33, maguro (tuna) tataki $12.50, green salad $7, salmon tataki $12.50, gyoza (fried dumplings) $7, vege tempura $8, miso dengaku (deep-fried tofu) $9, ika maruyaki (grilled squid) $13, imomochi (deep-fried potato cake) $5, negi-cha (barbecue pork) $8, tori wasabi mayo (chicken thigh skewers) $4.50, banana boat $6.50, apple cinnamon roll $6.50.
Drinks: Large extra dry house sake $10
Share this:
More Food & Drink / Dining Out