Review: Orphans Kitchen, Ponsonby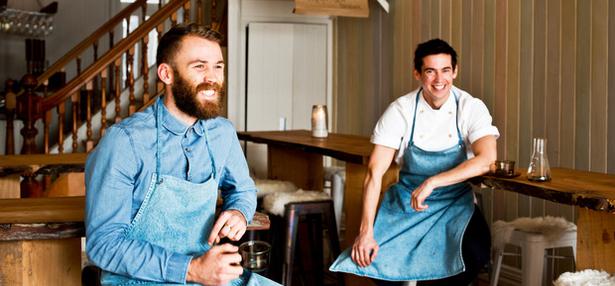 Tuesday Aug. 20, 2013
Address: 118 Ponsonby Rd, Ponsonby
Phone: (09) 378 7979
Cuisine: Modern NZ
Rating: 8/10
I held fond memories of the address I was headed to - it had seen the fabulously popular bar and eatery Stella in the 90s and the cosy bistro Ella for the past five years before being sold last year. Now new owners, chef Tom Hishon (ex-Clooney and The Hamptons) and Joshua Helm, are starting afresh with their Orphans Kitchen.
The walls have been stripped and painted with a pale palette, thin-planed slabs of fresh macrocarpa form high tables and the overall look is brighter and fresher than before. It's a little bit quirky, too, with the stools draped in cute little sheepskins and an overhead projector displaying the menu on one wall. An upstairs dining room looks perfect for a dinner party and there are plans for courtyard seating out the back. I'm hoping they'll follow the trend with rooftops overseas and plant a garden up there.
Co-owner Joshua works front of house and his knowledge and love of wine shines through in a tight, independent wine list that includes "bin end" surprises.
The menu is exciting with enticing choices such as sardines and burned mandarin, merino lamb and feijoa tortilla and even a good old boil-up.
The reason for using cheaper, less commonly used cuts is two-fold: prices can be kept low and the chef has to work more creatively to achieve divine results. To start with, we're served warm, house-made ciabatta with beautifully soft butter in that irresistible butterscotch, beurre noir-style.
Next I surprise myself by relishing a dish that has as its hero an ingredient I have long detested - brussels sprouts. But this was a plateful of pure pleasure - delicate lime green cups are filled with soft and tangy goat's cheese and shallot jam is dotted about to give bursts of sweetness.
The salmon has been smoked in-house and you can tell - its smokiness is just as I remember from when my father hauled the trout from the smoker: slightly bitter but mostly sweet with the brown sugar he'd doused it in. Our third shared dish is two handmade masa flour tortillas, thin, moist and tender, with a mouth-watering filling of slow-cooked merino lamb and feijoa, topped with a tart sheep's yoghurt.
Our mains are inventive and intriguing, yet approachable in every way. A huge hapuka wing is crispy on the outside, moist and tasty as we dig deeper.
Its pairing with a walnut paste works well, though I am less convinced by the cauliflower, prepared two ways. It was too weak to stand up to the fish.
The wild boar boil-up is an example of this national treasure of a dish. In a richly flavoured stock lies a piece of soft, brined and braised razorback pork cheek, a neat square of tasty terrine, as well as the trotter, and doughboys made from spelt and blood sausage. Puha and kumara are in there too and it is a one-bowl wonder.
When our desserts arrive I can only sit back in wide-eyed wonder at their presentation. The "banoffee" is a white snow-like creation made of slivers of fresh coconut, banana, dehydrated coconut milk and dulce de leche. It is immensely beautiful to look at and who can go past the deliciousness of caramelised sweetened condensed milk?
The other sweet pairs two ingredients born to go together, tamarillo and chocolate, in another visually stunning effort. Tamarillos are poached in sugar and black cardamom syrup, and 70 per cent Valrhona chocolate has been transformed to a smooth ganache, a dark glossy spoonful of which sits alongside the fruit. The pool of viscous syrup is freckled with chia seeds and each spoonful is sublime.
Orphans Kitchen is all new, yet still feels like your favourite local. This will be one of the shining lights in the bevy of new openings on Ponsonby Rd this year.
From the menu: Merino lamb tortilla $15, smoked salmon $15, goat's curd and brussels sprout cups $15, wild boar boil-up $25, roasted hapuka wing $25, side of yams $6, banoffee $13, tamarillo and chocolate $13.
Drinks: Fully licensed, some great "bin end" wines
Share this:
More Food & Drink / Dining Out