Review: Ostro, Britomart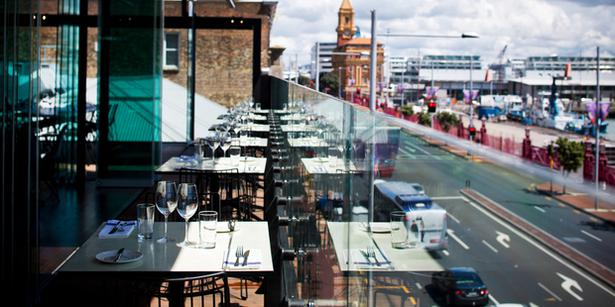 Wednesday Nov. 20, 2013
Address: Seafarers Building, Level Two, 52 Tyler St, Britomart
Phone: (09) 280 3789
Cuisine: Brasserie style
From the menu: Stecca bread $9, Yellowfin tuna $18, Ox tongue two ways $16, Duck agnolotti $21, Pork belly pie $28, Tarakihi $33, Bombe alaska $15, Rum babas $15
Drinks: Fully licensed
Rating: 9/10
"What is Ostro like?" a friend asked in passing. I began to babble: "It's like nothing else and it's like everything else, only better, like the best of everything Auckland has to offer.
"You have front row seats to a working wharf, it's like the best parking lot ever; huge container ships pull up right outside your window and the vacant watery spaces between each ship look like massive swim- ming pools for the rich and glamorous.
The atmosphere reminds you of a time when Auckland was booming, heck, like when the whole world was getting ahead of itself, there's a decent din going on but you can still hear yourself think and everything bubbles along amicably, just like a good brasserie should. The fun factor is palpable and the food is typical of Josh Emett's style - easy to understand and utterly spectacular."
I took a breath and only then did I notice the smirk from my friend. "I know, we've been - isn't it fabulous?"
And it is. The newest addition to Britomart, situated two levels up in the old Seafarers Building, is the work of the same group who brought us Tyler St Garage, Fukuko and Ebisu and they're joined by an extremely switched-on team of industry professionals who've been lured from other enviable eateries and bars in Auckland and Wellington.
With two outdoor terraces poised for the bustling summer months, and a bar and dining room the proportions of which it seems we haven't seen for decades, Ostro looks set to become a monster operation. Big and beautiful.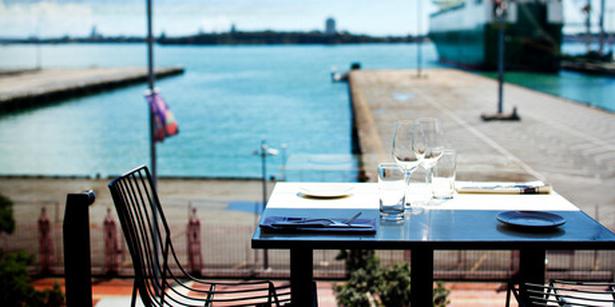 The menu, printed on one side with a maritime chart, is a reminder of the original use of the space. On the other side, you come face-to-face with the creations of food director Emett and executive chef Cobus Klopper, both of whom we can see working in the open kitchen on our visit.
There's a raw bar with tuatua, oysters, crayfish and more, but we head straight for the ox-tongue done two ways. We alternate between smearing tangy sauce gribiche and popping sharp cornichons on thin strips of soft meat, and on squares of breaded and fried tongue. Delight far outweighs any squeamishness.
Then comes a plateful of tender agnolotti pasta stuffed with braised duck and sprigs of thyme, with sweet musky parsnip and thin leaves of pickled pear to top it off. A dish of small rounds of seared tuna is pretty with its vivid green peas and their cheeky tendrils. This eats incredibly well, with wasabi mayonnaise and karengo melding deliciously with the melting tuna. We could happily have eaten it all over again.
A main dish reflected Emett's love of pies with a pithivier brimming with a filling of caramelised pork belly and apple, served with a radicchio salad that was perfectly bitter to cut through the richness of the pie. A tarakihi fillet was dressed up with candied grapes and fennel, fresh and pureed, and almonds, making for a simple dish that did justice to each and every ingredient.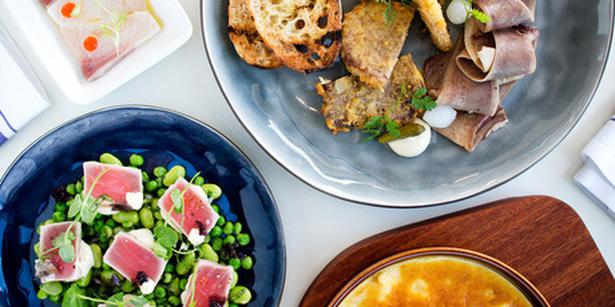 Puddings proved problematic, in that we were already well-satiated, but the list presented us with so many of our favourites that we couldn't bear to miss out - bombe alaska, brandy snaps, eton mess, rum baba, mousse, even doughnuts - but it was also impossible to choose.
In an unprecedented move (puddings are surely a deeply personal choice) we left it up to the young, super-talented Jie Min Aw, Ostro's pastry chef, to decide on our behalf. What arrived was this: a bombe alaska that was a triumph of flavour and mouthfeel with layers of creamy, citrusy mascarpone, heavenly cold ice cream, a whisper of sponge, all coated in a layer of delicately singed sweet meringue.
Plus rum babas, two cute mounds which were soft as pillows, made even more wonderful by being drenched in syrupy liquor and served with caramelised pineapple compote. Consider these two 80s dinner party hits officially revived.
As our meal came to a close we talked about how it had begun - with stecca bread served warm with butter flecked with seaweed and whipped until it's so soft it practically spreads itself.
It immediately puts you in the right mood for what's to come - food prepared with enormous amounts of casual flair and served in an environment that is the antithesis of neighbourhood dining, yet still manages to feel every bit as familiar and charming. Brilliant.
Share this:
More Food & Drink / Dining Out