Review: Pok Pok, K Rd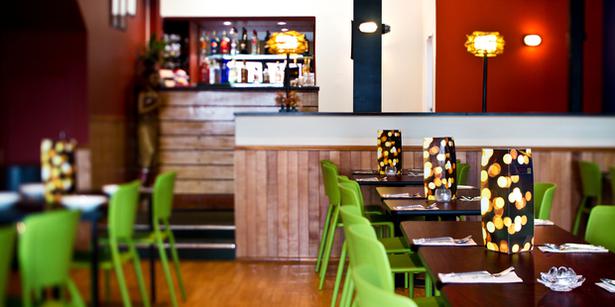 Friday March 21, 2014
Address: 261 K Rd, Auckland
Phone: (09) 963 9987
Cuisine: Thai
From the menu: Crispy duck spring roll $8, Coconut soft shell crab $9, Pork skewer $8, Miang of seared tuna $8, Isaan Laab $16, Massamun goat curry $20, Thai tea cheesecake $12, Coconut panna cotta $12
Drinks: Fully licensed
Rating: 7.5/10
I literally gulped when I walked into Pok Pok, thinking I'd made a terrible mistake in selecting this unobtrusive restaurant as our dining destination. Sure, it was mid-week, but there wasn't another soul in the place and for a good few minutes no staff appeared either. Canteen-like decor mocked me, as did the waving cat, and I weighed up whether I had time to change my mind before my friends arrived.
But then Alex appeared and everything changed. He's the affable manager of this Thai restaurant and, before I knew it, the friends had arrived, we were settled in, drinks were flowing and we were scrambling to make up our minds from the small, comparatively speaking, menu of owner and chef Max Yangkongkaew - it held the hope of a cuisine that has always excited me, with its wicked attention to texture and flavour. It was all there - laab, massamun, miang, fried chicken, spicy salads and more and I had an inkling from the way the menu was written that Pok Pok just might deliver on its promise of authentic Thai cuisine with a difference.
Soon our table was covered with dish after dish of the most glorious looking food and we dug in like there was no tomorrow.
There was crispy soft-shell crab topped with a pile of shredded vegetables and pungent herbs that dripped with a citrusy coconut dressing - every mouthful was a flavour pop; grilled pork skewers, which can be so ordinary, elevated by a roasted chilli and tamarind dipping sauce that was sweet and punchy and, I swear, in my mind I travelled back to a ferry crossing in Thailand, made all the more delicious by the skewers peddled from a grill set up on the back of a flat-deck truck. Food that can evoke such memories is a real find in our city.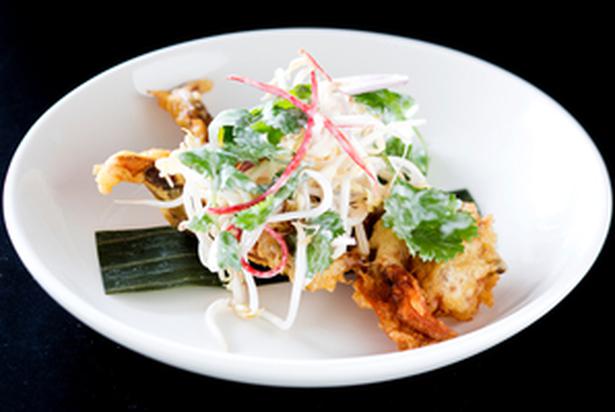 In another dish, minced pork is smashed together with lemongrass, lime leaves and roasted ground rice in a laab that is alive with the ping of fish sauce, lime juice and fresh and charred chillies, and ample slivers of red onions.
Lettuce leaves are the wrappers for a typical Thai snack, called miang, with a salad filling of fresh julienned ginger, lemongrass, bean shoots, freshly fried crispy shallots and more, all bound with a perfectly balanced sweet and tangy nam jim dressing. But the canned tuna used in this dish is nothing short of a travesty, given the menu description of "seared tuna". We laughed, though, that the staff were defiantly honest when we enquired what sort of tuna was used. "The one in water," was the reply!
This dish would be off-the-Richter-scale good if indeed they did use seared tuna.
A goat massaman curry is filled with the fragrant and grounding flavours of cassia and bay, the chunks of meat are soft and tender and drenched in a thin, spicy gravy. It is a dish of pure comfort. There's no toning down the green papaya salad at Pok Pok and we appreciated every hit of chilli and every sour note that teased and torched our taste buds.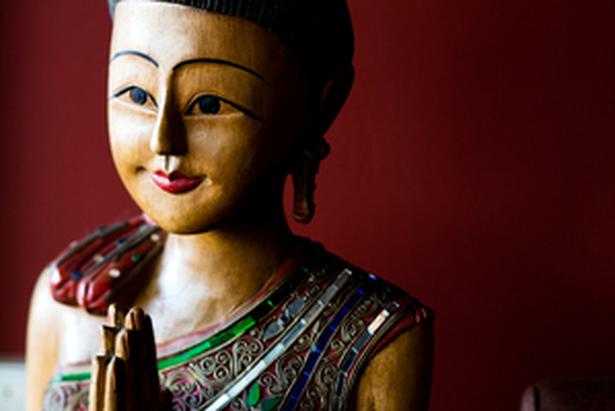 Puddings? I'm never overly hopeful when I'm out eating Thai food that desserts will stack up to anything much but I strongly encourage you give them a crack at Pok Pok. The Thai tea cheesecake was brilliantly weird and inexplicably delicious too, but teas can be like that when used as an ingredient - elusive, neutral, a faint flavour that almost isn't there if that makes sense.
I'd heard that the black sticky rice pudding with coconut icecream at Pok Pok is legendary, but despite ordering it, the kitchen delivered us a coconut panna cotta instead. For a millisecond we mistook the boysenberries on top for black rice and dug in, but then it was too late, we were smitten by its cool, silky quality and couldn't be bothered pointing out the mistake. Besides, there's always next time to try the black rice.
As we dined, the restaurant filled up with happy regulars who had already discovered that, although Pok Pok may be named after the soft, rhythmic beat of a mortar and pestle, there's nothing gentle or stand-offish about the flavours at this Thai restaurant.
Pok Pok rocks.
Share this:

More Food & Drink / Dining Out