Review: Satya, Mt Eden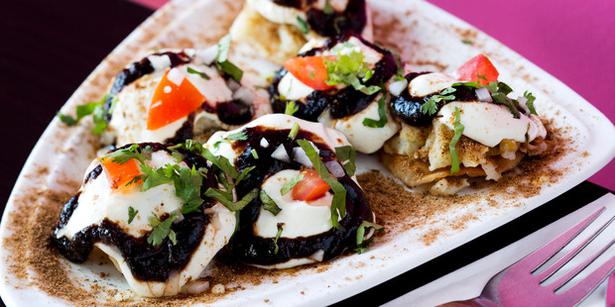 Wednesday May 15, 2013
Address: 57 Mt Eden Rd, Mt Eden
Phone: (09) 551 1000
Cuisine: South Indian
Rating: 7/10
Indian food. Is it too harsh to say that it hardly sets the world on fire these days, such are the number of mediocre choices for this cuisine in our city? Yet it seems like only yesterday that a friend was raving to me about a tiny, informal Indian restaurant he'd discovered in Hobson St that was dazzlingly different with "food so fresh and zingy, with none of the usual overload of creamy gravies".
The restaurant in question was the very first branch of Satya and that conversation took place nearly a decade ago. No sooner had I been given that tip-off - and made it my go-to eatery for when I wanted to impress people with Indian food that was delightfully different, with curries that were lighter than the usual cashew-gravy laden variety we'd become tired of - than they had to vacate their premises. Thankfully the owners, Swamy and Padmaja Akuthota, had bigger plans and there are now four different Satya restaurants in Auckland, in Sandringham, Ponsonby, K Rd and their Mt Eden branch, which was the last to open in 2011.
This branch of Satya, situated in an original two-storey historic building, feels slightly more upmarket than the rest but still the decor is neither here nor there and that's okay, that's not what you come for.
It's the food.
I don't muck around when it comes to ordering Indian food - the leftovers are always a treat - so even though we were only two, over-ordering was obligatory to sample a range of dishes. The menu was daunting though, and our hunger threatened to take over, so I ordered a snack to start: dahi puri. These two little words bring the most amount of pleasure you can imagine to begin a meal with.
At Satya these popular street snacks arrived lined up like snowy peaks; crispy wheat shells topped with a mix of chickpeas and soft cubes of spiced potato with a generous dollop of creamy yoghurt, a dark and tangy shot of tamarind chutney and dusted with dry spices. The mix of texture and flavour collided with each mouthful and we adored them.
We were happy sipping our Kingfisher beer and letting the gentle breeze wipe some of the humidity from our brows while we waited for the onslaught of ginger chicken, chepa (fish) curry, dal thalimpu, chickpea curry and yet another chicken curry, this one with the bone in.
As the dishes began to arrive, so did the memories of travelling and eating in the south of India, where spices and coconut oil rule the palate profile. A fish curry was light and littered with curry leaves, mustard seeds and tomato and benefited from not being laden with coconut milk. A bone-in chicken curry had us sucking the bones for every last turmeric-stained morsel while the ginger chicken curry was hot and tangy with fresh ginger and tomatoes, and the cubes of chicken breast meat succulent. Chickpeas were rendered soft and moreish in a curry thick with soft, sweet onions and tomato gravy; lentils the same in the beautiful dal thalimpu. The food at Satya never lets you down. Fresh and lively, the flavours bounce around madly and each dish tastes distinct from the rest. If Satya suffers from anything, it is that there are too many dishes to choose from.
Confronted with such an overwhelming number of options from which to put together your feast, the staff aren't very forthcoming in making recommendations other than encouraging diners towards the "most popular".
I'd be interested with a model that saw a more limited daily menu offered with advice on which dishes might complement each other.
We ordered the whole gamut of condiments - sweet and hot pickles, cooling cucumber and yoghurt, sour tamarind chutney, crispy pea flour-based papadams.
I regretted not ordering paratha as these soft, flaky flatbreads are the more common staple in the south, used to scoop food from plate to mouth, but our papadams were a more health-conscious choice.
Of course we spoilt this decision by enjoying a plateful of warm, syrup-soaked deep-fried sweet dumplings, gulab jamon, to accompany our marvellous aromatic masala chai, but there you go - one must have priorities.
Satya continues to offer humble, well-layered fare reflective of the southern region of India. As a result the experience is refreshing and invigorating.
From the menu: Dahi puri $9.95, Dal thalimpu $10.95, Channa masala $14.95, Ginger chicken $13.95, Chepa curry $22.95, Satya special chicken curry $21.95, Papadam 95c, Gulab jamon $5.95
Drinks: Fully licensed
Share this:
More Food & Drink / Dining Out