Review: The Cav, Freeman's Bay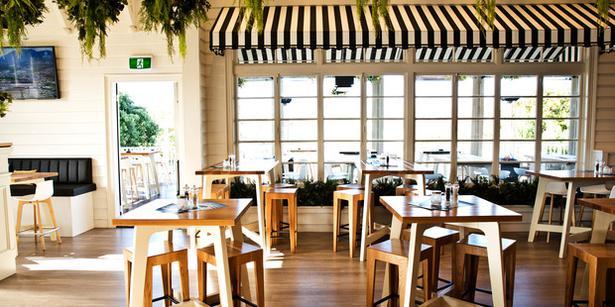 Wednesday June 18, 2014
Address: 68 College Hill, Ponsonby
Phone: (09) 376 4230
Cuisine: Upmarket pub food
From the menu: Soups; Seafood chowder, French onion, Moroccan cauliflower — all $9.50, Kids' meals; Yum yum sushi train $12.50, Monster burger $12.50, Southern fried chicken $15, Calamari $13.50, Curly fries $9.50, 1866 burger $22.50, Jimmy Noodle $22.50, Fish n chips $27.50, Ribs $29.50, Creme brulee $12.50, Cinnamon churros $12.50
Drinks: Fully licensed
Rating: 8/10
Woah, hang on a minute. This isn't the old sports bar on College Hill that I was expecting. The refurbishment of the former Cavalier Tavern, that well-loved Freeman's Bay establishment, is complete and The Cav, as the new owners have ingeniously called it, is looking prim and polished and thoroughly pleasant.
Huge vases spill over with flower arrangements, pale timber tabletops and white seats look slick and fresh while lush greenery cascades from hanging baskets, softening the space tremendously. Even the veranda, with its comfortable white wicker armchairs, manages to look cosy on a rainy evening.
After his recent and decent stint at Euro, executive chef and part owner Eugene Hamilton ought to know a thing or two about creating smart casual food. And he does. Once the food begins to arrive, the pleading begins from the under-12s: "Give them 10 out of 10, Nici," they implore, but they know the drill; I steal bites for quality control, chew, take another to check, chew, yes, good, very good.
Both children wolf down their meals, coleslaw, veges and all - The Cav understands young appetites. For starters, their food section is headed up "Feed the Shrimps" on the menu and meals are called "worms and dirt", "yum yum sushi train" and "chikka chikka wah wah", which has the kids in fits of giggles and puts them in a good mood for tucking in.
It's raining so confidently outside that it's a night for soups and the adults in our large group try three of the five on offer a seafood chowder has balance and finesse and isn't stuffed with cheap seafood, a French onion is the real thing, though we miss the cheese crouton.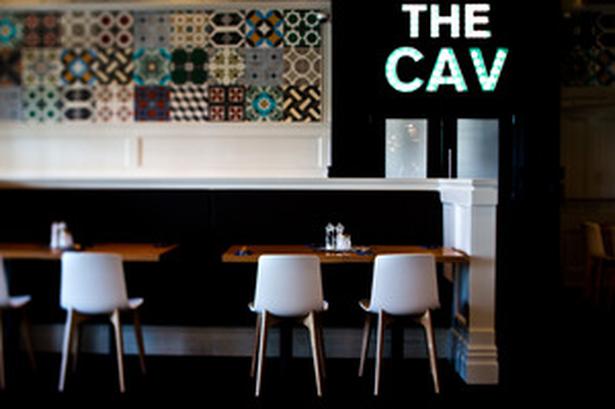 Moroccan cauliflower soup is billed as having coconut as a main ingredient, which I scoff at, but after a few slurps I concede it's fantastic, packed with exotic spices. We share plates of spicy southern fried chicken, calamari popcorn and house-made curly fries, but I have my sights set on the main courses - will they stack up to the "unrivalled cuisine" The Cav promises?
Though I'd love to tuck into a pulled pork brioche or tuna melt, I somehow get all sensible during the ordering frenzy, so I find myself confronted with a plate of Jimmy Noodle - a rare beef and rice noodle salad. Punchy, sweet, tangy, sour, crunchy, it is alive with herbs, sweetened with mango and grounded with cashews, and I would happily return to The Cav for this dish alone.
The others are tackling the 1866 burger with no complaints, a plate of Harmony free-range pork ribs which, when one is slung my way, prove deliciously smoky, and I am delighted to find the barbecue sauce escapes being cloyingly sweet. Both the soft shell fish tacos and the fish and chips, though tasty enough, suffer mildly in that the fish is coated in a too-doughy batter.
No one but the kids needs dessert (yeah right, blame them) so we share a creme brulee and churros. Hamilton serves the creme brulee in the French style, in a large shallow plate, and it is sensational. The churros are as churros are - irresistible.
It might be a pub but this kitchen under-stands quality so there's no sign of cheating on the ingredients - fries are hand cut, chicken and pork are free-range, and when it says "lime slaw" you can taste the lime - and though you can expect to pay for the privilege, it's worth it. Plenty have tried to do "flash pub grub" but The Cav may be the first to succeed in doing it well enough to qualify for that weird "gastropub" label.
By the end of it, all the young 'uns are still keen on full marks going to The Cav and I'm not far off. The Cav is still a bar where you can watch some sport on an oversized screen, but now it appears to be batting well above its weight and capable of being a legitimate dining destination, too.
Share this: