Review: The Oyster Inn, Waiheke Island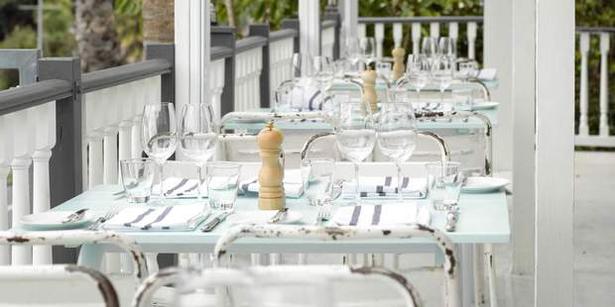 Friday May 10, 2013
Address: 124 Ocean View Rd, Oneroa, Waiheke Island
Phone: (09) 372 2222
Cuisine: Casual dining
Rating: 7.5/10
The Oyster Inn sure is "in", since it opened at the beginning of summer in Oneroa village on Waiheke Island.
We've watched it over summer as its smart owners have thrown their all into getting it humming, realising, no doubt, that survival on this island means making hay while the sun shines.
They'll be all too aware that the No1 challenge for any Waiheke eatery is nearly upon them - winter. The true test of any business in a seasonal location is how well it is able to survive the off-season, attracting locals to its doors, and building a reputation to ensure that next summer it's still the place to be.
So, with the first flush of youth behind it, I set off to see how it was faring.
Regardless of the praise The Oyster Inn has been receiving, nothing could have prepared me for the breathtaking first impression it delivers. It has the effect of transporting you to the sort of beach or sailing club that you always wanted to become a member of, one where the atmosphere and staff are so easy-going, so effortlessly casual, that it makes you instantly unwind.
Each espadrilled footstep is slower than the previous one as you float across the painted floorboards, tote bag slung nonchalantly over one tanned shoulder, your full-length maxi dress swishing gently around your slim ankles as you contemplate whether you should park up at the bar, sink into one of the rattan couches or make a beeline straight for your waiting table.
This, by the way, is how you feel regardless of whether you've come straight from the ferry, or are feeling frazzled after being cooped up in the office all day and are still wearing your uptight "city clothes". I call it "The Oyster Inn effect".
You just don't want to be anywhere else.
We were a large party of five adults and two well-behaved darlings (aged 10 and 8) so I knew we'd get a chance to fully test the menu. With sections delineated into molluscs, bites, pasta, meat, fish and various other tantalising treats I was also delighted to notice there was, proportionately, a rather long list of puddings, icecream and sweet treats to look forward to, too.
First, a word about what we didn't order; The South Island oysters - because they came in at $7-$8 a shuck and we felt that was a bit steep (however, the local Te Matuku Bay oysters are a more reasonable $4 each and reportedly fabulous); the sliders (neither the pork nor the tarakihi) - because we're a bit jaded about these in general although they looked great as they passed our table; the much talked-about spaghetti with Cloudy Bay clams because - well, we should have, it looked amazing.
However, the food that did land on our table was mostly very pleasing; the "very green salad" was an absolute highlight, with more than 10 different seasonal vegetables offering their crunch and flavour as well as the sensational texture and taste hit of seaweed and fried shallots; the board of four crispy bruschetta with their soft topping of smoky baba ghanoush, salsa verde and generous dusting of sharp parmesan was impressive as was the old favourite of fish "inn" chips with fat hand-cut chips.
Others, like the lamb belly croquetas and the salt and pepper squid - which came with a wonderfully balanced nam jim Thai dipping sauce - were snappy and delicious. The mussels, in a cute enamel pot, were cooked expertly to avoid being rubbery but, unfortunately, we missed the promised flavour of kaffir lime and coriander.
Did I mention the desserts? There is a wonderful selection of puddings and sweet treats and whoever Auntie J is, I congratulate her on the rolled pavlova, credited to her; it was simply irresistible. Flavoured with rosewater, rolled up with berries and fresh cream and a sprinkling of flaked almonds, this was a sensation. A fruit crumble was pure comfort food, but it was the toffee and banana pudding that really impressed us. The menu advises that it takes 15 minutes. I'd wait 15 days for these sticky, rum-fuelled, buttery little hotpots.
So, the Oyster Inn is neither precious nor pretentious, yet you feel rather wonderful dining there. And one of the best bits? You can book, which is a novelty these days given most of the coolest places expect you to take your chances.

From the menu: Mussels $18, Salt & pepper squid $16.50, Bruschetta $13.50, Lamb belly $12, Very green salad $15, Fish & chips $24.50, Kibbelings $13, Montevecchio grana padano $14, Auntie J's rolled pavlova $12.50, Toffee & banana pudding $13
Drinks: Fully licensed
Share this:
More Food & Drink / Dining Out