Review: The Shed, Waiheke Island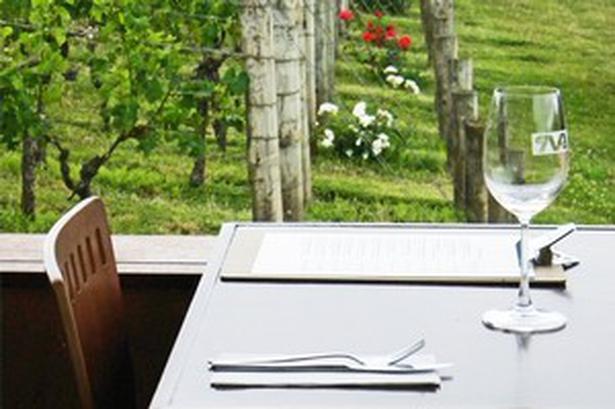 Friday Jan. 13, 2012
Address: 76 Onetangi Rd, Waiheke Island
Phone: (09) 372 6884
Web: temotu.co.nz
Cuisine: Modern
Open: Lunch Wed-Sun, dinner Fri-Sat
Rating: 7.5/10
The boat ride, the beaches, the bubbling Saturday morning market, the long straight lines of vines crawling all over the hills ... A day trip to Waiheke Island is a summer treat for sure, so when a friend finally comes true with her promise of introducing me to a single man-friend of hers who she thinks I might like, I jump at the opportunity to organise us into a foursome for a visit to one of the island's vineyards.
Te Motu Vineyard and its associated restaurant, The Shed, sit comfortably sheltered in the Onetangi Valley, and when our tyres crunch and crackle their way up the gravel drive and it comes into view I heave a sigh of relief that it is not all swanky and angular, but rather, well, shed-like. Where other vineyard venues can seem pretentious, The Shed is utterly approachable. The light and airy, plywood-lined dining room is simple and modest and looks out over a working yard full of wine-producing paraphernalia. There's an open courtyard, in the cool shade of the vines, that provides another casual eating area and I can't think of anywhere I'd rather be on a summer's day.
As we sipped away on glasses of cool, crisp, sparkling Te Motu Cuvee the maitre d' Clare Dunleavy gave us the low-down on the history of her wine-making family's vineyard and their recent changes, which include a buyout of the property. The Dunleavy family continue to be heavily involved with the operation and the chef is new (as of last August) and here's the biggest surprise - the menu, in contrast to the surrounds, is surprisingly un-casual. Absent were the lazy platters, bread and dips and calamari, and in their place were sophisticated dishes such as panisse with fresh goat's cheese, prawn dumplings with ginger tamari beurre blanc and a pork trotter en crepinette (more on that later). Head chef Bronwen Laight brings with her 10 years of experience working in the kitchens of Matt Moran, Peter Doyle and Philippe Mouchel, and, more locally, Nourish and The Longhouse Lodge on the island, and the food is exciting. When the dishes begin to arrive we all snap to attention.
An entree of duck breast is served with a salsa of pineapple, grilled to bring the sunshine back into it, and spiked with star anise to surprise us and an orange caramel that delights the taste buds. The prawn dumplings are sweet and tender, the baby leeks melt and the Asian-style beurre blanc is perfect. Don't you just love it when the starters are so good that you can't wait for the mains to arrive? The lamb rump comes served with an apple concoction ramped up with vadouvan, a simple curry mix and a parsnip pancake. Testimony to how good it was, the owner of this dish only reluctantly offered us forkfuls to taste. The hot smoked salmon was smokedin-house and its lime and lemongrass marinade was full of zing. Assembled with slaw and crisp shallots, this salad was what all salads ought to be - bursting with freshness and flavour, a combination of textures and tastes so good you forget you "just ordered the salad".
Pig trotter was my choice for a main and my mistake. I admit that I was channelling hock not trotter when I placed my order, and they are quite different beasts so to speak. The gelatinous trotter was minced with pork fillet and shaped into a crepinette. It was heavy and rich and trampled over everything else on the plate - the poor peas and porcini never stood a chance. But I liked the ambition serving such a dish showed and it was proof of the chef's seriousness in offering something beyond the usual.
The creativity didn't wane with desserts either - the sago pudding was perfect in my book - refreshing, fattening (coconut cream) and pretty as can be.
We lunched for three hours and the time flew. This is an exciting menu with ingredients from across the spectrum and, if anything, the food may catch you off-guard if you're used to the old style Shed which locals used to duck into on their way back from the beach. It's much, much better than that.
And what of the single man I hear you ask? Oh please, this is a serious column that critiques the eating out options in our city.
But just quietly, I may have ruined my chances by ordering a pig's trotter on the first date - it just doesn't scream romance does it? New year, new lesson.
From the menu: Panisse $17.50, Smoked duck breast $19, Prawn dumplings $22, Lamb rack $36, Hot smoked salmon salad $32, Pork trotter crepinette $38, Potatoes lyonnaise $12, Sauteed greens $12, Sago pudding $18.50, Chocolate cake $18.50, Cheesecake $18.50
Drinks: Te Motu Cuvee ($70), Te Motu Riesling ($50)
Share this:
More Food & Drink / Dining Out