Review: Xuxu, Britomart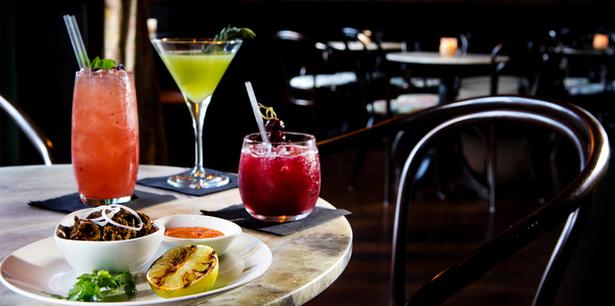 Friday Sept. 7, 2012
Address: Cnr Commerce & Galway St, Britomart
Phone: (09) 309 5529
Cuisine: Vietnamese
Rating: 8/10
What a darling of a place. From the moment we were seated at one of the marbled-topped tables, on cute, chintz-covered cushion chairs, I felt magically transported to the heart of the French quarter in Ho Chi Minh City, back to when it was considered the Paris of the Orient, when the air was filled with a heady mix of splendour and corruption. Xuxu (pronounced su-su) is a new Vietnamese-inspired cocktail salon and eatery in Britomart, but it could just as easily be nestled in one of the leafy streets of HCMC's cafe and bar district with its wrought iron architecture, floor to ceiling drapes, stems of elegant orchid blooms and dangling coloured glass lampshades casting a soft glow into the cosy, intimate space.
Xuxu is the work of the Cafe Hanoi crew over the road and while its menu is far more pared-back than its older sibling's, there's still enough choice within executive chef Jason van Dorsten's lively collection of appetisers to consider it a legitimate dining option, especially as they offer full table service. And, if you do as we did and order one of everything, it becomes easy.
Selecting drinks was not so straightforward but only because we couldn't decide which of the house cocktails to choose. The lists of luscious-sounding ingredients - Vietnamese mint, star anise, ginger - all sounded so tempting. The staff put us out of our misery and chose for us.
We picked at the cassava chips, letting the chilli salt tickle awake our tastebuds, then tucked into a summer roll, all plump and full of the texture-flavour combo so splendid in Vietnamese cuisine. The dipping sauce was straight from the streets of old Saigon - a perfect balance of pungent flavour. I couldn't stop dipping. Next came thit kho bo, or dried beef. If you've never had Asian-style jerky before, you're missing out - it's a sensation. Dry but not tough, with a surface of fine dust-like filaments that capture flavour, we chewed each ropey piece and noticed how they just kept on releasing their sweet, salty, slightly sour notes. The chilli dipping sauce I knew from across the road (it's the one they serve with the green rice prawns at Cafe Hanoi) - it looks like red pepper pesto but feels like someone just poured lit petrol into your mouth. Like a fool, I can never resist it.
Throughout Vietnam a common street snack is a banh mi, a small baguette (a welcome left-over from the French, only better as they're usually made with part wheat, part rice flour giving them an infinitely lighter, crispier, chewy texture than those in France), split lengthwise, slathered with a thick smear of liver pate, then stuffed full of fresh herbs, cucumber, pickled carrot and daikon, as well as some sort of grilled or cold cut of pork. Then there's the splash of dressing laced with fish sauce, sugar, lime juice and chilli to magically "pop" the flavours even more. By comparison I found the Xuxu offering of pate and baguette, with a few pickles, little more than a tease. The pate is meaty and moreish but not quite unctuous enough and their pale buns were so undercooked you could still taste the flour.
Then came our hot dishes, descending upon us with the deft grace and danger of the sea of motorbikes that whizz through the streets of Saigon. Grilled shrimps served on perilla leaves with shredded coconut, pickled vegetables and a wisp of fresh dill. Wrap these little beauties into a neat parcel, pop it in your mouth and you'll think you've gone to heaven. Grilled squid, sliced into slender fingers, is soft and delicate and doused in black bean sauce for grunt, while minced pork patties are lightened with the fragrant flavour of lemongrass. A plateful of warm smoky eggplant, coriander root and scorched chillies left me feeling singed alright. Luckily this was our final dish because my tastebuds were well and truly shot. The house cocktails, with names like Dark & Stormy, A French Connection and Mint Tulep, all served in dewy tumblers, went a long way towards taking us from chillied to chilled out.
With a menu that is smoking hot in every way and a dining room so splendidly authentic and cosy, I guarantee you'll want to draw those curtains, forget where you are and linger all night at Xuxu. It's so delightful.
From the menu: Crispy cassava chips $3.5, Vietnamese dried beef $10, grilled shrimp $10, grilled squid $10, summer rolls $8, minced lemongrass pork patties $10, scorched chilli & aubergine $8, pate with baguette $15.
Drinks: Excellent cocktails
Share this:
More Food & Drink / Dining Out