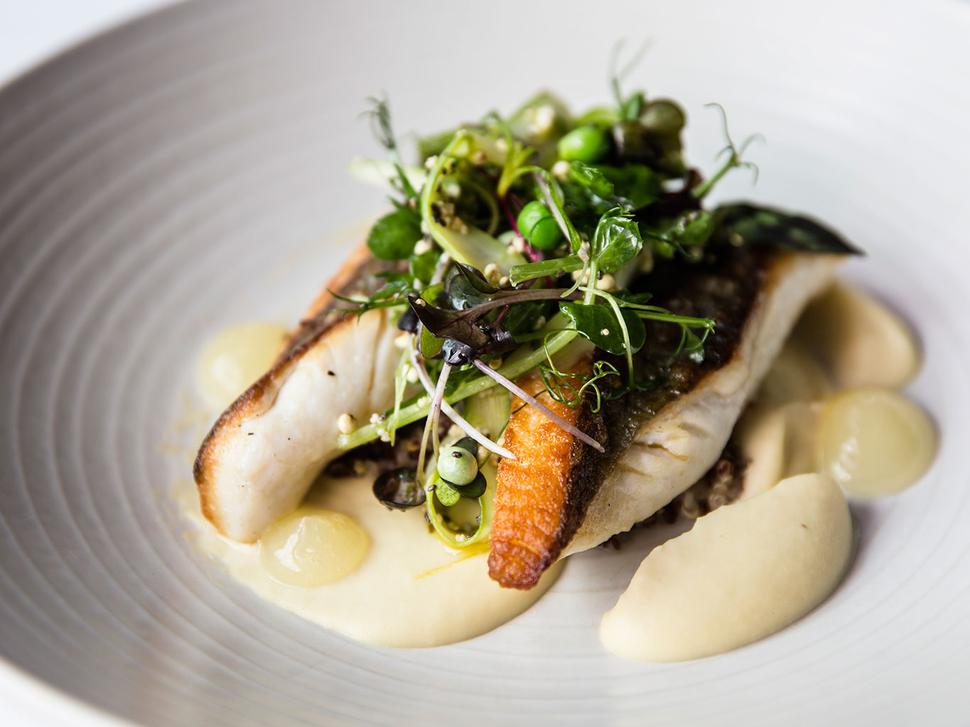 Restaurant Review: Sails, Westhaven
Things are a little rough down by the water, writes Jesse Mulligan
Wednesday Nov. 18, 2015
Address: Westhaven Dr, Westhaven
Phone: (09) 378 9890
Bookings accepted
Style: Seafood
Drinks: Fully licensed
From the menu: Pumpkin ravioli $23, Tiger prawns $24; Calamari $23; John Dory $44; Beef prime rib $46; Creme brulee $17
Rating: 6.5/10

The last time I ate at Sails, a few years ago, I found a small green caterpillar crawling happily on my microgreens.
"Well, at least you know it's fresh", said the manager optimistically when I asked him to take it away. He's been working there 30 years, so he's a hard man to surprise. I imagine when Lady Gaga showed up in 2012 looking for a table he just looked at her, nodded sagely and offered to hang up her meat.
He's a sort of likeable underdog that manager; he reminded me of Molesley, the servant with the combover in Downton Abbey. But he had plenty of reasons to be happy when I visited last Thursday night — the restaurant had just been refurbished rather beautifully, the menu refreshed and the dining room was almost full of people eating.
"We only had nine booked this morning, now we have 45," he said. "You just never know," he concluded, before wandering off to serve the owner's 18-year-old son and his friends, who were celebrating their high school graduation in the world's least appropriate venue for teenagers on the lash.
Still, it's an undeniably beautiful spot on the water, with views of the Harbour Bridge and, in the foreground, rich men pottering about on their boats.
The redecoration includes new furniture, fancy shutters and a major paint job.
"The theme is The Hamptons," Molesley explained. "Of course, I've never been to the Hamptons but … so they tell me."
Auckland has plenty of room for a formal restaurant with a fantastic view, top notch food and solid, old-fashioned service. But Molesley has been let down somewhat on these last two fronts.
Having launched a new menu with a media event and a press release, someone let the chef go on an overseas holiday. Without him, much as I wanted to love it, the cooking was not up to scratch; I can't understand why you'd put that much effort into getting reviewers in if your A-team wasn't going to be at the hearth.
My steak was underdone on the outside but overdone on the inside. The scorched skin of a crème brulee slid off to the touch, and the top of the potato gratin did the same. Tiger prawns were small and stewy, not big and fresh.
And even if the food had been perfect, which it very well might be when the chef gets back, the service was off too. Our waiter was impatient, perturbed, and desperate to get away from the table.
I noticed one of the dishes came with "supergrains" and quinoa. So I asked him what the supergrains were. He explained the pronunciation of quinoa, adding briskly "It's a sort of an ancient, sprouted grain …"
"I'm really sorry," I interrupted "but what are the other grains? The ones listed separately?"
"I'll find out," he said through gritted teeth.
Soon he returned from the kitchen and dutifully recited their names. But the only one I recognised was puffed millet, or as he called it "millpuffs". The other two were either jumbled in the delivery or made up, but we were far too scared to seek clarification by now.
Maybe they're still getting used to the new additions, though the main change to the menu is not the ingredients but a new option allowing you to double the size of your entrée for sharing. That sounded good, but why double? If there are two of you, surely you'd spend the extra money on a different dish.
The menu's other missteps were more crimes against language than against food — "trilogy of hams", "grana parmesan" — and I should say that much of it was decently edible. The calamari was scored, battered and deep-fried to crunchy deliciousness, then served with a nam jim sauce which was tasty. There was promise in the pumpkin ravioli, with some nice taste and texture provided by pine nuts, amaretto and sage brown butter.
Let's write this one off as a bad experience in a restaurant with plenty of potential. I'm sure it'll be better next time.
Share this: