Where to Eat: Symonds St
Lined up along one short stretch on Central Auckland's Symonds St is a world's worth of eating options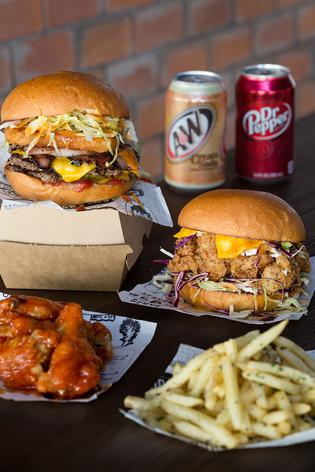 You won't be starved for choice if you find yourself on Symonds St and you're hungry. Lined up along one short stretch is a world's worth of eating options, all vying for attention. Dotted between the kite shop and the bridalwear shop, the shoe repair business and the Christian Agape Centre, you'll find the Thai, the Indian, the Turkish, the cake place . . . and a whole lot more.
How do you choose wisely from this embarrassment of riches on a most unprepossessing block? Well, we've done the work for you. Here are the top five reasons to turn sharp right at Newton Gully.
Burger Geek: 175 Symonds St, ph (09) 869 3467.
Geek is the word. This new entrant ups the ante as far as burgers go — the beef is a special blend of wagyu and angus cuts. They really do have groove and meaning. There are vegetarian and vegan options too. Don't leave without getting some of their delightful sides (try bacon ends and cheese croquettes). They do wings and things as well. It's hip and smart and doesn't miss a beat.
Ramen Do: 167 Symonds St, ph (09) 377 1313
So good, even some of its competitors favour it as a feeding destination. You will love the full, flavoursome effort they put into their (handmade) ramen noodle dishes. Japanese a go-go.
READ: Where to Find Great Ramen in Auckland
Bian: 183 Symonds St, ph (09) 309 5609.
An elder statesman on Symonds. Consistently fabulous. Soothing, nurturing, comforting udon and donburi dishes and the most sushi-licious fresh sushi. We love the pork katsu don and the tempura udon (udon, prawn and vege tempura in soup). Sit down and say "aaahhh". Ridiculously well-priced.
Gina's: 161 Symonds St, ph (09) 302 2061.
Even longer in residence on Symonds St, Gina's still pulls in the crowds. Despite her age, she has moved with the times, as the new menu — which has just gone live — will attest. There are fewer meat toppings, and more gluten-free and dairy-free options. But she hasn't dialled back on the fun. There's still plenty of pizza and pasta and half-dressed men appearing as waiters. There's a liveliness about the place that makes a woman happy. And a great wine list.

Kazuya: 193 Symonds St, ph (09) 377 8537.
When eating cheap won't do it for you any more. This is the place you must go to for your One Big Night Out before the world ends. Kazuya is the as-discreet-as-can be home of Kazuya Yamauchi. You could walk past it and never know, but once you're inside you will never forget the heavenly realm to which you have been transported. —Geraldine Johns
Share this: