Restaurant Review: Tiger Burger, Grey Lynn
Jesse Mulligan joins the fans of a fast-rising star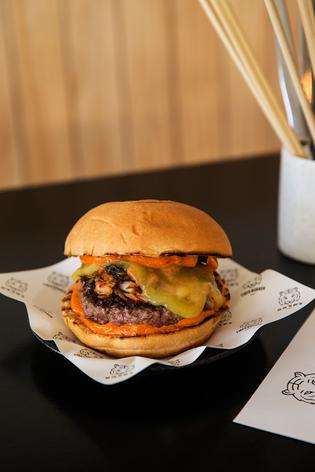 Cuisine: Korean-style burgers
Address: 549 Great North Rd, Grey Lynn
Phone: 027 847 5020
Website: tigerburger.co.nz
Drinks: Fully licensed
Bookings not accepted
From the menu: Beef burger $13, chicken burger $13, pork belly burger $14, kumara and shiitake burger $13, Asian slaw $7, "Kimcheese" fries $11, fried chicken bites $13
Rating: 7.5

The Grey Lynn shops right now are at a fascinating transition point between the old and the new. It's not yet as posh as nearby West Lynn (one of the few suburbs you'll find a business offering holistic physiotherapy for dogs), but it's getting closer with each new opening.
For now, there are plenty of clues to the area's Polynesian and working-class roots. The dairy sells taro and coconuts, the tavern looks as if it hasn't had a new customer since the Bolger government, and across the road Video Ezy continues to send out its weekly e-newsletter like Netflix never happened.
The food is a mash up too. At one end you'll find pork crackling under a heat lamp while further down organic vegetarian cafe Kokako lives in the former post office, and upmarket eatery Pocket is across the road in the old bank building.
There's also a good sushi bar and Auckland's best butcher — when her Christmas hams goes on sale people line up like it's new iPhone day at the Apple store.
The latest arrival is Tiger Burger, whose own site has plenty of history. Mondiale was a local legend — a casual tapas bar presided over by two silvery foxes with thick European accents. God, the things they must have seen. And although later proprietors never quite managed to capture the magic, apparently there was a good Japanese-French fusion place in here before even Mondiale — the Tiger Burger manager reckons when they stripped the upstairs office there were seven layers of paint on the gib.
For restaurentrepreneurs, Tiger is a great new model. Instead of pouring $2 million into a refit then blowing everything on a bad chef hire, you start small, at a market or food truck, then build a following until your customers are demanding a permanent location. (This is a great time to pay tribute to the Ponsonby Street Food Collective, at least two of whose former stalls now have their own restaurants.)
Tiger Burger is so popular that when you scrolled through their Instagram feed ahead of the opening you could almost imagine their fans around Auckland clawing at the screen. As such, after some predictable but nonetheless heartbreaking renovation disasters, the place opened to a full house and has been busy ever since. As I said, it makes the old approach of "open your restaurant then tell people about it" look completely upside down.
So what is it like? Fast and fun. The room has been painted entirely white, with some sparse decor and a little outdoor alleyway out the back. The kitchen is busy and that energy spills out over the pass and into the dining area. The staff are fantastic, particular those closest to the business — you can't stay up until 4am making kim chi without feeling some community with your fellow brassica masseurs, and Tiger has that big family feeling. It's a pleasure to walk in, let alone eat.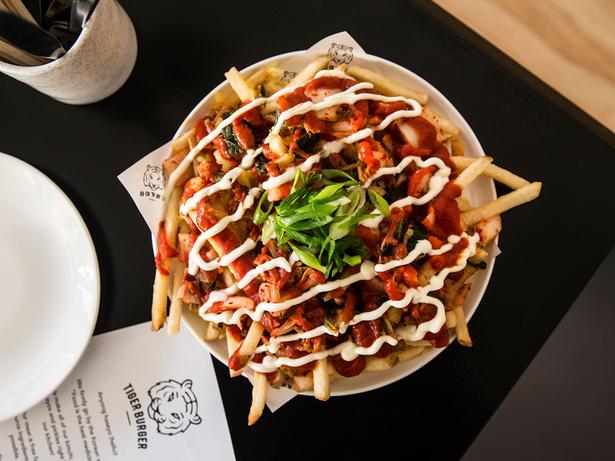 It's a short menu — four burgers plus sides — but I have no issue with that. Same again right? Start small, make it perfect, grow a little more. I'd rather have one stunning beef option than 17 aioli-drowned burgers with novelty names. And Tiger's beef burger is stunningly good — chargrilled to medium rare it's as tasty as the gold standard Burger Burger but with a more exotic tilt. That kim chi is magic — crunch, tart and spice — while an aged cheddar and chili mayo rings the bell of every tastebud you own.
The chicken and pork options are great too, that latter a popular option if the trays of marinating belly on the prep bench are any indication. The chook is twice fried and none of these are light options — they're well suited to guilt-free, beer-soaked, late-night dining. Along with the kim chi there are other Korean-style flourishes — the slivers of pickled daikon radish with the pork are particularly appealing.
The fresh Asian slaw, packing a little heat with its bibimbap dressing, is a great foil to all this fried food and you should get the loaded fries just because.
But there's one big problem: the burger buns are no good. Cold, a little dry, with no stretch or softness to them they crumble unappealingly to the bite. Burger Burger use brioche, the butter content solving all culinary problems as it generally does, but Tiger doesn't need to go that far. They could steam the buns instead of grilling them, which would improve the texture and temperature for as long as it took to eat them.
At the bottom of the menu there is a note asking for feedback on the meal, and you can tell it's a honest request. This is a beautiful business staffed by hard-working and genuine people. I don't doubt that it will continue to expand and improve in the months to come.
Share this:
More Food & Drink / Dining Out