Where to Eat: Tiger Burger
Former market stall Tiger Burger has a new permanent space in Grey Lynn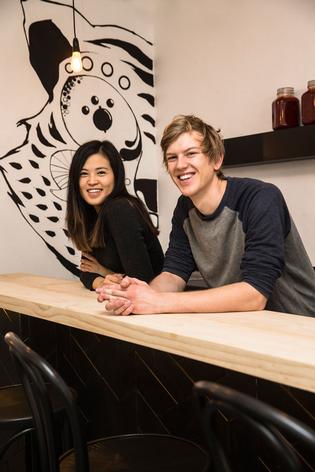 Fermented food, while taking up plenty of space on menus around Auckland at the moment, can be an unusual experience for the uninitiated. That's certainly true of Matt Shephard, who was dubious about kimchi when first encouraged to try it by partner Esther Jeong. "When we started going out, I introduced Matt to Korean food, and it took a bit of time," says Esther, "but he eventually fell in love."
Together the pair set out to introduce elements of traditional Korean cuisine to Western diets, resulting in the birth of Tiger Burger: well-known takeaway food with a twist. "The only people doing Korean here, really, are Koreans running Korean restaurants," says Matt, "and the way we approach Korean food is mixing it and fusing it with other elements."
For close to a year Tiger Burger was set up at local markets, although the duo struggled with the weather dependency and fickle crowd, so started looking for a permanent space.
Opening this Friday, the new Tiger Burger restaurant is located in the Grey Lynn shops, taking over from Spanish tapas bar Dilecta. As well as serving all the popular fare from the market stall, the restaurant will offer more salads, sides and Asian-inspired cocktails.
This includes the Kimcheese burger, which has a demi-brioche bun, beef patty and aged cheddar as well as a generous serving of kimchi and chili mayo. Other items to watch out for are the "Seoulful" chicken wings and curry crunchies — deep-fried morsels with Korean style curry, beef and brown rice inside.
Although the menu is made up of standard takeaway food, the restaurant will only be dine-in at first. "We really like the idea that food is to be shared and this will be a place to come together, and we're pushing that side of things," says Matt. "That's what our hope is."

• 549 Great North Rd, Grey Lynn. Open Tuesday-Thursday and Sunday, 5-9pm; Friday-Saturday, 5-10pm
Share this:
More Food & Drink / Dining Out