Restaurant Review: Tok Tok, Takapuna
Jesse Mulligan rates this Takapuna fusion restaurant among the best of its kind in Auckland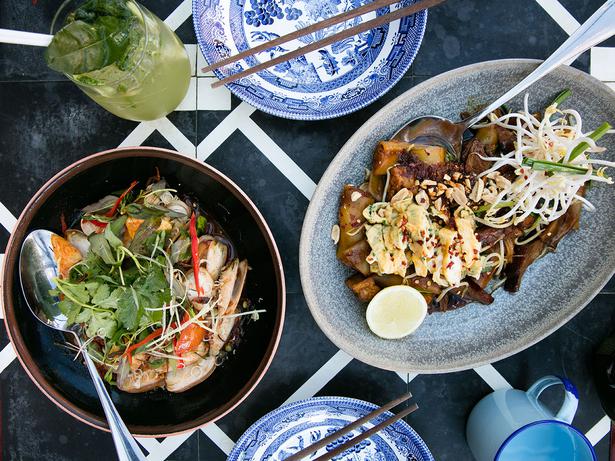 Wednesday Sept. 14, 2016
Cuisine: Asian fusion
Address: 1/129 Hurstmere Rd, Takapuna
Website: toktok.co.nz
Phone: (09) 489 3988
Bookings accepted
Drinks: Fully licensed
From the menu: Dumplings $14, Beef bun $11, Chicken satay $13, Kingfish sashimi $19, Duck pad thai $26, Tua tua tom yum $28, Veal curry $26, Papaya salad $16, Tapioca $12
Rating: 8/10

I have bad associations with eating in Takapuna after embarking on a misjudged meal shortly after the birth of my first child. My wife and I were determined to prove that our glamorous social lives weren't going to change just because we had a baby, so we booked an 8pm meal in a busy, noisy restaurant and arrived with a not-quite-asleep infant in a Mountain Buggy the size of a pinball machine.
Somehow they found a table with room for us and our oversized baggage, and as we sat down the people at the tables nearby said lots of encouraging things like "good on you" and "that's the spirit!" At the time I thought they were being encouraging about us bringing a newborn baby to a restaurant, but I now realise they were saying: "That's it! Pretend for a little bit longer that your life isn't over!"
Our four-week-old daughter cried through the meal. No amount of rocking or shushing would stop her, and it's the memory of frantically jiggling a stroller while stuffing my face with tempura seafood that puts me off soft-shell crab to this day. Since then we've had two more children, and truly learnt our lesson. When the most recent one arrived we pretty much put up a sign on the gate that said "Newborn inside, see you in 6-8 months".
Anyway I was delighted to return to this part of the world for a meal last week, to a restaurant named Tok Tok. They should have called it Tak Tak after the suburb IMO, but whatever, you can't say it isn't working — the place has room for more than 100 people and when three of us visited at 7pm on a Tuesday they almost couldn't fit us in.
The reason it's busy is because it's very, very good. The food — Asian fusion but mostly Thai — arrives hot, fast and fresh and there is enough on the menu to satisfy any particular craving you might arrive with.
For me that craving was peanut satay, which, done well, is an almost unbeatable proposition. Here it comes with a lime-marinated, grilled chicken thigh so tender, juicy and delicious it will make you reappraise your oft-repeated belief that it's boring to order chicken at a restaurant. Beneath it is a satay sauce — dark, toasty and fragrant — and after I'd monstered most of it the waitress told me that it's made without peanuts.
READ: Restaurant Review: Azabu, Ponsonby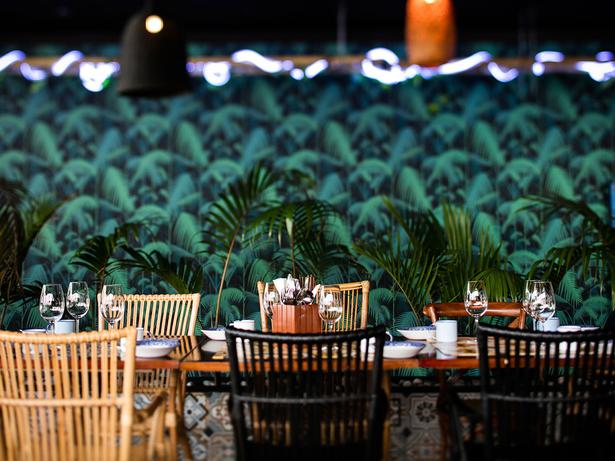 I sometimes make a peanut-free satay at home — you can do it raw in a blender by combining tahini and almond butter with lime, tamari, sesame and dates — but this one hardly had any secret ingredients, I checked. So I don't know how they do it, but if you have an allergy I'm pleased to report you can now have all of the satay-taste with none of the anaphylaxis.
I also loved the beef brisket, firm but darkly tasty with cucumber slices and chili mayo on an open soft bun sandwich.
Pork and scallop dumplings were proper pot-stickers, sealed, steamed and singed, then served with a sweet black vinegar.
The pad thai was a stunning execution, with noodles an inch wide rolled into multi-layered spirals that partly soak up the salt-sour sauce. It's further enriched with pulled duck meat, and you could eat three plates of the stuff if there wasn't so much other good food on offer.
As impressive as the menu is, it's what they've done with the building, which has little previous form as a successful place to do business.
It has been transformed into a lovely, very central place to go out for tea. They've used plants and other partial screens to break up the room, hung birdcages and other curiosities from the ceiling and, most impressively, turned the former carpark into a semi-outdoor deck area which would feel just like Southeast Asia if it wasn't for the Gulf breeze ripping around the clear plastic walls.
The staff are friendly, foreign and up for some banter. I don't think I heard a New Zealand accent from any of them, and I wonder if that's why they're so upbeat.
Not that there's anything inherently wrong with local staff, but if hospitality isn't your chosen career and you find yourself working six nights in an Asian restaurant, there must be a certain liberation to the feeling that this is just a working holiday miles away from real life.
Not much good beer here, but there are plenty of other good reasons to visit this humming new eatery. Auckland has a dozen big restaurants doing this sort of thing now, but this is among the top handful, and if you're anywhere near the Shore you should put it at the top of your list.
Share this:

More Food & Drink / Dining Out