Restaurant Review: Lucky Buddha
A new addition to Fort St joins the rapidly growing Asian fusion trend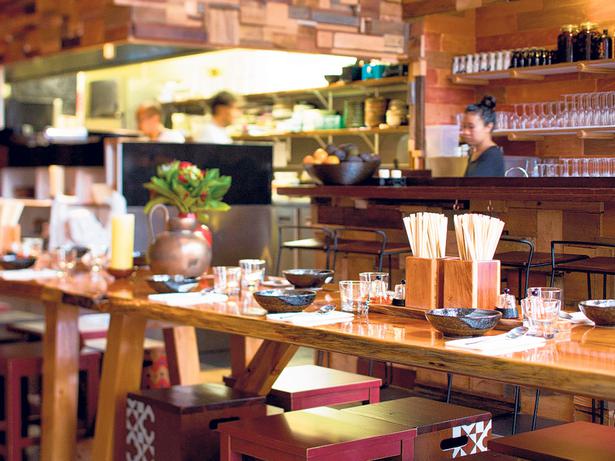 Wednesday March 18, 2015
Address: 48 Fort St, City
Phone: (09) 309 3990
Cuisine: Asian fusion
From the menu: Thai bangers $8, King salmon $16, Steam bun $16, Drunken chicken salad $18, Fish of the day $24, Durian $14
Drinks: Fully licensed
Rating: 6.5/10


In a city of Asian flavours, where almost a quarter of the residents are of Asian descent, a new Asian restaurant has to hit exactly the right note. Lucky Buddha, new to the expanding Fort St dining precinct, has all the right ingredients but somehow lacks a little punch.
With Korean owners Simon Cho and Michael Choi, and Filipino chef Kevin Puyat (ex-Ortolana), the Asian fusion tag is well justified. Cho brings a background in Japanese food, while Choi has been head chef at Vinnies, and worked at The Grove and Meredith's. He's also a respected lecturer in AUT's Culinary Arts department.
We headed there for a Friday group lunch. A last-minute decision, and fortunately the Lucky Buddha staff were more than accommodating. Our group took up half of the long shared table in the centre of the small restaurant. Despite this, it felt spacious and peaceful — even though it was busy — a rare pleasure when dining out. The table was laid with beautiful ceramic bowls from Japan, while patterned stools made in Southeast Asia added to the cosy atmosphere.
The service was excellent; our waitress quick, friendly and helpful. She offered to swap the pork buns for tofu ones for the vegetarian in our group and helped us narrow down our choices — a hard feat as we gestured to everything on the menu.
Luckily the dishes are designed for sharing, so we could all taste what was on offer.
Thai bangers started the meal off with a — bang! The spicy pork sausage rounds were served with a healthy sprinkling of lemongrass, chilli and coriander. The Chiang Mai-style dressing transported me straight back to my days backpacking in Northern Thailand and left me eager to dig into the other dishes that were soon jostling for space on our table.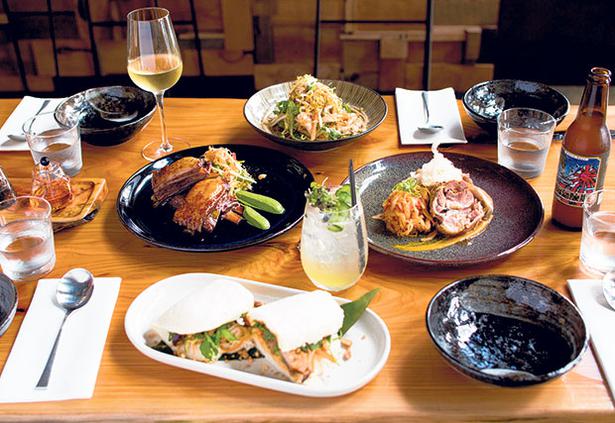 Alas, my backpacking days were more adventurous than this, and the ensuing dishes failed to excite. Though all were enjoyable, I was looking for the wow factor, but these were neither hot enough in temperature or spice. I couldn't help but wonder if they were playing it too safe.
The drunken chicken salad full of sprouts, beans, carrots and peanuts and served with a tahini dressing lacked the zing you'd expect, while the promised sichuan pepper seemed to be missing. LB's Delight, a similar-looking salad of spiced tofu and pickled daikon, was a hit with the non-meat eater at our table — luckily, as there wasn't a huge selection for vegetarians. Kari kare, a braised beef shin and burnt eggplant dish with beans and tamarind and peanut sauce, drew mixed reviews — the burnt flavour too pungent for some.
The raw king salmon served as deconstructed sushi, with crispy seaweed, sushi rice, spring onions and a tasty soy and mirin jelly, was elegant to look at and a pleasant mix of crunchy and soft textures that paired well with the fresh fish. The fish of the day was tasty and picture-perfect — oven-roasted salmon served with delicately wrapped mushroom and cabbage rolls and house-made xo rub. I tucked into the steam buns, white and fluffy, packed with slow-roasted pork shoulder, carrot slivers, peanuts and mint, but my tablemates admitted they had had better at other restaurants around town.
However, it was fun sharing the food, and conversation was lively in the relaxed and friendly restaurant. The desserts were where things got interesting. It was unusual to find the rather strong-smelling durian on a local menu. The owner of a guesthouse in Malaysia where I stayed was a huge fan, proclaiming it to "smell like s**t, taste like heaven". I had to try it. Here, it was in icecream form, served alongside lychee, pineapple, pomelo and a lemon shortbread, with pretty edible flowers. We were all pleasantly surprised by the refreshing combination, and tucked in.
Similarly revitalising is the "halo halo" — a crushed ice-style dish meaning "mix mix" in Filipino. This "exotic fruit granita" was served with palm sugar tapioca pearls, sweet milk and crispy coconut. There were the textures again, the tapioca pearls, crushed ice and coconut combining together splendidly. As we got to the bottom of the dish, the fruit granita got a bit too sweet, reminding me a little too much of its Western variation — the rainbow shaved ice found at a school fair.
Lucky Buddha is proving popular with the city business crowd, and we found it a fun spot for a lunch date. Perhaps the food needs experiencing at night, while navigating the sake and cocktail list. But in trying to be so many cuisines, it lacks the strength of just one. Give it a whirl though, maybe you'll have better luck, and a little more spice.
Share this:
More Food & Drink / Dining Out