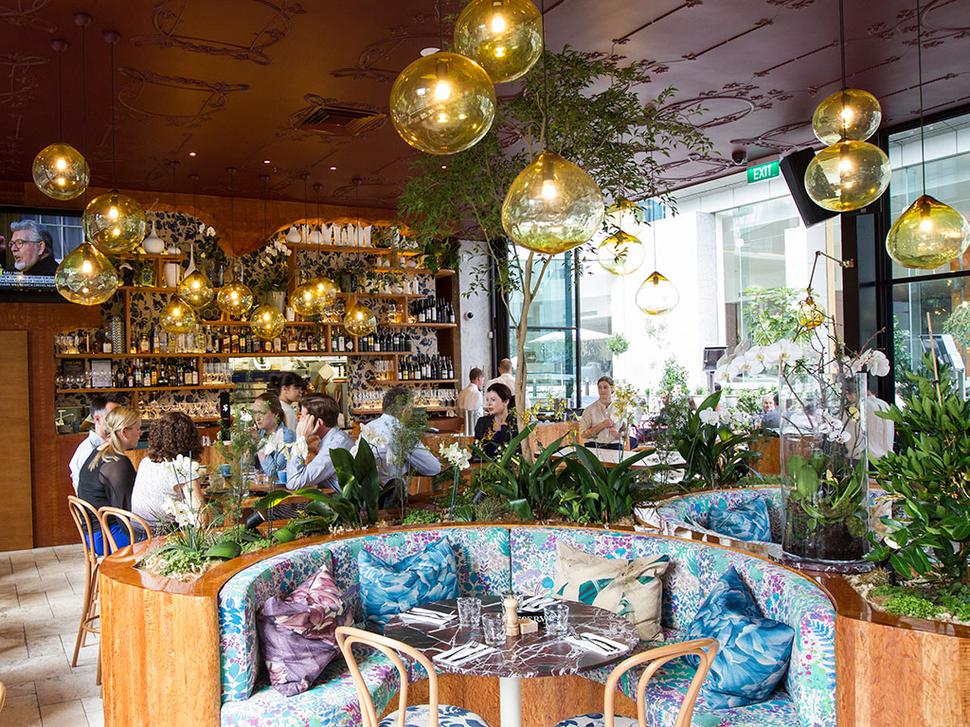 Restaurant Review: Pilkingtons
Take a break from the rat race at this calm, plant-filled CBD oasis
Wednesday March 25, 2015
Address: 41 Shortland St, City
Phone: (09) 336 1857
Cuisine: Casual
From the menu: Kingfish ceviche, $23, Manchego croquettes, $12, Beef fillet, $39, Boar tortellini, $29, Fries, $9, Heirloom tomato salad, $9, Tiramisu sorbet, $14, Coconut lime rice pudding, $14.
Drinks: Fully licensed
Rating: 7/10

Pretty as the English countryside. That's how Pilkingtons strikes me when I walk in off Shortland St. It's billed as a "bar, terrace, kitchen", and the design includes an abundance of colourful floral furnishings, greenery and a swathe of dangling blown glass pendant bulbs — which is fitting given that this was once the site occupied by British glass manufacturers and merchants, Pilkington Glass.
One dining area spills into another and I welcome the change from the minimalist Danish-led design that has recently been such a strong influence.
We settle for a seat on the terrace since the afternoon sun is still managing to stream warmth through the towering office blocks. It won't be long before the season dictates they fire up the outdoor heating system and we'll be shrugging their offered blankets around our shoulders.
Heading the kitchen is chef Alex Strobach (ex-O'Connell St Bistro) and the menu looks to cover the gamut without settling too heavily into any one style. Small, mid and large plates cater to the various reasons punters may choose to visit Pilkingtons — whether for a full-on business lunch or dinner, or freshly shucked oysters and hand-cut fries with after-work drinks.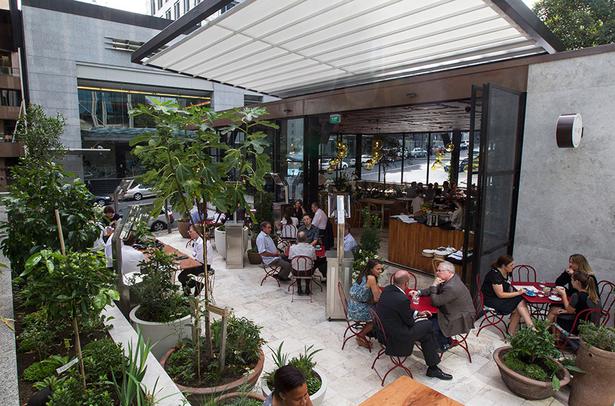 A small plate arrives, gratis, from the kitchen; hummus and chargrilled bread. I always feel that if the kitchen offers something complimentary it should be pretty bloody fabulous, but this was not.
The hummus was insipid and the chargrilled bread stone cold. Thankfully, our disappointment was quickly forgotten with a couple of knockout starters. A plate of delicate manchego cheese and Serrano ham croquettes were beautifully constructed and flavourful with sharp, nutty manchego; and the smoky paprika cream was a bold and beautiful addition.
Properly made croquettes always seem like an incredible feat to me — they are essentially fried bechamel encased in a crunchy golden crumb, after all.
A generous plate of kingfish ceviche, with segments of delicate pink grapefruit, avocado cream and papaya dressing all managing a magnificent balancing act, was brilliant but topping this dish with soft shell crab seemed a strange choice as it was merely an interruption of the clean fresh flavours and textures of the rest of the dish.
A main of tortellini stuffed with wild boar in a rich porcini jus was brightened and lightened with luminescent broad beans and a pungent rocket pesto. Shards of parmesan and pine nuts were scattered over to complete the story. It was a perfect dish to bridge the seasons.
My dining companion, a slight young woman, had surprised me by ordering the beef fillet: "I crave beef sometimes and when I see it on a menu I just have to have it."
I recalled then that she'd been a vegetarian a while back so it made sense.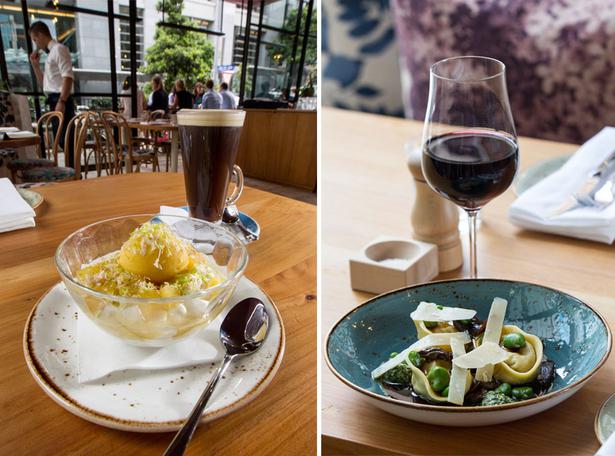 This was a dish that had it all going on; a juicy piece of eye fillet, so tender you could cut it with a spoon, topped with a disc of melting butter spiked with roquefort and accompanied by meaty portobello mushrooms, a puree of smoked potato and the requisite red wine jus. But it went too far. There was pumpkin puree in there too and we both agreed that its inevitably homely flavour had the effect of detracting from the sheer luxury of the dish. Try it and you'll see what I mean.
Dining at Pilkingtons was a bit like that — full of promise but peppered with mild distractions too.
We devoured a side of hand-cut fries, which come with an olive and anchovy mayonnaise, and they are not to be missed whereas the heirloom tomato salad is.
A tiramisu dessert was generous in serve but lacked the all-important hit of espresso we expected with this favourite. On the other hand, my coconut and lime rice pudding was so deliciously good I declared it my eating highlight at Pilkingtons.
Although from a culinary perspective Pilkingtons may have been inconsistent, one thing is for sure: the ambience is a winner. A serenity drifts over you while you're there and to have such an oasis in the middle of the CBD is a treat.
Share this:

More Food & Drink / Dining Out