Restaurant Review: Woodpecker Hill
The inventive menu and perfectly executed dishes at Parnell's latest eatery is a welcome delight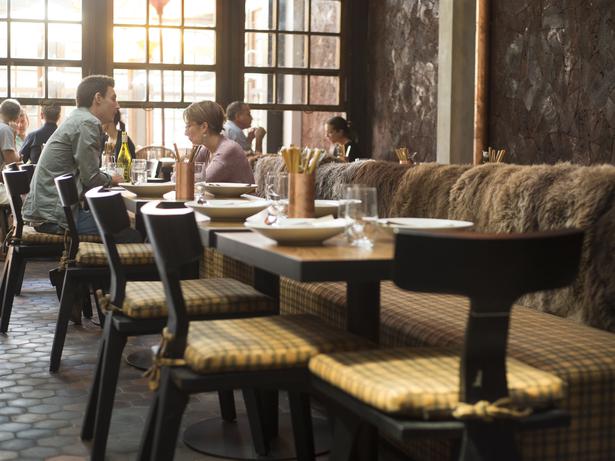 Tuesday March 3, 2015
Address: 196 Parnell Rd, Parnell
Phone: 09 309 5055
Cuisine: Asian barbecue
From the menu: Burnt ends brisket $28, Crispy eggplant $16, Relish of prawn $24, Green papaya salad $15, Duck jungle curry $32, Red curry of smoky pork $32, Coconut ash pudding $15, Mango pudding $15
Drinks: Fully licensed, extensive list of whiskies
Rating: 8.5/10 

Totally mad. Delightful. Energetic. Brave. Flooded with eager locals. I've found myself using many ways to describe the latest venture from the team who brought us Blue Breeze Inn, Chop Chop and, before that, MooChowChow — all of them on Ponsonby Rd, and none of which can quite prepare you for Woodpecker Hill in Parnell.
Inside the purpose-built building is a vast space with a design aesthetic that is a crazy mash-up of styles borrowed from cultures and flights of fancy from Bali to American smokehouse to the grandeur left behind by the French in Vietnam.
Did I mention the giant clamshell lampshades and fleecy brown New Zealand sheepskins thrown around? Somehow, it manages to work. The space is divided cleverly into different dining areas, it has a bar and a section overlooking the hectic kitchen and, as is the trademark of this group, diners are crammed in fairly tight so it feels more like a party rather than a sedate night out for dinner.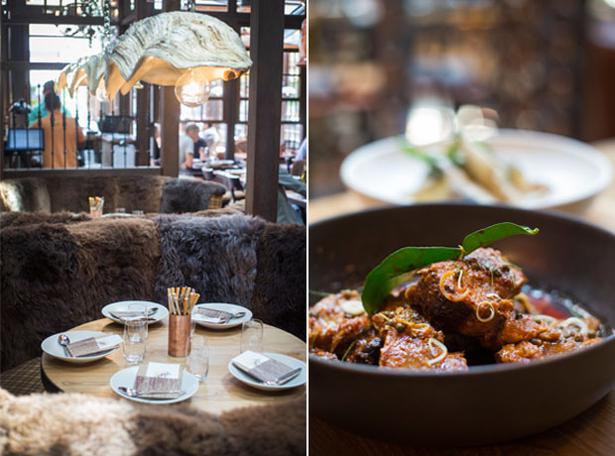 Interior of new Parnell restaurant Woodpecker Hill; From the menu, red curry of smoky pork. Pictures / Nick Reed.

We're there on the second night after opening and to all those critics who claim reviewers are unfair visiting so early in the piece, here's what I say: professionals get it right, right from the start. And they do get it right at Woodpecker Hill.
Che Barrington's menu combines the best of what he dishes up on Ponsonby Rd — a mix of Asian street food — while sucking up to the growing trend for American-style barbecue.

It's an odd mix that works perfectly on the plate. Brisket is slow-cooked for 14 hours, resulting in beautiful, shining slabs of fall-apart meat paired with pickled papaya slaw. In another offering, the ''burnt end'' offcuts of the brisket are lovingly tossed together with lemongrass, fried shallots and a glorious medley of fresh Vietnamese herbs.

There are complex curries and braised ribs, too, and as I'm doing now, we got ahead of ourselves in the excitement and started rather bravely with the dish of burnt ends first (unimaginably delicious), before more sensibly returning to some of the smaller, lighter dishes such as batons of fried eggplant served with sweet-sharp tamarind, plenty of chilli, sesame and coriander to produce what was my favourite dish of the night. The sweet, sassy dressing clung to the wisps of batter and with eggplant so abundant right now, it was a fitting dish.

Another dish, shrimps bound in sweet relish with pungent betel and perilla leaves, witlof wrapping around the juicy concoction, was perfectly fine though those small, flat shrimp never really ring my bells.

Barrington's papaya salad is brilliant; it takes no prisoners and is searing, but still manages to be refreshing. It's a great accompaniment to the heavier meat dishes.

It wasn't just us who were thrilled to be dining with such excitement in Parnell. The couple next to us couldn't contain themselves when they saw we'd failed to order the red curry of smoky pork, telling us it was one of the best dishes they'd ever eaten. I'd have been envious had we not been tucking into the smoked duck jungle curry, which managed to be both rich in flavour and frantic layers of spice, yet light at the same time.

There's something wonderful about loving what you've selected and knowing there are new treats in store for next time.

In six years of reviewing I've resisted the temptation to talk about one of my favourite aspects of any restaurant. The toilets. Well, the loos at Woodpecker Hill deserve a mention because they are an experience. I wouldn't want to spoil the surprise for you — suffice to say you can expect to feel transported from Parnell to a Balinese spa or a medieval cave, depending on your imagination. There. I've talked about the toilets.

When I heard Mark Wallbank and Che Barrington were setting up on Parnell Rd, I wondered what on earth they would do. It seemed too gentle a strip for them to consider. What they've done with Woodpecker Hill looks set to light a long-awaited fire under Parnell's eating out scene.

Share this:

More Food & Drink / Dining Out