Art-worthy Eclairs Recipe From Young Baking Sensation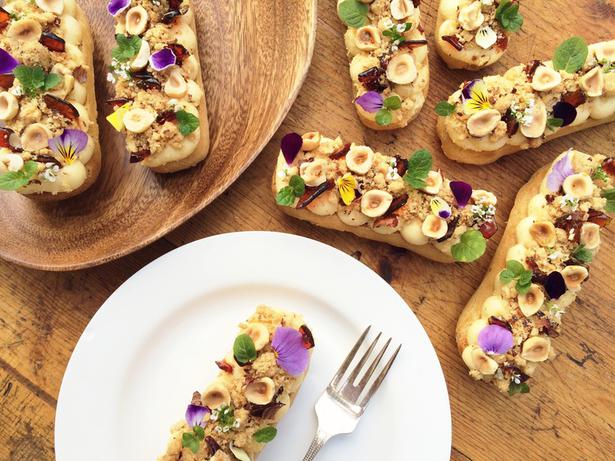 Monday Aug. 11, 2014
Consider these eclairs a work of art, almost (but obviously not) too good to eat. Baked by 16-year-old Melie Ferrier, rising star of the cake blogging world, and Year 11 student at Diocesan School for Girls.
Visit Melie's Kitchen to order one of her beautiful cakes, or simply scroll through the delicious images.

ROSEWATER RHUBARB, SPICED DULCE DE LECHE AND WHITE CHOCOLATE ECLAIRS WITH GINGER COOKIE CRUMBS AND HAZELNUT PRALINE.
Baked rose water rhubarb
360g rhubarb, cut into roughly 10cm pieces
1/3 cup caster sugar
1 tsp vanilla extract
Squeeze of lemon juice
1 tsp rose water
2 Tbsp cold water
Spiced dulce de leche
¾ cup of dulce de leche or tinned caramel
1 tsp cinnamon
½ tsp mixed spice
2 Tbsp cream
Spiced dulce de leche
¾ cup of dulce de leche or tinned caramel
1 tsp cinnamon
½ tsp mixed spice
2 Tbsp cream
White chocolate creme patisserie
150 ml milk
50 ml cream
½ vanilla pod, seeds scraped
2 egg yolks
¼ cup caster sugar
2 Tbsp cornflour
2 Tbsp butter
1 cup white chocolate buttons
½ cup cream, whipped until stiff peaks
Hazelnut praline
½ cup caster sugar
70g toasted hazelnuts 
Pinch flakey sea salt
Decoration
4 gingernuts, crushed
Edible flowers
Eclairs
See method below.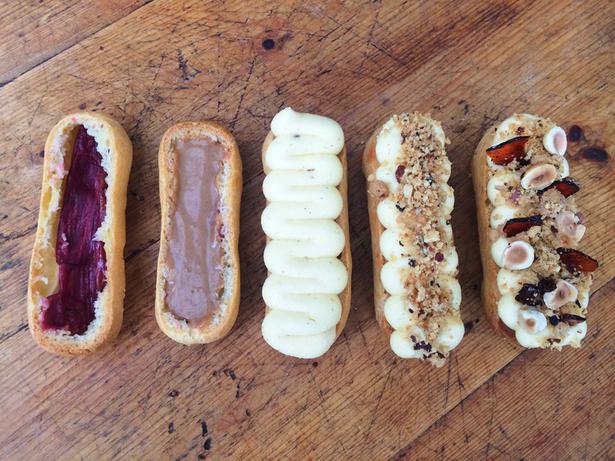 METHOD
Eclairs
Make choux pastry according to recipe - I adapted this Annabel Langbein one.
To make eclairs, transfer batter to a piping bag fitted with a 1cm circle nozzle. Use to pipe about 12 logs onto a baking tray lined with baking paper, leaving about 2 inches between each log as they puff up a fair amount. Bake at 200C for about 25 minutes or until puffed and golden. Remove from the oven and slice a slit in the top of each eclair to release the steam. Leave to cool.
Baked rose water rhubarb
Pre-heat oven to 200C. Line a baking tray (with sides) with baking paper and arrange the rhubarb pieces so that none are overlapping. Set aside. In a small bowl mix the remaining ingredients and place in the microwave for 40 seconds on high. Remove, stir and return to the microwave for a further 40 seconds. Pour over the rhubarb and bake in the oven for about 25-30 minutes or until the liquid in the bottom of the pan starts bubbling and the rhubarb is very tender. Remove and cool.
Spiced dulce de leche
Place everything in a small saucepan and whisk until smooth over a medium heat. Heat, stirring constantly for about 3 minutes. Remove from the heat and leave to cool.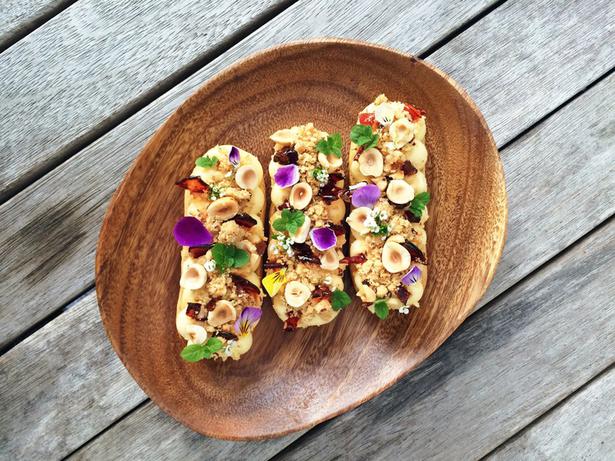 White chocolate creme patisserie
Pour the milk and cream into a saucepan and add the vanilla pod and seeds. Bring to a simmer. While the milk and cream is heating, whisk the egg yolk and sugar until slightly pale. Incorporate the cornflour. Once the milk and cream starts to simmer, slowly pour 1/3 of it over the egg yolk mixture and whisk together. Pour the egg yolk mixture back into the saucepan. Heat gently while stirring until the mixture thickens. Remove from the heat and stir in the butter until fully incorporated. Melt the white chocolate and whisk into the mixture. Leave in the fridge to set and cool. Once cooled, gently fold in the whipped cream. Place into a piping bag fitted with a circle tip nozzle.
Hazelnut praline
Line a slice tin with baking paper. Place sugar into a sauce pan and heat over a medium-high heat, without stirring, until all the sugar melts and turns a deep amber colour. Remove from heat and quickly stir in the hazelnuts then tip out onto the baking sheet. Leave to cool and harden then use a rolling pin to bash into small pieces.
Assembly
Slice the tops of each eclair. Discard the tops. Place a few pieces of the rhubarb into bottom and press down slightly into the pastry case. Spoon over about 2 ½ teaspoons of the spiced caramel and spread out evenly. Pipe over the white chocolate creme patisserie in a zigzag motion to cover the whole of the eclair. (Make sure it is completely chilled for about an hour so it's not too runny). Sprinkle over some of the crushed gingernuts and arrange evenly a few pieces of the hazelnut praline (there will be some left over). Decorate with edible flowers (optional) and serve. Store in the refrigerator for up to 2-3 days.
Share this:
More Food & Drink / Recipes