Edamame Dip Recipe
This super quick dip is a healthy starter with gluten-free corn chips and vegetables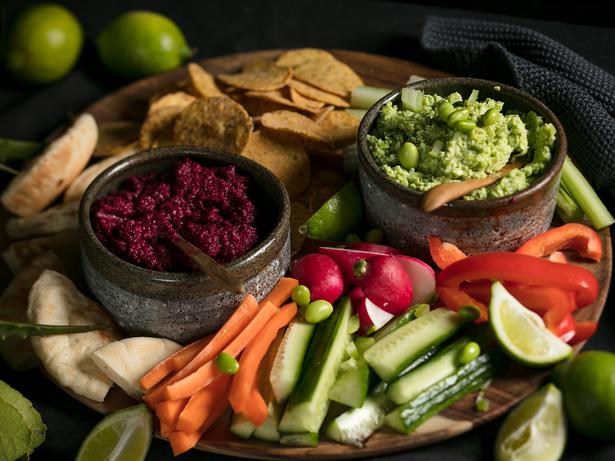 Tuesday Sept. 12, 2017
This is a super quick dip, from Escape Haven's Luxe Retreat, is perfect to snack on or enjoy as a healthy starter with gluten-free corn chips and a selection of vegetables, or dolloped on a salad. This edamame dip is also good under a poached egg. Arrange the edamame dip on a platter with a beetroot hummus (pictured).
EDAMAME DIP
Serve 6-8
400g edamame beans, cooked
1 avocado, chopped roughly
2 Tbsp lime juice
¼ cup chopped coriander
¼ cup chopped celery 
Salt and pepper to taste
2 Tbsp toasted sesame seeds
To serve: Raw vegetables, corn chips and pita
1. Into the processor place the edamame beans, avocado, lime juice, 2 Tbsp coriander and 2 Tbsp celery, salt and pepper to taste.

2. Serve in a bowl garnished with remaining celery, coriander and sesame seeds.
• Angela Casley was a guest of Escape Haven. To find out more, visit Escapehaven.com
Share this:
More Food & Drink / Recipes