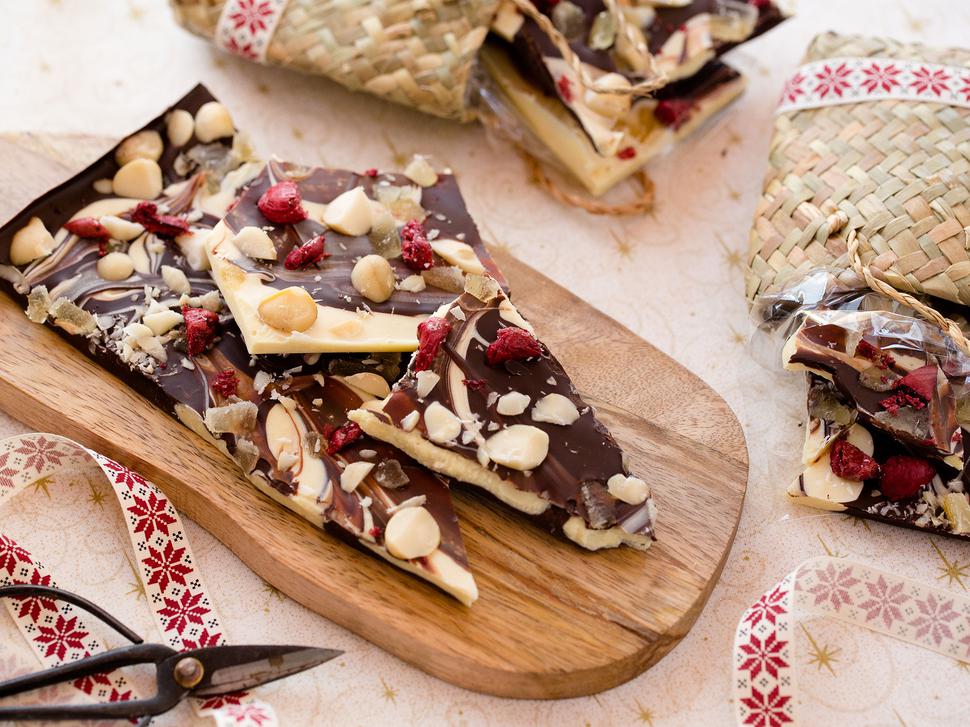 Chocolate Slab
Crunchy nuts and chewy ginger smothered in white and dark chocolate in this scrummy treat
Friday Dec. 8, 2017
I like to package roughly broken pieces of this chocolate slab in clear cellophane. It looks heavenly. Another option is to serve the broken pieces in a bowl or plate; it's a lovely way to help decorate the Christmas table. If you don't want to break it up, try making the chocolate in small block sizes and then design your own packaging.
CHOCOLATE SLAB
Serves 10-12
250g white chocolate
250g dark chocolate
1 cup mixed chopped nuts (I used almonds and macadamia)
½ cup chopped glace ginger
¼ cup dried fruit (I used cherries)
1. Line a 20 x 30cm tin with baking paper.
2. In two bowls, over simmering water melt the chocolate separately until completely smooth.
3. Spread the dark chocolate on to the tin, leaving spaces, then fill in the gaps with the white chocolate. With a fork get creative and swirl some of the edges to mix the two.
4. Sprinkle over the nuts, ginger and dried fruit. Leave to set in a cool place, or place into the fridge to harden.
5. Break into pieces and package for gifts or serve to guests.
Share this:
More Food & Drink / Recipes