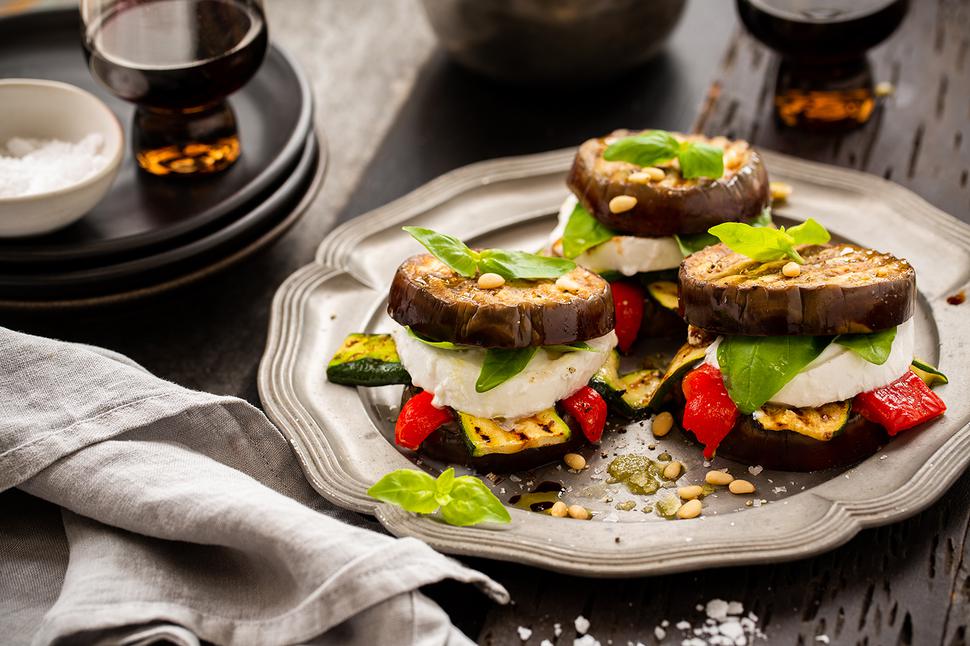 This Eggplant Recipe Comes Together Easily With Mozzarella, Pesto & Courgette
A moreish eggplant stack that's a quick, versatile and impressive starter or lunch dish
Sunday May 1, 2022
All the vegetables can be prepared ahead of time. Change them up with other ingredients if you like — a slice of avocado, a piece of spicy chorizo or fresh tomato. They can also be served cold or warmed for 10 minutes.
EGGPLANT STACKS RECIPE
Makes 4
1 eggplant, cut in 1cm slices
1 courgette, sliced thinly lengthways
¼ cup olive oil
1 red pepper, roasted
1 ball mozzarella
4 tsp pesto
½ cup basil leaves
Salt and pepper, to season
1 Tbsp each balsamic vinegar and olive oil, to drizzle
1 Tbsp toasted pine nuts
1. Rub the eggplant and courgette slices generously with olive oil. Either barbecue or cook in a hot frying pan until cooked and golden. Cool to room temperature.
2. Slice the roasted pepper into strips. Slice the mozzarella into 1cm slices.
3. To build the stacks, place a piece of eggplant on the base, a slice of mozzarella, smother with pesto, add sliced peppers, courgette and basil leaves, and top with another slice of eggplant. Season as you go.
4. Drizzle with balsamic vinegar and olive oil to finish and garnish with a sprinkle of pine nuts.
Share this: