Eleanor Ozich: Back to basics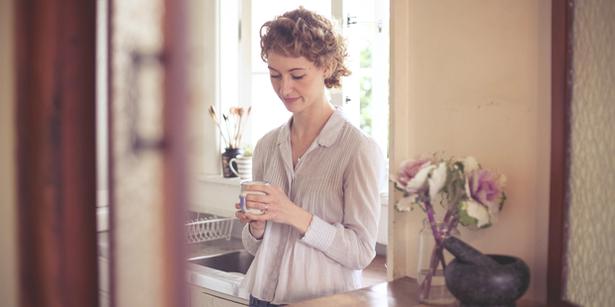 Tuesday July 30, 2013
Eleanor Ozich launched her popular food blog Petite Kitchen last year, after eliminating grain, sugar, additives and preservatives from her family's diet.
Her focus on clean and simple eating came about when her daughter developed what seemed to be incurable severe eczema - a visit to a Naturopath led to a diagnosis of GAPS (Gut and Psychology Syndrome), with the solution a change to a simpler, wholesome way of eating for the whole family. The mother of two - her daughter is 5, and her son is 1 - has shared that journey on her blog with delicious recipes and photography. Each week Eleanor will now also share with us exclusive recipes and her take on food - look out for her posts each Thursday. We talked to her about her journey to healthy eating.
When and why did you start your blog?
I started Petite Kitchen just under a year ago, as a personal diary to document all of my recipes. We had recently made a huge change in our diets, and I wanted to be able to document how eating a clean and nourishing diet would affect our family.
How has it grown since you launched?
When I started writing the blog, I set up a Facebook page, so that I could easily share my recipes with family and friends. My fan base started to grow at an overwhelming rate. I now have over 20,000 followers across my social media, and still can't believe what a positive response I have received. This inspired me to self-publish seasonal recipe journals, which I have available through my website and at select retail stores across the country. More recently I have been offered a couple of publishing deals, and am very excited about the prospect of publishing a beautiful hardcover cookbook. I also have some exciting projects which I have been working on over the last couple of months. All will be revealed very soon.
What is your food philosophy - your approach to food and eating?
A quote that I love, is "Take care of your body; it's the only place you have to live". I believe that food should be not only delicious and enjoyed, but should also be nourishing for the body. I believe my simple recipes reflect a slow and conscious way of eating, using mostly whole and lovingly selected ingredients.
How has your diet changed since having children, and transforming your diet after discovering your daughter was suffering from GAPs - what was it like before?
Our diet has changed significantly since we started to follow the GAPS diet principles. I have to admit, in the beginning it was hard to change our way of eating, and took a couple of months to settle into a routine, but it has now become part of our lifestyle. I don't feel that we had a terrible diet previous to GAPS but I now realise how often we consumed food purely because if was more 'convenient'.
How do you develop your recipes? What inspires you?
My recipes are purely what I make for the family on a daily basis. I do read quite a few food blogs, and draw inspiration from these as well as recipe books and magazines. Most of the time I find that if I put too much planning in to a recipe, it never turns out as delicious as when freestyle it.
What is your favourite thing to cook?
I absolutely love the Mediterranean and the European style of cooking. The use of simple yet beautiful herbs and flavours always work so well together. Nothing too fancy or over the top, I love making beautiful rich casseroles and stews, and adding large amounts of fresh herbs, and garlic. This style of cooking is always a winner in our household.
Where do you cook? Tell us about your home, and your kitchen.
I cook and bake in a tiny kitchen, which has pretty much no bench space. It is falling apart and needs to be upgraded, but there is something I love about its old charm. We are currently living in an old art deco North facing apartment. It's pretty small, but has the most incredible view of the city and the Waitakere Ranges.
Where are your favourite cafes and restaurants for simple, healthy eating?
I love Wise Cicada in Newmarket, they have a great selection of salads and healthy sweet treats. I also love The Little Bird Unbakery, for their incredible raw cheesecakes and other treats. If we go out for dinner we usually dine Japanese, Thai or Malaysian, as we never eat this type of cuisine at home, so is always nice for a change.
Your best baking/cooking/food tip for busy women?
To always be stocked up with a good range of nourishing gluten free flours, natural sweeteners such as dates, or honey, dried fruit, nuts and seeds. All of these ingredients can be on hand for baking something wholesome and sweet, or to use in cooking. Also, to not be too hard on yourself. By making one small simple change a day, you can see the world of difference.
Share this:
More Food & Drink / Features & Profiles