Eleanor Ozich Shares Her Recipe For Tasty Cinnamon Baked Pear Chips
Try these gently spiced pear chips, baked until crisp, with a sprinkle of cinnamon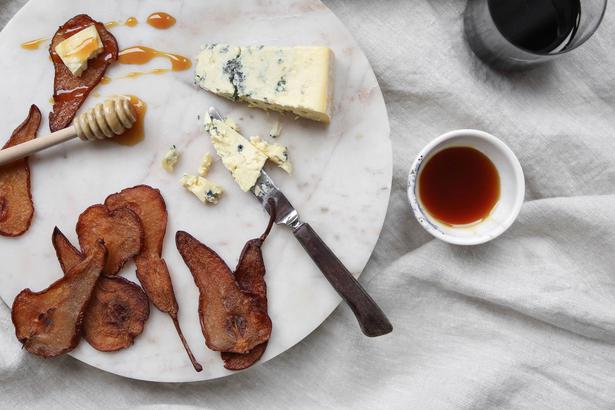 Thursday March 30, 2017
CINNAMON BAKED PEAR CHIPS RECIPE
Here's a simple recipe for gently spiced pear chips, enhanced by a sprinkle of sweet, musky cinnamon, and baked until crisp. Try them with a sharp, salty cheese such as blue vein, or a gentler, creamy cheese like double cream brie or camembert.
Or if you prefer, these crunchy little chips are of course, a satisfyingly delicious snack all by themselves. Great for filling lunch boxes, too.
Ingredients
4 slightly under ripe pears
3 Tbsp coconut oil, melted
1 Tbsp pure maple syrup
1 tsp pure vanilla extract
1 tsp cinnamon
Method
1. Pre-heat the oven to 100C, and line two trays with baking paper.
2. Using a mandoline or sharp knife, slice the pears lengthwise in to thin pieces. If doing by hand, try and get the slices as uniform in thickness as you possibly can.
3. Whisk together the coconut oil, maple syrup, vanilla and cinnamon to make a spiced syrup.
4. Paint each slice with the syrup, and then arrange the slices on the baking tray, in single layer.
5. Bake for an hour, or until the edges begin to ruffle. Turn the slices over and continue to bake until crisp, about an hour. If the chips are still a little soft, turn off the oven but leave them in the oven for a further 30 minutes or so to crisp up. Be sure to keep a close eye on them, as they can burn easily.
Store in an airtight container, for up to a week.
Share this:
More Food & Drink / Recipes