Eleanor Ozich's Buttery Balsamic and Basil Sauce Recipe
Each ingredient in this versatile balsamic and basil sauce works together beautifully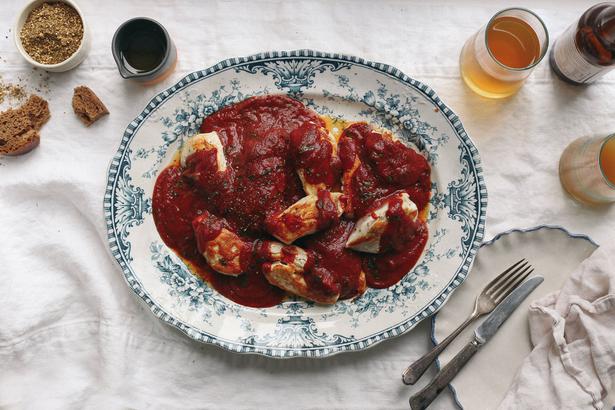 Thursday Aug. 10, 2017
This is one of those sauces where you can taste every ingredient, with each component working together beautifully. It's very straightforward to make, with hardly any pfaffing involved. Good quality passata or chopped tomatoes are simmered on the stovetop with a splash of balsamic vinegar and extra virgin olive oil for richness. Then, right at the end, once the sauce has become thick and velvety, I stir in a large pat of butter and lashings of gently crushed basil. Season generously, and serve with grilled chicken, fish, chickpeas or your favourite pasta.
Ingredients
1 670g jar passata, or good quality chopped tomatoes
2 Tbsp balsamic vinegar
A large handful of fresh basil, finely chopped
80g good quality butter
1. Place either the passata or chopped tomatoes and balsamic vinegar in a large saucepan, and simmer uncovered over a very low heat, until thick and velvety, about 25-30 minutes.
2. Add the basil and butter, and stir until glossy.
3. Season well with sea salt and freshly ground pepper.
Note: I like to make up batches of this sauce, and store in a glass jar in the fridge for quick and easy meals. I imagine it would last for up to a week or so, although it never seems to last that long in our household.
Share this: