Eleanor Ozich's Deceptively Simple Cardamom Chocolate Cake Recipe
A late-night chocolate craving leads to a cleverly simple chocolate cake recipe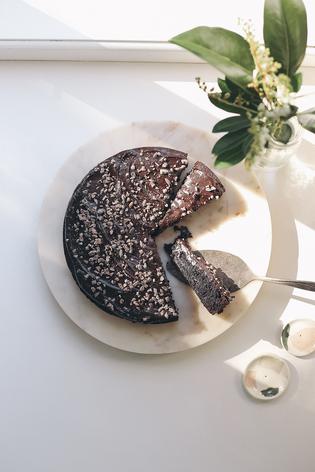 Some of the best recipes are those that come about spontaneously, and this cleverly simple chocolate cake is exactly that. A late-night chocolate craving had me searching through my pantry, only to find I had next to no ingredients.
I half-heartedly threw a few things into the blender, including an impromptu pinch of cardamom. I then poured the dark, velvety batter into a cake tin, and popped it in the oven to bake. Twenty five minutes later, I was extraordinarily surprised by the result — a deceptively simple chocolate cake with a deeply rich, and pleasing texture which will keep for 2-3 days in an airtight container. The cardamom is entirely optional, but I find it adds a nice complexity. 
DECEPTIVELY SIMPLE CARDAMOM CHOCOLATE CAKE RECIPE
Serves 8
For the cake:
1 cup ground almonds, or rolled oats
¼ cup rapadura, coconut or muscovado sugar
1/3 cup coconut oil, melted
¾ cup good quality cocoa
1 tsp ground cardamom* optional
¾ cup coconut cream
3 free range eggs
1 tsp baking soda
For the ganache:
¼ cup maple, honey or rice malt syrup
¼ cup good quality cocoa
½ cup coconut cream, or cream
¼ cup cacao nibs* optional
1. Preheat the oven to 160 C, and grease a cake tin with coconut oil or butter.
2. In a food processor, combine all cake ingredients, and blend until smooth.
3. Pour the batter into the prepared cake tin, and place in the oven to bake for about 35-40 minutes or until a skewer comes out clean.
4. Leave to cool completely in the tin, before carefully turning out onto a plate.
5. To prepare the ganache, whisk together the maple, cocoa and coconut cream, until smooth.
6. Using a spatula, spread the ganache evenly on top of the cake, and then sprinkle the cacao nibs on top.
Share this: