Eleanor Ozich's Crumble With Red Wine-Poached Tamarillos
Try this tangy, delicious recipe for red-wine poached tamarillo crumble with orange and star anise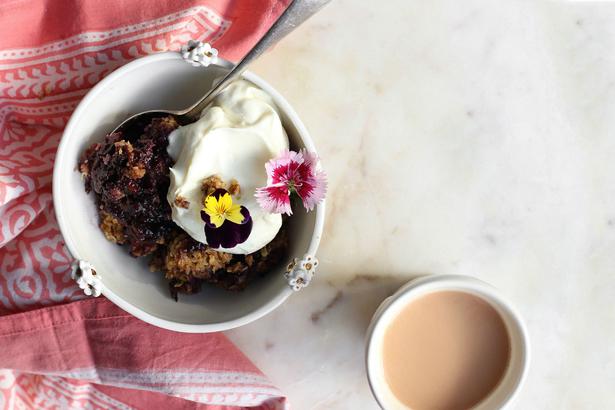 Thursday April 20, 2017
CRUMBLE WITH RED WINE-POACHED TAMARILLOS
Serves 8
The loveliness of tamarillo eludes some people, although when sweetened with honey and poached in a light syrup of red wine, orange and star anise, the result is meltingly tender, and perfectly tangy. This is quite wonderful when spooned over thick, greek yoghurt, or topped with a buttery crumble and baked until bubbling.
INGREDIENTS
For the filling:
8 tamarillos, sliced in half and flesh scooped out
1½ cups frozen or fresh raspberries
1/3 cup honey or pure maple syrup
Juice and peel of one orange
3 cinnamon quills, or 1 tsp cinnamon
1 tsp pure vanilla extract
½ tsp ground ginger
3-4 star anise
For the topping:
100g chilled unsalted butter, cubed
1½ cups rolled oats
½ cup spelt flour, or flour of your choice
¾ cup coconut or rapadura sugar
1 tsp ground cinnamon
METHOD
1. Preheat oven to 160C.
2. To make filling, combine all ingredients in a pan over medium-low heat. Bring to a soft boil, and simmer for 20 minutes, or until tender and syrupy. Remove the cinnamon quills, star anise and orange peel, and discard.
3. To make crumble topping, combine all ingredients in a mixing bowl. Using your hands, rub the butter into the oats, until you have a breadcrumb-like consistency.
4. Spoon the tamarillo filling into a baking dish, or leave in the pan if it's safe to put in the oven.Top with crumble and then pop into oven to bake for 20 minutes or until golden and bubbling around edges.
5. Enjoy warm, with a dollop of greek yoghurt or gently whipped cream.
Be inspired by the good things in life. Sign up now to receive emails from Viva, and twice a week you will be sent the latest news, profiles, videos, fashion shoots, competitions and more.
Share this:
More Food & Drink / Recipes