Eleanor Ozich's Favourite Recipes
Be inspired in the kitchen with Eleanor Ozich's favourite recipes from 2017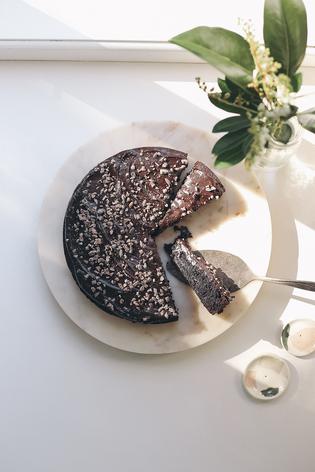 Deceptively Simple Cardamom Chocolate Cake
With a deeply rich, and pleasing texture, it will keep for 2-3 days in an airtight container. The cardamom is entirely optional, but I find it adds a nice complexity.
Perfectly Crisp Sweet Potato Chips
The perfect sweet potato chip is tricky to master, but this recipe will result in the tastiest, crunchiest chips you've ever eaten.
Salted Chocolate and Buckwheat Slice
You'll be happy to know that this slice is sensationally delicious, as well as healthy. The filling contains the magical ingredient of avocado, creating a sensuously rich ganache that's not overly sweet. There's also no cooking required, just good, pure ingredients.
Raspberry Yoghurt Pancakes
Everybody needs a perfect recipe for pancakes in their life. This is mine, and it might soon become yours, too.
Raw Banoffee Pie
A nutty-date base is topped with salted almond butter caramel, sliced bananas and a decadently luscious vanilla cream filling - the result is an ultra-lush dessert that I'm sure you'll love.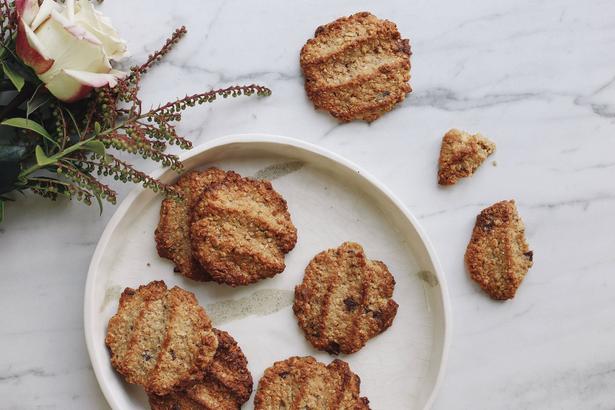 Vegan Chocolate Chunk Cookies
These deliciously chewy dark chocolate chunk cookies are made with oat flour, though I'm sure most types would work well here. This is my go-to recipe for when we have young guests coming over — who doesn't love a perfectly buttery chocolate chunk cookie?
Yoghurt Cake with Pears and Rosemary-Infused Caramel
This softly textured yoghurt cake is lightly spiced with cinnamon, and adorned with thin slices of pear. The star of the show, however, is the rosemary-infused caramel sauce, which is generously drizzled on top.
Spring Asparagus, Mint and Goat Feta Tart
A simple tart to make with clean and vibrant flavours. Rather than faffing around with pastry, I've encased the fragrant filling within a wholemeal wrap instead. The result is a delicious brunch to enjoy, alongside a generous serving of salad and spicy relish.
Toasted Quinoa Porridge With Almond Butter And Berries
Melt in your mouth quinoa porridge made extraordinarily creamy with coconut oil, almond butter and homemade cashew milk. I added sweetness here with a touch of cinnamon, vanilla bean, and glistening fruit. This recipe is lusciously nourishing, just as porridge should be.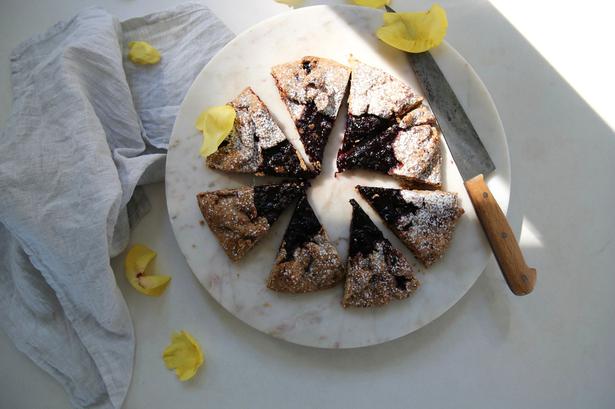 Cinnamon-Spiced Galette with Black Doris Plums
This is a rustic dessert that is nevertheless elegant at the same time, and is one of those wonderfully adaptable recipes that makes use of whatever fruit is in season. On this occasion, I've married boysenberries with black doris plums. It's lovely served with thick double cream, or a scoop of vanilla icecream.
Tasty Cinnamon Baked Pear Chips
These gently spiced pear chips are enhanced by a sprinkle of sweet, musky cinnamon, and baked until crisp. Try them with a sharp, salty cheese such as blue vein, or a gentler, creamy cheese like double cream brie or camembert. Or if you prefer, these crunchy little chips are of course, a satisfyingly delicious snack all by themselves. Great for filling lunch boxes, too.
Share this:
More Food & Drink / Recipes