Eleanor Ozich's Lemony Creme Tarts with Fresh Figs Recipe
Impress at morning tea-time with these pretty lemon tarts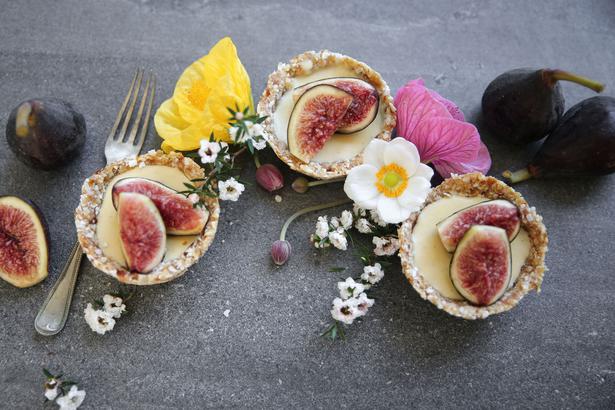 Thursday May 11, 2017
LEMONY CREME TARTS WITH FRESH FIGS RECIPE
Makes 9 tarts
I love fresh figs, with their delicate purple skin and crimson-coloured centre. Stunning in appearance, this fruit has a sumptuous flesh that's softly sweet, and little crunchy seeds that are strangely pleasing to eat.
Figs take beautifully to being baked into a cake, softened gently on the stovetop with a splash of red wine and honey, or enjoyed simply in their purest form. Here, they star in this lovely dessert, paired with a lemony creme filling — like custard in texture, but slightly more tangy and scented with vanilla. The tart crust is a throw-together affair and requires no baking. Altogether, a very simple dessert, that I'm sure you'll love.
For the crust:
¾ cup shredded coconit
¾ cup ground almonds or rolled oats
1 cup medjool dates, pitted
2 Tbsp coconut oil, melted
A pinch of sea salt
Lemony creme filling:
450ml cream or coconut cream
Juice of 1 and a half lemons
1 tsp pure vanilla bean paste
3 Tbsp honey
To decorate:
6 fresh figs, quartered
METHOD
1. Grease a nine-hole muffin or tart tin with coconut oil. I find silicon works best, as it makes life much easier when you need to remove the tarts from the tins.
2. To prepare the crust, combine all ingredients except for the coconut oil in a food processor, and pulse until the mixture resembles dense crumbs. Add the coconut oil, and pulse until it starts to come together.
3. Divide the mixture between the nine holes in the muffin tin, and press in evenly to create a tart crust. Pop in the fridge while you prepare the filling.
4. Combine the cream, vanilla and honey in a small saucepan over a low heat. Bring to the boil slowly, while stirring to dissolve the honey.
5. Once it comes to the boil, let the cream bubble away gently for three minutes or so, stirring continuously.
6. Remove from the heat and add the lemon juice, stirring thoroughly as you do so. It will begin to thicken.
7. Once the filling has cooled, pour into each tart case, and place in the fridge until set, or for at least two hours.
8. To serve, top with slices of fresh figs, and enjoy. Store in the fridge


Share this:
More Food & Drink / Recipes