Little Sticky Date Loaves With Ginger and White Chocolate Recipe
Eleanor Ozich shares a simple, satisfying recipe for sticky date loaves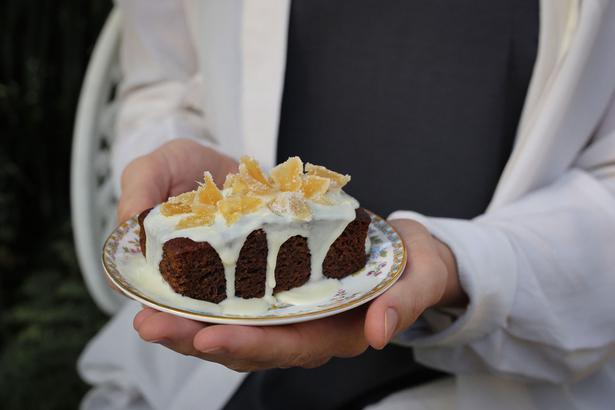 Thursday June 22, 2017
LITTLE STICKY DATE LOAVES WITH GINGER AND WHITE CHOCOLATE
Makes 12 mini loaves, or 1 large loaf

These sweet, sticky date loaves have a deeply moist crumb — the kind that should be part and parcel of such a recipe, made all the more delicious with a drizzle of white chocolate and a few slithers of crystallised ginger. Despite looking rather fancy, the method is very simple and this is a recipe that anyone can attempt.The loaves will keep for 3-4 days in an airtight container, or up to 3 months un-iced in the freezer.
1/3 cup unsalted butter, or coconut oil, melted
1½ cups fresh dates, pitted*
1 tsp pure vanilla extract
½ cup rapadura, muscovado or coconut sugar
4 free-range eggs
1 tsp baking soda
1 Tbsp apple cider vinegar
1½ cups oat flour, or ground almonds
For topping
150g good quality white chocolate
½ cup crystallised ginger, roughly chopped
*You could also use dried dates, soak them in boiling water for at least an hour or so before using, and drain well.
Method
1. Preheat the oven to 160C and grease 12 mini loaf tins. Alternatively, you could use muffin tins, or a large loaf tin, but be sure to adjust the baking time accordingly.
2. Add all ingredients to a food processor, and process until smooth.
3. Fill each tin 3/4 full, and place in the oven to bake for about 25 minutes, or until a skewer inserted into the middle of each loaf comes out clean.
4. Leave to cool for 10 minutes or so in the tins, before turning out on to a cooling rack.
5. Melt the chocolate in a double boiler, then drizzle over the loaves. Top with the crystallised ginger.



Share this:
More Food & Drink / Recipes