Eleanor Ozich's Peanut Butter and Jam Smoothie Recipe
Try this tasty recipe for the ultimate, indulgent smoothie - peanut butter and jam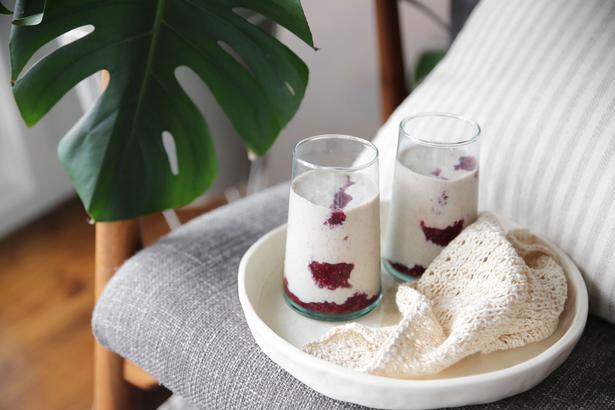 Thursday May 18, 2017
PEANUT BUTTER AND JAM SMOOTHIE RECIPE
Serves 2, and makes a medium jar full of jam. 
Voila! Here's my recipe for the ultimate, indulgent smoothie. It's rather impressive, quick to make, and tastes like a peanut butter and jam sandwich (well, kind of, in smoothie form anyway!). Perfect for kids and grown-ups alike.
Ingredients
For the jam:
2 cups frozen red berries
3 Tbsp honey, or pure maple syrup
¼ cup chia seeds

For the smoothie:
2 frozen bananas
1 Tbsp peanut butter
1 tsp vanilla extract
1 cup milk of your choice
A pinch of sea salt
1 Tbsp honey

Method
1. To make the jam, place the berries in a bowl, and cover with ¼ cup boiling water. Add the chia seeds and mix well, making sure they are well incorporated into the fruit. Allow to set for at least half an hour, then tranfser to a glass jar.

2. Combine all smoothie ingredients in a blender, and blend until smooth. You can add a little more milk to achieve desired consistency (I enjoy mine quite thick).

3. To serve, dollop spoonfuls of the jam into two tall glasses, and then top up with the smoothie. Store the jam in the fridge for up to four days.



Share this:
More Food & Drink / Recipes