Eleanor Ozich's Raspberry Yoghurt Pancakes Recipe
Earmark this yummy raspberry yoghurt pancake recipe for a simple breakfast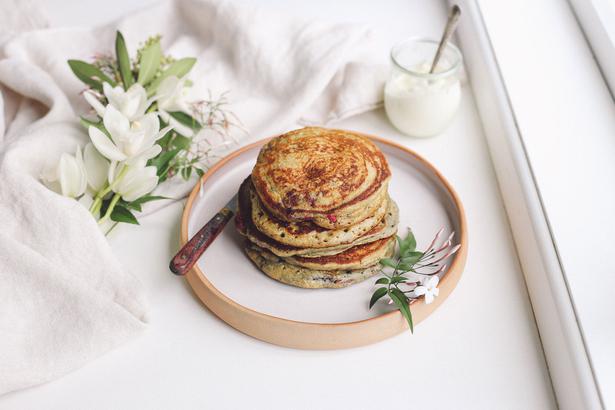 Thursday Aug. 3, 2017
Today I share an incredibly simple (yet infinitely delicious) recipe for raspberry and yoghurt pancakes. Everybody needs a perfect recipe for pancakes in their life. This is mine, and it might soon become yours, too.
RASPBERRY AND YOGHURT PANCAKES RECIPE
Makes about 12
Ingredients
2 cups wholemeal spelt flour*
4 Tbsp honey, maple or brown rice syrup
1½  tsp baking soda
½ tsp sea salt
1 cup natural yoghurt*
2 large eggs
1¼ cups fresh or frozen raspberries
Coconut oil or butter for greasing the pan
* You could use buckwheat flour or all-purpose flour to become gluten-free.
*If you're after a dairy-free version, you could use coconut cream instead of the yoghurt.
Method
1. Add all the ingredients to a blender, except for the raspberries. Blend until smooth. Gently fold in the raspberries.
2. Lightly grease a large pan over medium-low heat.
3. For each pancake, pour a heaping 1/3 cup of batter into the pan. As soon as little bubbles start to appear, turn the pancake over, then continue to cook for a further minute or so on the other side until golden.
4. Continue with the remaining batter.
5. Serve the pancakes warm, with honey, maple or rice malt syrup for drizzling.


Share this:
More Food & Drink / Recipes