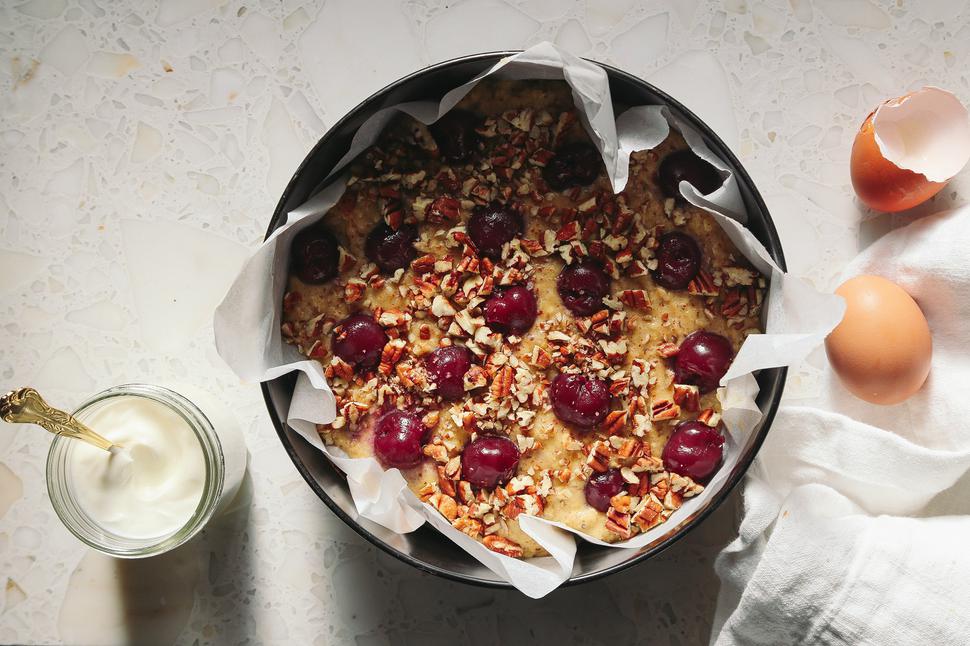 Eleanor Ozich's Simple Nut Flour Cake With Seasonal Fruit
Wonderfully simple yet deceptively delicious, this cake is perfect for all seasons
Thursday Oct. 11, 2018
Light with a soft, sweet crumb, this nut flour cake is a brilliantly basic recipe, which can be topped with almost all kinds of seasonal fruit. It's simple in appearance, yet I still find it super delicious to look at. And yes, billowy whipped cream would be lovely accompaniment.
NUT FLOUR CAKE RECIPE
For the cake:
½ cup natural yoghurt or coconut yoghurt
3/4 cup light muscovado sugar
½ cup olive oil or melted coconut oil
3 free range eggs
2 tsp vanilla bean paste
1 ½ cup almond, hazelnut or walnut flour/meal
½ cup oat flour
1 tsp baking soda
1 tsp ground cinnamon
½ tsp sea salt
For topping:
Seasonal fruit, sliced and cored
3 Tbsp oats or chopped nuts
1. Preheat the oven to 180C and line a cake tin with baking paper.
2. In a large bowl, whisk together the yoghurt, sugar, olive oil, eggs and vanilla, then gently fold in the remaining dry ingredients until just combined.
3. Pour the batter into the cake tin and smooth out evenly. Arrange your fruit on top, and then sprinkle over the oats or chopped nuts.
4. Bake for 40 minutes, or until a skewer inserted into the centre of the cake comes out clean. Allow the cake to cool in the tin for about 15 minutes, before carefully turning out on to a cooling rack. Will keep for up to 4 days in an airtight container.
Share this:
More Food & Drink / Recipes