Eleanor Ozich, the guru of good health
She's one of the hottest stars of Auckland's foodie scene right now. Eleanor Ozich of Petite Kitchen talks to Rebecca Barry Hill about her passion for clean eating and why we should be paying attentio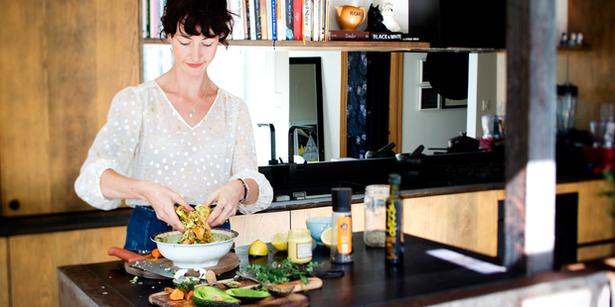 Wednesday April 30, 2014
Eighteen months ago, Eleanor Ozich was a stay-at-home mum of two who regularly posted recipes and photos on Facebook.
"We'd done a major overhaul of our diets to fix our daughter's eczema and I was documenting it," she says, at home in her rented Mt Eden villa. "My friends told me, you need to start a blog."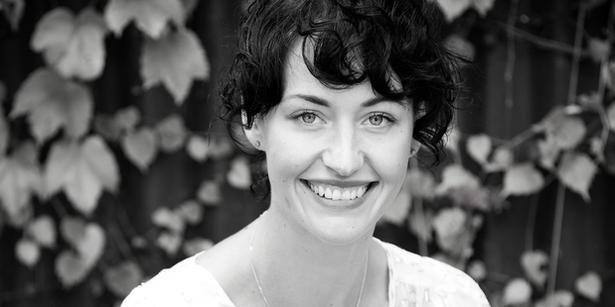 Her healthy online food diary Petite Kitchen became such a hit, she's now considered something of a clean eating, gluten-free guru and the viva.co.nz food columnist has just released My Petite Kitchen Cookbook, featuring 100 wholefood, gluten-free recipes. Her publishers have big plans for Ozich: the book is also being released in Australia and the UK - a rare achievement for a first-time author.
Forget dull vegan fare that calls for screeds of expensive ingredients. The 25-year-old keeps it simple and modern: apple and sage pork cassoulet, slow-cooked zucchini with basil and lemon, black bean chocolate brownies.
There's even her own healthy take on cheesecake, jam and wine, each dish complemented by her own photography - another skill she's taught herself.
"There's nothing difficult or complicated in there because I just don't have time to be in the kitchen all day."
She's also planning to open a cafe in Kingsland with fellow nutritionally minded blogger, Hannah Horton of the blog Health Yeah!.
Called Mondays, the pair hope the cafe will redefine the much-maligned day as something to look forward to, a healthy springboard for the rest of the week. Mondays will be set off New North Rd and will focus on providing nourishing takeaway options, such as nut milk smoothies and beautiful salads.
"I love food in its most raw state [when] it hasn't been in a package or been through any processes, there's nothing added to it, it's just food as it should be. That's what I'm all about."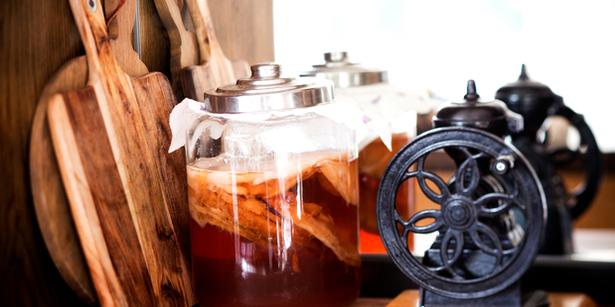 Despite Ozich's rapid rise, it hasn't been an easy journey. Her daughter Izabella, now 6, developed severe eczema when she was 2. "She had raised rashes that were bleeding, it was just horrible. She'd be up all night crying. It was the most horrendous thing. And it was getting worse."
She took her to countless doctors and specialists, who treated the condition with antibiotics and steroid creams. Ozich felt they weren't getting to the root of the problem, so as a last resort she visited a naturopath, who told her the disease stems from the gut, and that Izabella's gut bacteria was out of balance.
That led to a diagnosis of Gaps (gut and psychology syndrome) and a recommendation for Izabella to cut out carbohydrates. Ozich knew that wasn't a practical option unless the whole family - including husband Valentin and son Obi - adopted it.
"It was a tough couple of months in the beginning," says Ozich. "Bella didn't understand what was going on. But after four or five months, we noticed a huge change. She wasn't irritable, she was calm and although her skin got worse before it got better, the results were incredible. We had heaps more energy, too. There wasn't that brain fog you get from eating crap food."
* Try Eleanor's latest recipe for viva.co.nz, ginger pears with dark chocolate sauce.
Founded on the Specific Carbohydrate diet, Gaps is similar to the Paleo Diet in that there are few carbs but it's a little more complex (and, some say, confusing.) Followers eliminate grains, sugar, additives and preservatives, and focus on good-quality meat, good fats, eggs, high-quality butter and unpasteurised milk and yoghurt.
For the Ozichs, that meant joining a farm co-op and making their own cheese and yoghurt. The diet also uses a lot of bone broths and homemade stocks.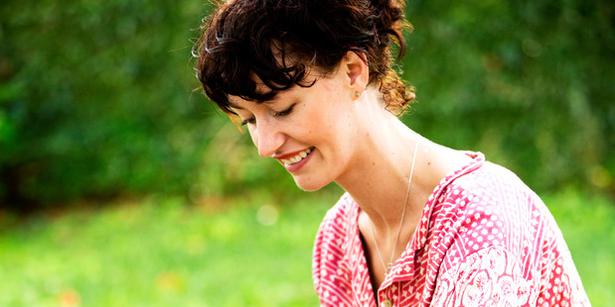 "The good gelatinous tissue in the bones is really healing for the digestive system." 
As Izabella's eczema cleared, Ozich's blog was gaining popularity. People suffering from similar struggles wrote to her from all over the world, asking for advice.
"In the beginning it was a bit of fun but after about a month I thought, 'Man, I absolutely love this' - I just knew it was what I wanted to do. I was just so passionate about being able to heal sickness through diet, and being able to share that food philosophy with others."
If there were two people who didn't totally get her way of eating straight away, it was her parents. For 18 years they ran Cripps, a European-style restaurant on Mt Eden Rd, where carbs were staples on the menu.
The family home was right above the restaurant, so Ozich has fond memories of nipping downstairs to watch the chefs work or sit and chat with the wait staff. "They probably thought I was really annoying. But it was where my love of food stems from."
Still, she wasn't sure what she wanted to do, leaving school early and dabbling in hairdressing before making the move into hospitality. She worked in cafes for five years, including a stint as manager at Mt Eden's Frasers Cafe. Life took an unexpected turn at 18 when she fell pregnant with Izabella.
She then married I Love Ugly menswear designer Valentin Ozich, and the pair opened a clothing store on Mt Eden Road. Four years and another store later, she fell pregnant with son Obi, now 2. It was while she was at home with him and not working that Petite Kitchen was born.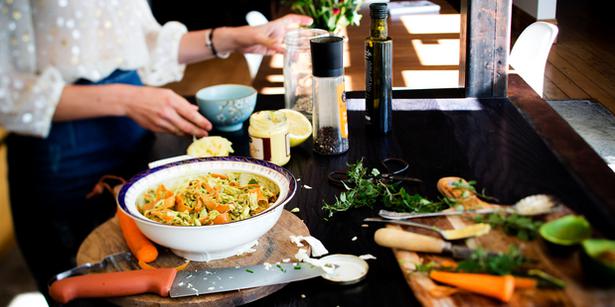 "None of it was planned really, it all just happened organically. I actually really struggled with the writing at the beginning - it took quite a few years to really get it. The same with the photography."
The initial photos were taken on her iPhone but using the advance from her cookbook, she went out and bought herself a proper camera.
"With the cooking, too, I'm constantly evolving. Even if I look back six months ago, my style has changed."
There are a few recipes she's most proud of: a green bean salad with artichokes, tossed with pine nuts and a yoghurt dressing, and her kids' favourite, sugarless cookies made from almonds and dates. Ozich says they do let the kids have the occasional treat and they're not overly strict about what they eat at parties.
But Izabella is now smart enough to know those treats can trigger her eczema. Likewise, while Ozich tries to stick to her clean eating plan most of the time, she still enjoys a coffee every morning and a couple of glasses of wine on a Friday night.
"It's all about moderation. I think people think I live this perfect life and eat these perfect foods. But you set yourself up for disaster if you try and be perfect all the time."

* Look for Eleanor's recipes on viva.co.nz every Thursday.
Share this:
More Food & Drink / Features & Profiles