Eleanor Ozich's Triple Chocolate Brownies Recipe
Don't skimp on the chocolate drizzle when making this decadent chocolate brownie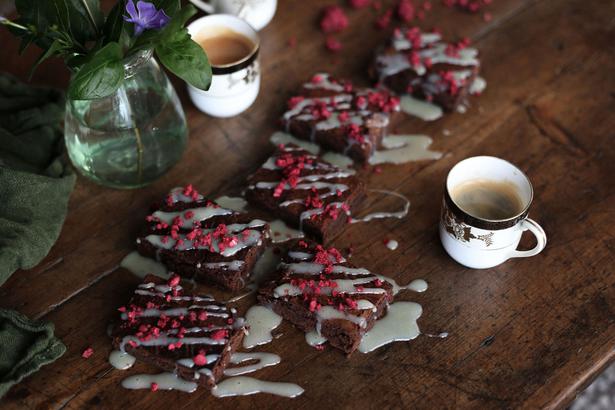 Thursday July 13, 2017
TRIPLE CHOCOLATE BROWNIES RECIPE
Makes 9
These triple chocolate brownies are on the deeply gooey and decadent side of the brownie spectrum, featuring a soft, fudgy texture, and pockets of molten chocolate throughout. The additional richness comes from adding a handful of chopped chocolate to the glossy batter, although not absolutely necessary. Well, neither is the white chocolate drizzle, or dusting of freeze-dried raspberries, but if you're going to all the effort, I figure you might as well?
Ingredients
80g unsalted butter
200g dark chocolate, at least 70 per cent cocoa
2/3 cup muscovado, rapadura or coconut sugar
2 large free range eggs
4 Tbsp flour (I used spelt flour, although buckwheat flour is a good gluten-free alternative)
50g dark chocolate chips, or pieces roughly chopped
For topping:
80g chocolate of your choice (I used white for a nice contrast)
2-3 Tbsp freeze-dried raspberries, crushed
Method
1. Line the inside of a small slice tin with baking paper, allowing the edges to overhang. Lightly grease the paper withmelted butter.
2. Preheat the oven to 180C.
3. Melt the butter and chocolate in a small saucepan over very low heat, stirring constantly until silky and smooth.
4. Remove from the heat and whisk in the sugar, then the eggs, one at a time.
5. Sift in the flour, and then continue to whisk the batter vigorously for at least one minute, until the batter is glossy and thick. Stir in the additional chocolate pieces, if using.
6. Tip the batter into the prepared pan, and smooth out evenly.
7. Bake for 24-26 minutes, or until the brownies are softly set in the centre. Be careful not to over-bake.
8. Remove from oven and allow to cool before removing from the pan and slicing.
9. Gently melt the the chocolate over a double boiler, and then drizzle on top.
10. To add the final flourish, sprinkle with crushed freeze-dried raspberries.
Share this:
More Food & Drink / Recipes