Eleanor Ozich's Vegan Caramelised Apple Cake Recipe
Make the most of apple season and try this tasty vegan cake recipe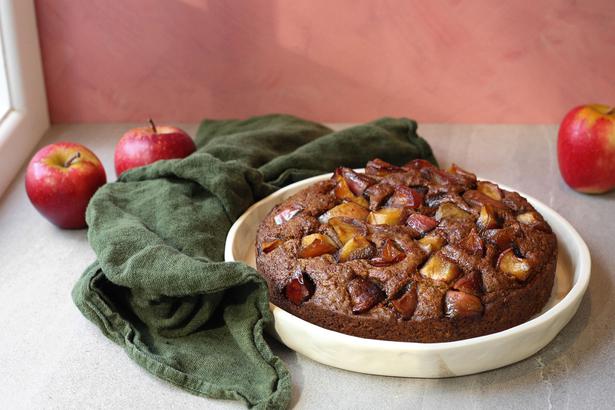 Thursday April 27, 2017
VEGAN CARAMELISED APPLE CAKE RECIPE
Melting within a crumble, baked in to a pie, or perhaps stewed in to a silky sauce for oatmeal, the humble apple is such a wonderfully versatile fruit at this time of year. On this occasion, I've folded soft and caramelised chunks of apple into a gently spiced batter, and then baked until golden. The recipe is vegan, although I've included a few variations as it can easily be adapted. I would offer a dollop of coconut yoghurt, to serve, or perhaps a drizzle of thick, coconut cream.
INGREDIENTS
For the caramelised apples:
3 apples, cores removed, and sliced in to bite size pieces
3 Tbsp rapadura or coconut sugar
For the cake:
3 Tbsp chia seeds
1/3 cup water
1 cup coconut cream, cream or natural yoghurt
½ cup coconut oil, or unsalted butter, melted
1½ tsp baking soda
1 Tbsp apple cider vinegar
2 cups spelt flour, or all purpose flour*
1 cup rapadura or coconut sugar
2 tsp ground cinnamon
1 tsp ground nutmeg
*To make gluten free, you could use all purpose gluten-free flour.
METHOD
1. Preheat the oven to 160C, and grease a cake tin, or line with baking paper.
2. Place the apple pieces and sugar in a small saucepan, and cover with water. Bring to a simmer, and cook over low-medium heat, until tender, and the water has reduced to a glossy syrup, about 20-25 minutes. Keep a watchful eye towards the end, as they can burn easily. Set aside to cool.
3. To prepare the cake, combine the chia seeds and water in a large mixing bowl, and allow to thicken, about 5 minutes. Whisk in the coconut cream and coconut oil until well combined, then sprinkle over the baking soda, and pour the vinegar on top, it will fizz and bubble.
4. Sift in the flour, then add the sugar, cinnamon, nutmeg and half of the caramelised apples, reserving the other half for decorating. Gently fold until you have smooth batter.
5. Tip the batter in to the cake tin, and smooth out evenly. Arrange the remaining apple pieces on top, and drizzle over the syrup.
6. Bake for 40-45 minutes, or until a skewer comes out clean when inserted in to the middle of the cake.
7. Allow to cool in the tin for about 15 minutes or so, before carefully turning out on to a serving plate. Will keep for up to three days in an airtight container.
Be inspired by the good things in life. Sign up now to receive emails from Viva, and twice a week you will be sent the latest news, profiles, videos, fashion shoots, competitions and more.
Share this:
More Food & Drink / Recipes