Eleanor Ozich's Recipe for Vegan Chocolate Chunk Cookies
Try this recipe for deliciously chewy dark chocolate chunk cookies, perfect for young guests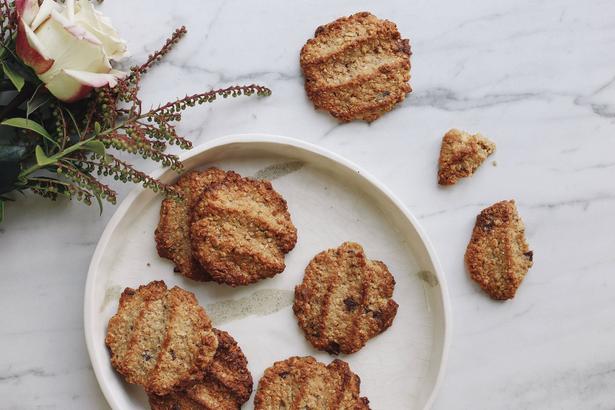 Thursday Aug. 31, 2017
VEGAN CHOCOLATE CHUNK COOKIES RECIPE
Makes 12 cookies

These deliciously chewy dark chocolate chunk cookies are made with oat flour, though I'm sure most types would work well here. This is my go-to recipe for when we have young guests coming over — who doesn't love a perfectly buttery chocolate chunk cookie?
1½ cups rolled oats
1 cup ground almonds
1 tsp baking soda
A pinch of sea salt
¾ cup rapadura, muscovado or coconut sugar
½ cup melted coconut oil or butter
1 linseed egg (see note), or 1 free-range egg
1 tsp pure vanilla extract
150g or 1 cup roughly chopped good-quality dark chocolate
NOTE: To make a linseed egg, mix 1 tablespoon ground linseed (flaxseed) with 60 ml (2 fl oz or 1/4 cup) water in a small bowl. The mixture will start to get thick and gluggy, with an egg-like consistency.
Method
1. Preheat the oven to 160C, and line two baking trays with baking paper.
2. Place the oats in a food processor and chop until the oats are of a super-fine consistency, similar to flour. You may need to scrape the side of the processor with a spatula every now and then.
3. Add the remaining ingredients except for the chocolate to the food processor, and process until the mixture comes together like a dough. Fold in the chocolate.
4. Using your hands, roll large handfuls of the dough into balls and place 3–4 cm apart on the baking trays. Press each ball in half to flatten them into cookies.
5. Bake for 10–12 minutes, or until the cookies are slightly golden. Will keep for up to 5 days in an airtight container.
Share this:
More Food & Drink / Recipes