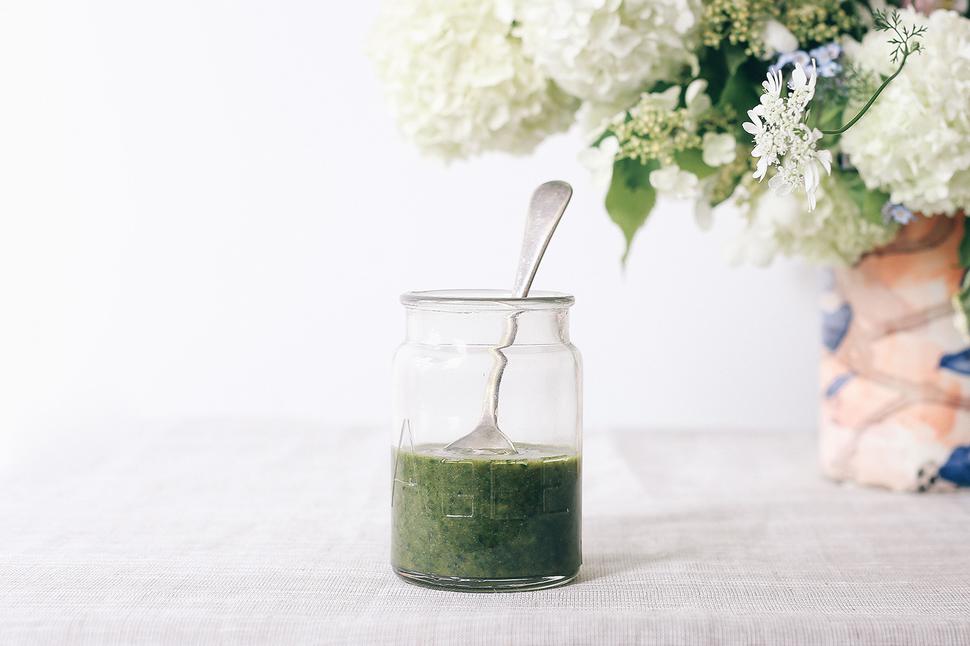 Eleanor Ozich's Go-To Green Salsa Recipe
A flavourful and zingy salsa that beautifully complements your meals, or equally shines on its own
Thursday Nov. 23, 2017
I use this fresh and zingy salsa sauce in so many dishes, that I simply can't remember life without it. Use as a dip, toss through pasta, dollop into tacos or slather all over grilled fish, there's a never-ending list of ways to enjoy this delicious recipe.
A few of the ingredients are non-negotiable, such a good quality extra virgin olive oil and lightly toasted nuts or seeds to build depth of flavour - but from there, you can whatever fresh herbs you have handy.
The salsa will keep in a jar in the fridge for up to 1 week.
MY GO-TO GREEN SALSA
Makes about 1½ cups
½ cup toasted walnuts, or nuts or seeds of your choice
¾ cup extra-virgin olive oil
1 large handful of Italian parsley, or fresh herbs of your choice
Juice and zest of 1 lemon
2 Tbsp finely chopped capers or olives
4-6 anchovy fillets, optional
2 garlic cloves, peeled
1 tsp Dijon mustard
1. Place all the ingredients in a food processor or blender, along with a large pinch of sea salt and freshly ground black pepper.
2. Process until the sauce reaches your desired consistency – I like mine a little rustic.
3. Taste and add a little more olive oil, lemon juice or seasoning as needed. 
Share this: