Emma Galloway's Dark Chocolate Tahini Bites
The lauded food blogger shares her recipe for nutty not-so-naughty morsels that are both vegan and gluten-free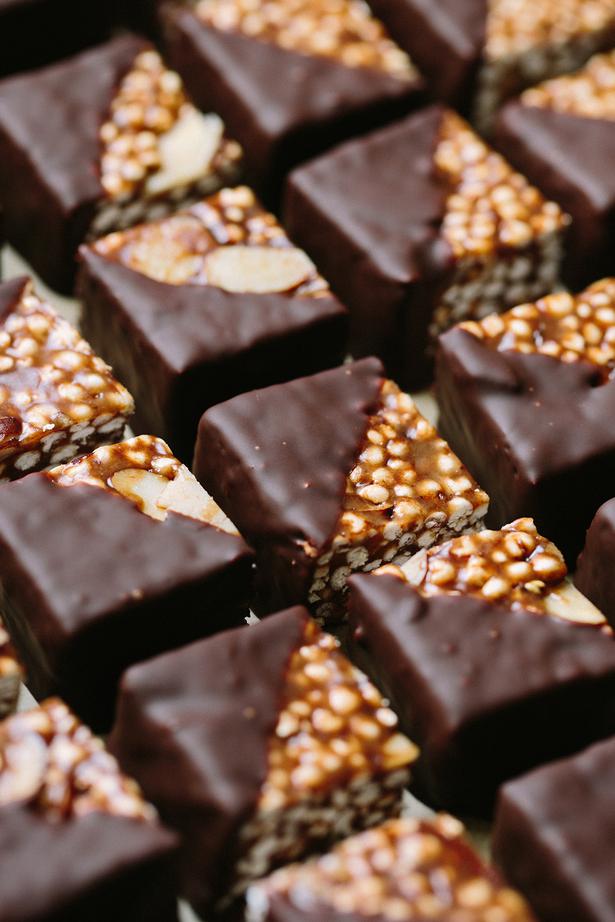 Wednesday April 28, 2021
These bites are a lovely low-sugar treat to have in the fridge for when chocolate cravings arise. I use hulled tahini because its flavour is less bitter than unhulled.
I've also learned from my dear friend and fellow cookbook author, Jude Blereau, that the extra calcium unhulled tahini supposedly contains 'will be bound in the hull with oxalic acid, so you won't get it'.
The bitterness in unhulled tahini is oxalic acid. You can replace the tahini with natural peanut butter or (my) Any Nut or Seed Butter or store-bought nut butter, if preferred.
DARK CHOCOLATE TAHINI BITES
Makes 40 small squares
50g (2½ cups) puffed millet/brown rice
70g (¾ cup) sliced almonds or 40g (¾ cup) shredded coconut
3 tablespoons raw cacao/cocoa powder
125ml (½ cup) pure maple/brown rice syrup
125ml (½ cup) hulled tahini
3 tablespoons virgin coconut oil
good pinch of fine salt
1 teaspoon vanilla extract
185g dairy-free dark
chocolate, broken into pieces
2 teaspoons olive oil
1. Grease a 28 x 18cm slice tin and line with baking paper. If you don't have a tin of this exact size, don't worry, these bites don't require baking — you can press the mixture into any-sized container or tin!
2. Place millet and almonds or coconut into a medium bowl. Sift over cacao/cocoa powder and mix well to combine.
3. Combine maple/brown rice syrup, tahini, coconut oil and salt in a small saucepan and bring to the boil over medium heat.
4. The second it starts to bubble around the edges, start stirring to prevent it catching. Simmer for 45 seconds, then remove from the heat and add vanilla. Give it a quick stir, before quickly pouring over the millet mixture.
5. Mix well then transfer to the lined tin, pressing down evenly with the back of an oiled spoon to compact. Set aside on the benchtop until cooled then chill in the fridge for 1 — 2 hours until set.
6. Slice into 40 small bite-sized squares with a lightly oiled sharp knife.
7. Line a tray with baking paper. Melt chocolate and olive oil in a small heatproof bowl set over a small saucepan of boiling water, making sure the bottom of the bowl doesn't touch the water.
8. Remove from the heat and dip half of each bite into the chocolate. Allow excess to drip back into the bowl, then place onto the tray. Return to the fridge for 15 — 20 minutes to set, then transfer to an airtight container. Bites will store in the fridge for up to 1 week, if you're lucky!
Note: If you can't be bothered with dipping each bite into chocolate, simply drizzle the melted chocolate mixture over the tray before cutting into bite-sized pieces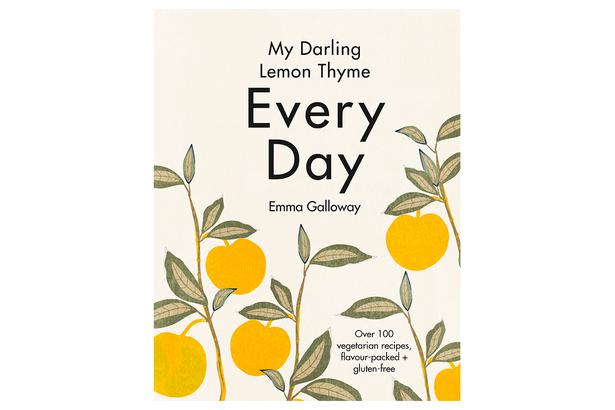 This recipe is extracted from 'My Darling Lemon Thyme: Every Day' by Emma Galloway (HarperCollins, $60)
Share this: