Falafel Tortilla Recipe
Try Angela Casley's delicious falafel tortillas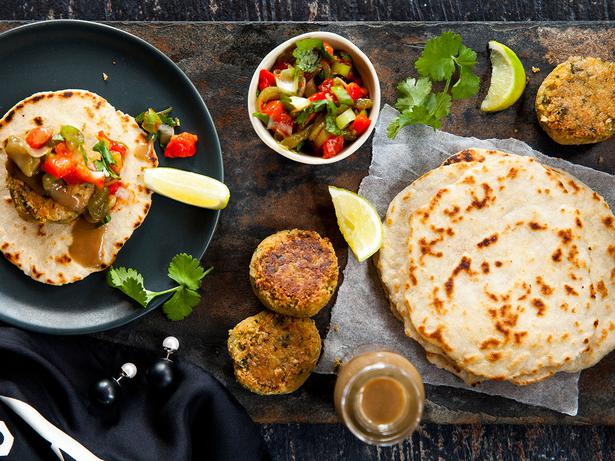 Friday Aug. 26, 2016
It is easy to pre-cook these falafels and mini tortillas, and have the salsa and dressing made and ready to serve. A quick zap in the microwave for the tortillas (or a few minutes in the oven wrapped in foil) and they are ready to top with the warmed falafel and dressings. This falafel mix also makes a fabulous burger patty — add to a ciabatta roll or pita pocket with dressing, lettuce and salsa.

FALAFEL TORTILLA RECIPE
Makes 20
2 x 420g tins chickpeas, drained
2 cloves garlic, chopped
Zest of 1 lemon
¼ cup parsley
¼ cup coriander
1 tsp ground cumin
½ tsp salt
1 Tbsp self-raising flour
Extra flour for dusting
Oil for cooking
Tortillas
2 cups flour
1 tsp baking powder
½ tsp salt
¾ cup boiling water
¼ cup flavourless oil
Salsa — ½ green pepper, ½ red pepper,
1 spring onion, coriander, salt and pepper
Dressing — ¼ cup tahini, ¼ cup lemon juice,
2 Tbsp runny honey
1. Into a food processor place the chickpeas, garlic, lemon, parsley, coriander, cumin, salt and flour. Blend until it sticks together. Roll into golf ball-sized balls then press down slightly. Place in the fridge until ready to cook.
2. Dust falafels lightly with flour and shallow fry on medium heat until crisp on both sides.
3. Combine chopped peppers, spring onion and coriander in a bowl. Season and set aside.
4. Shake dressing ingredients together in a jar.
5. To make tortillas, place flour, baking powder and salt into a large bowl. Combine water and oil and pour into the middle of the flour. Combine with a spoon and then tip on to the bench and knead together until smooth. Cut dough into 20 even-sized balls. Roll on a lightly floured board until thin and approximately 10cm in diameter.
6. Heat a lightly oiled pan to a high heat. Cook each tortilla for 2 minutes each side until lightly browned. Stack to keep warm while you cook the remainder.
7. Serve with falafels, dressing and salsa, along with coriander and lime wedges.
Share this:
More Food & Drink / Recipes