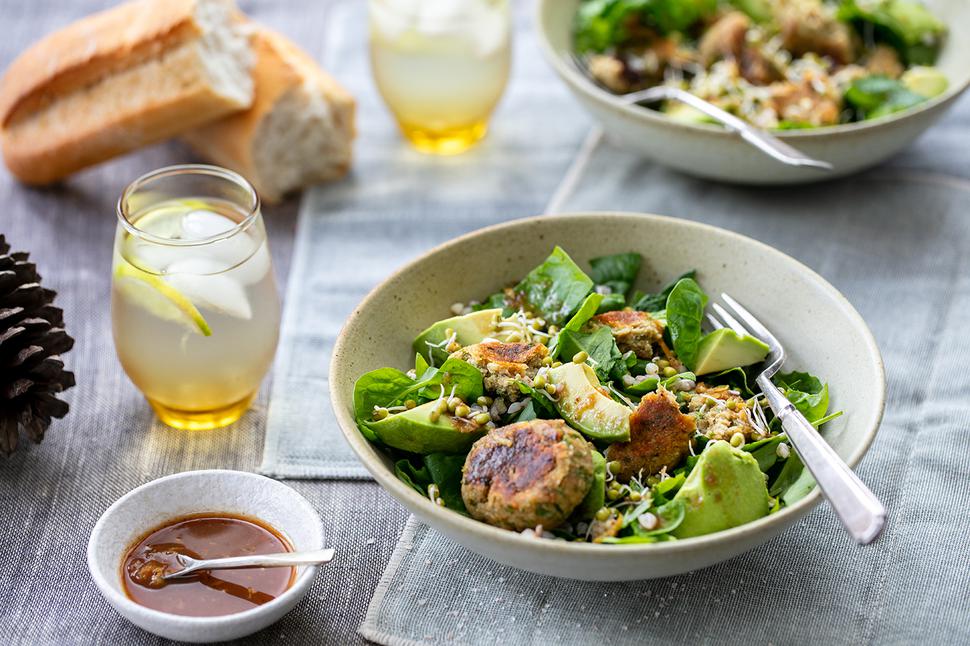 No-Fuss Falafels With Tamarind Dressing & Buckwheat Salad
A crisp vegetarian salad with the perfect amount of sweet-sour sharpness
Saturday May 1, 2021
Tamarind has a unique flavour; it's slightly tangy and a little sour but adding some sugar takes the edge off. It is a great base to dressings.
FALAFELS WITH TAMARIND RECIPE
Serves 4
Tamarind Dressing
2 Tbsp tamarind pulp
1 clove garlic, crushed
Zest and juice of ½ lemon
2 tsp grated ginger
1 Tbsp brown sugar
1 tsp fish sauce
1 tsp sesame oil
Falafels
Oil, for frying
400g tin chickpeas, drained
1 clove garlic
1 tsp ground cumin
2 Tbsp chickpea flour (or plain)
½ cup chopped parsley
¼ cup chopped coriander
½ tsp salt
Salad
1 cos lettuce, shredded
1 avocado, chopped
1 cup mung beans
1 cup cooked buckwheat
1. Firstly, make the dressing. In a jar combine the tamarind, garlic, lemon, ginger, sugar, fish sauce and sesame oil, shaking well.
2. For the falafels, place the chickpeas, garlic, cumin, flour, parsley, coriander and salt into a food processor, blending until it sticks together. Roll into walnut-sized balls, then push down slightly to flatten.
3. Heat the oil in a frying pan to a medium heat. Cook the falafels for a couple of minutes each side until golden. Remove.
4. To finish, combine the salad ingredients in a large bowl. Add half the dressing, falafels and toss through. Serve with extra dressing on the side.
Share this: