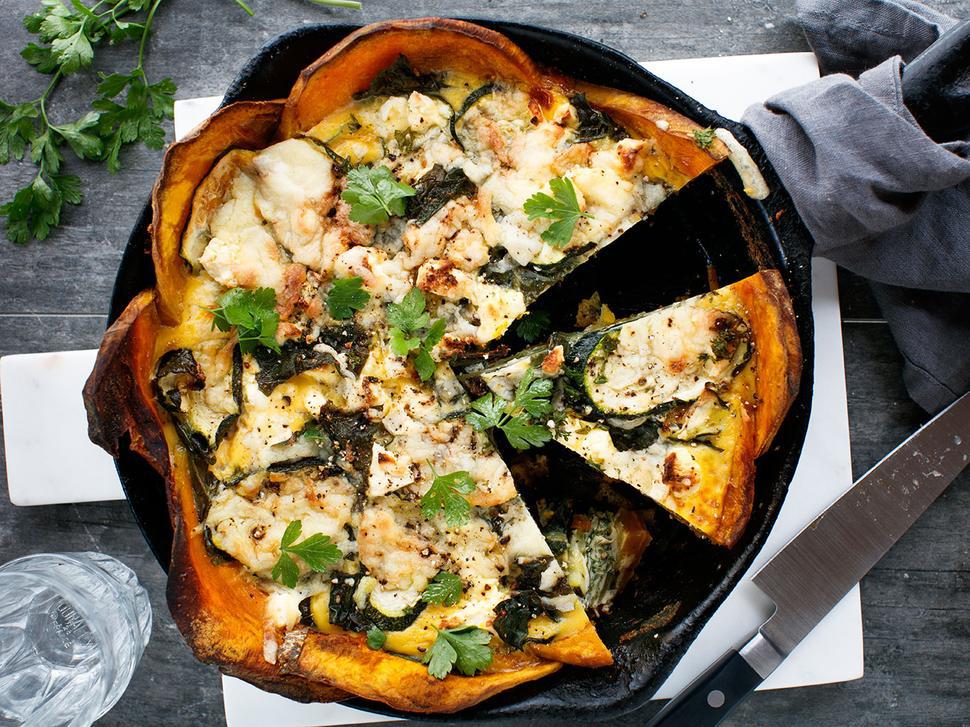 Fancy Potluck Dishes For a Party
Get inspired to try a new dish this season; these plates will deliver on deliciousness and visual impact at your next potluck party
Tuesday Dec. 5, 2017
Courgette Frittata
This frittata can be served warm or at room temperature. Thin slices of roasted pumpkin are used as the base and the filling is a medley of garlic flavoured courgettes, spinach and feta. 
Lamb Recipe Stuffed with Olive and Feta
Lamb shoulder has a little extra fat making it a moist and delicious cut. The feta, olives and anchovies add an incredible flavour, and the aroma will fill the kitchen as it cooks. Give it a little reheat just before serving, to get the lamb to its best.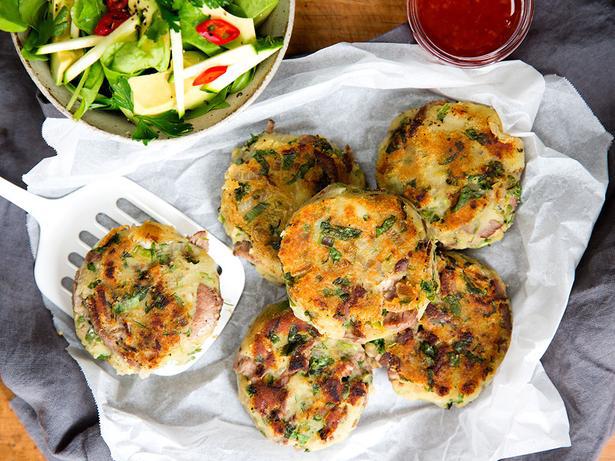 Kumara and Lamb Cakes
Sweet kumara collides with savoury lamb in this Kiwi-inspired hash cake. Prepare the lamb ahead of time (you could even make a big batch and keep it in the freezer), so all you have to do on the day is boil the kumara,  mix in the garlic, onion, soy sauce and oyster sauce and then fry the cakes. For a vegetarian option, try these pumpkin and quinoa cakes. 
Linguine with Tomatoes and Tiger Prawns
What could be nicer than tiger prawns, good quality linguine, garlic and chilli? This is a super quick meal to turn around. While the pasta is cooking, you can prepare the rest of the ingredients and then, within minutes, toss it all together and serve.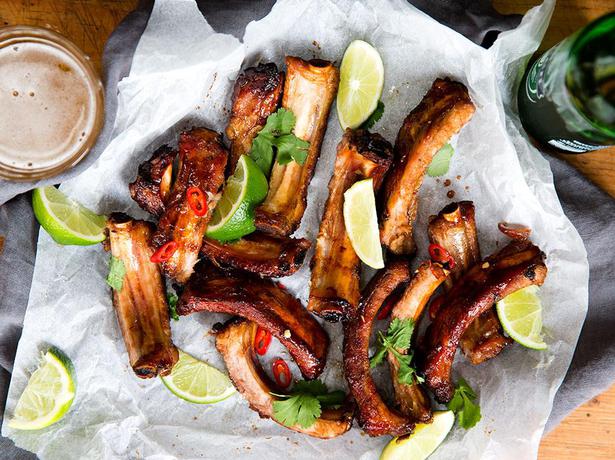 Hoisin Pork Spare Ribs
There'll be a little finger-licking going on with these ribs, but you're amongst friends so don't worry about a little mess. The hoisin, honey and ginger add plenty of flavour to the ribs. Finish it off with a squeeze of lemon for a citrus hit.
Jamaican Jerk Chicken
This fabulously fragrant chicken is marinated in a punchy Caribbean-style sauce full of warm and delicious spices. Grill the chicken on the barbecue to intensify the flavours, or pan-fry if it's easier. For maximum flavour, marinate the chicken overnight.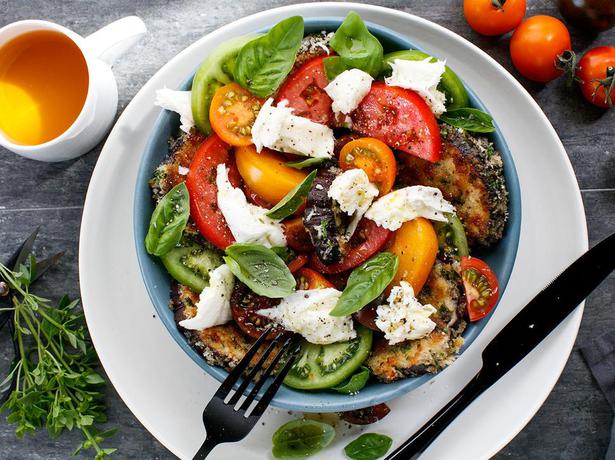 Tomato and Mozzarella Salad with Crumbed Eggplant
We simply can't go past a beautiful array of fragrant and flavoursome tomatoes in summer. They are simply magnificent, in all shapes, sizes and colours. The eggplant is coated with egg and breadcrumbs, then fried with a crispy coating. This is delicious when combined with tomatoes, soft white mozzarella and basil.
Lentil Salad Recipe with Prosciutto and Plums
Homemade is always best when it comes to aioli but buying a good quality substitute is a good option too. Simply add a little zest and the juice of half a lemon. Sprinkle on microgreens or shredded basil, which complements all stone fruit and give a good grind of fresh pepper to finish.
Baked Brie in Sourdough
This baked brie in a sourdough loaf has a wonderfully rustic feel, and it will bring an extra sense of indulgence to the party. For a short-cut version, use a store-bought onion jam as the base, but be sure to add the sage leaves for their point of difference and delicious flavour.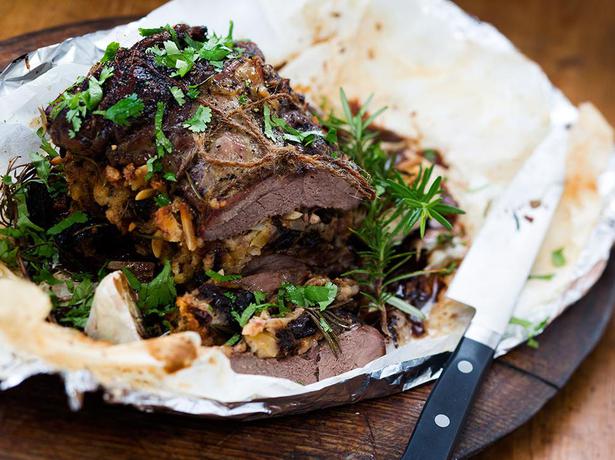 Stuffed Leg of Lamb with Prunes and Almonds
A substantial potluck dish to serve is a leg of lamb. This lamb is stuffed with a delicious mixture of breadcrumbs, almonds, prunes, rosemary, garlic, onions and prosciutto. Make this ahead of time and pop it into the oven about half an hour before serving - adding a little heat will get the lamb juices flowing. 
Haloumi, Spinach and Dill Fritters with Greek Yoghurt 
Tuck into these crisp halloumi fritters packed with spinach, fresh dill and mint. Ground almonds take the place of flour in this recipe and add a somewhat pleasing texture. Serve with thick, creamy yoghurt and a sprinkling of dukkah.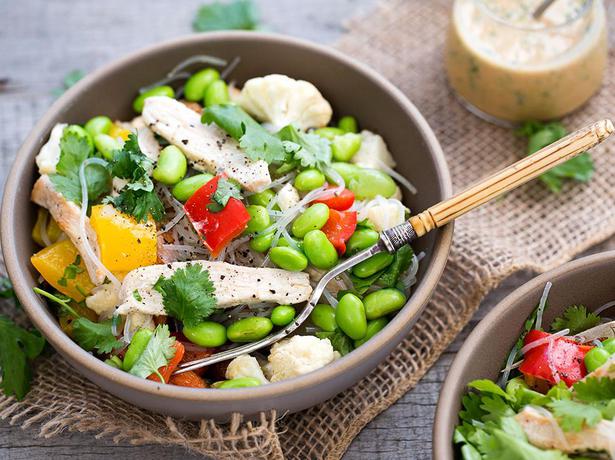 Chicken, Edamame with Noodles and Miso Dressing
This a fresh and light salad that uses glass (or cellophane) noodles, making this a tasty gluten-free option (make sure to use gluten-free soy sauce in the dressing). Edamame delivers a sweet, slightly nutty flavour and a good bite to this Japanese-inspired dish. 
Roast Pumpkin with Curried Greek Yoghurt
This is a hearty vegetarian dish that will add vibrant colours and wholesome flavours to your summer barbecue or buffet. The colours of this pumpkin and aubergine salad with pomegranate seeds, will look great on any dinner table. Vegetarians will thank you for this dish.

Roasted Salmon With Red Pepper Sauce
Basil is red pepper's best friend. The two together, especially when paired with a little olive oil and garlic, is the absolute essence of the Mediterranean. The deep sweetness of the roasted pepper sauce is exceptional drizzled over delicate roasted salmon. Serve warm with a green salad and crusty sourdough bread.
Smoked Fish Salad with Orecchiette
All fish types can be smoked, so the options are endless. If you smoke your own fish, even better. For this salad, it is combined with fresh vegetables and tossed together with lemon aioli. Use homegrown tomatoes in the bowl especially at the height of summer when their flavours are at their sweetest.
Beetroot and Smoked Fish Salad
It's always good to have a healthy option available and this smoked fish and brown rice salad is one that will also deliver on big flavours. The dish has plenty of fresh vegetables - beetroot, celery, carrot and capsicum - an Asian-inspired dressing. Top with fresh coriander and roasted chopped nuts for a fine finish. 
Raw Coconut Fish
Raw fish is a light dish to serve, and is always a crowd-favourite for seafood lovers like us. Place a lettuce leaf on a slice of fresh white bread, pile with fish, wrap and eat.
Share this: