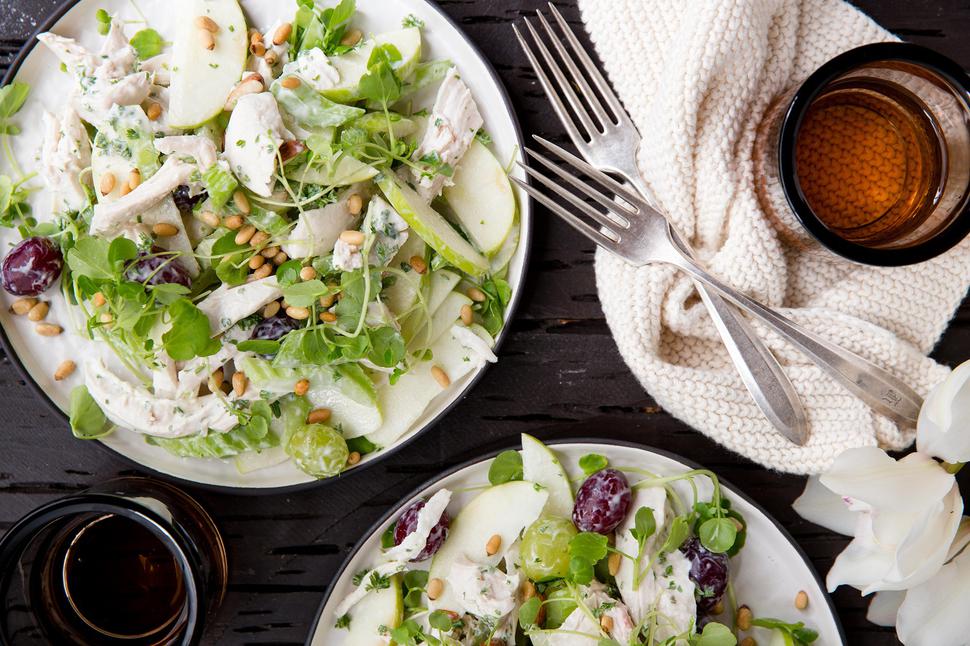 Fancy Salad Recipes To Add To Your Repertoire
These sophisticated salads take lettuce to new levels
Wednesday April 10, 2019
Waldorf Salad With Poached Chicken
An oldie but a goodie — Waldorf salad may just be the original fancy salad. It has all the right things going on — tender chicken, crunchy celery and nuts, creamy dressing and fresh apples and grapes.
Halloumi & Israeli Couscous Salad 
Stretchy, golden halloumi is the perfect way to take an ordinary salad and make it irresistible. Add chopped artichokes and green olives if you want some extra wow-factor.
Peach Salad With Chicken, Sorrel & Avocado
Chicken and peach prove to be the perfect pair in this simple salad. Sorrel leaves add interest, although you can swap sorrel for baby spinach if you can't get your hands on any.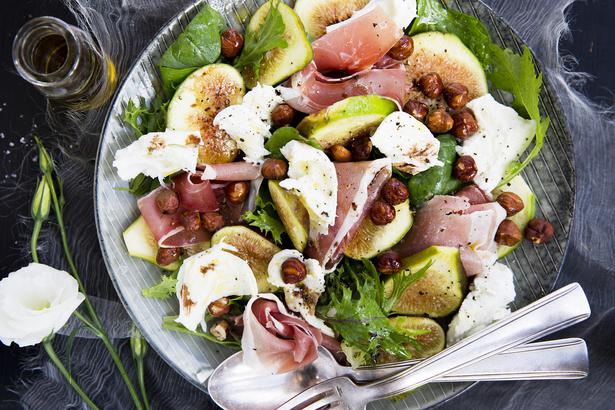 Fig, Mozzarella & Prosciutto Salad
Quick and elegant, this fig salad is perfect for any occasion. The combination of fresh figs, soft mozzarella and thin slices of proscuitto make this salad look and taste sophisticated. 
Barbecue Prawn, Pineapple & Avocado Salad
Big juicy prawns, caramelised barbecued pineapple and creamy avocado are a recipe for success in this tasty salad. Be sure to enjoy with an extra wedge of lime.
Melon & Marinated Feta Salad With Basil
This melon salad is a summer must for every occasion — from work lunches to backyard barbecues. The slightly salty marinated feta brings out the honeyed flavour of the melons. It's also perfect to toss into other salads or to add to an antipasto platter.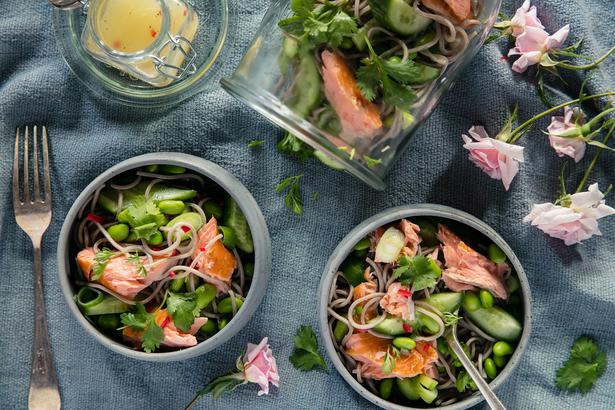 Salmon Soba Noodle Salad With Chilli & Lime Dressing
Make your next salad more of a meal with the addition of soba noodles and protein-packed salmon. Serve with crunchy vegetables and a zingy dressing for a tasty lunch or dinner. 
Barley Bowl With Roasted Nuts & Grilled Avocado
The right amount of crunch in this barley bowl paired with creamy grilled avocado is a delight and perfect for a vegan-friendly workday lunch or weekend picnic. Cook the barley and toast the seeds and nuts early in the piece so they're ready to rock. Then throw it all together. Easy as that.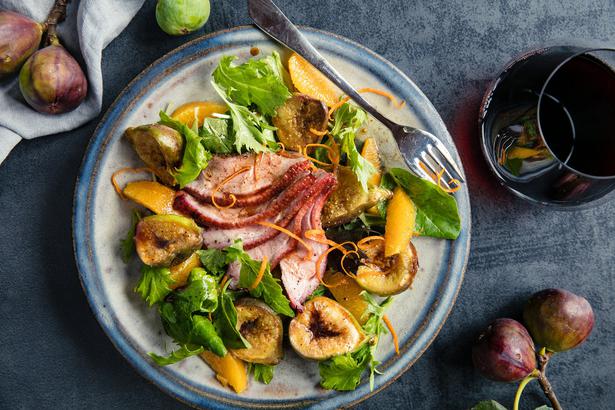 Duck, Orange & Roast Fig Salad
This salad sounds fancy, but is secretly so simple to make. The jammy texture of the figs is lovely served with thinly sliced duck and orange segments. Simple yet sophisticated and a total pleasure to serve to friends.
Crunchy Chicken, Spinach & Pine Nut Salad With Orange Dressing
Cheat your way to a delicious meal with this throw-together salad. It sounds full-on, but really only needs store-bought cooked chicken and a light orange and Dijon mustard dressing. Yum.
Chicken Salad with Barley & Walnuts
Green goddess dressing is what makes this salad shine — a creamy creation of buttermilk, mayonnaise, fragrant herbs and lemon juice. You can roast and shred the chicken in advance, and simply assemble on the day.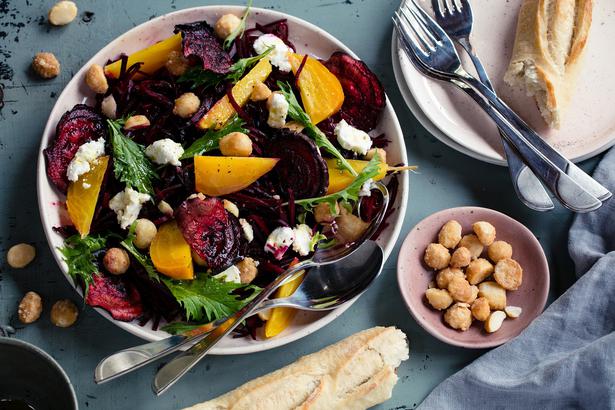 Beetroot Salad With Rocket, Macadamia & Goat's Cheese
This sophisticated salad sees beetroot boiled, grated and roasted, then paired with creamy goat's cheese and honey-roasted macadamias. Serve with crusty bread and a drizzle of honey for sweetness.
Chicken, Artichoke & Olive Salad
This recipe takes humble pasta salad to delicious new heights with the addition of artichokes, caramelised onions and garlic aioli dressing. Enjoy for a simple meal or add to a picnic spread — it's sure to be a winner.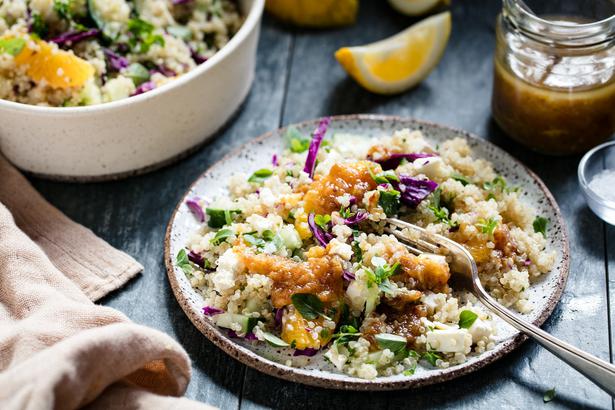 Citrus Quinoa Salad with Lemon Dressing
Use this quinoa and lemon salad as a base then top with grilled chicken or fish. Toss the lemon segments through the salad to add a surprising, tangy bite and beautiful colour. The dates in the dressing make for a wonderful sweet/sour combination.
Freekeh & Feta Salad With Spicy Lamb Cutlets
Try putting a twist on a good old Kiwi salad with a scattering of freekeh, which is found in a lot of Middle Eastern cuisine. It has a unique flavour and is a nutty and slightly chewy grain that's great to cook with. Don't be scared off by having not used it before.
Share this: