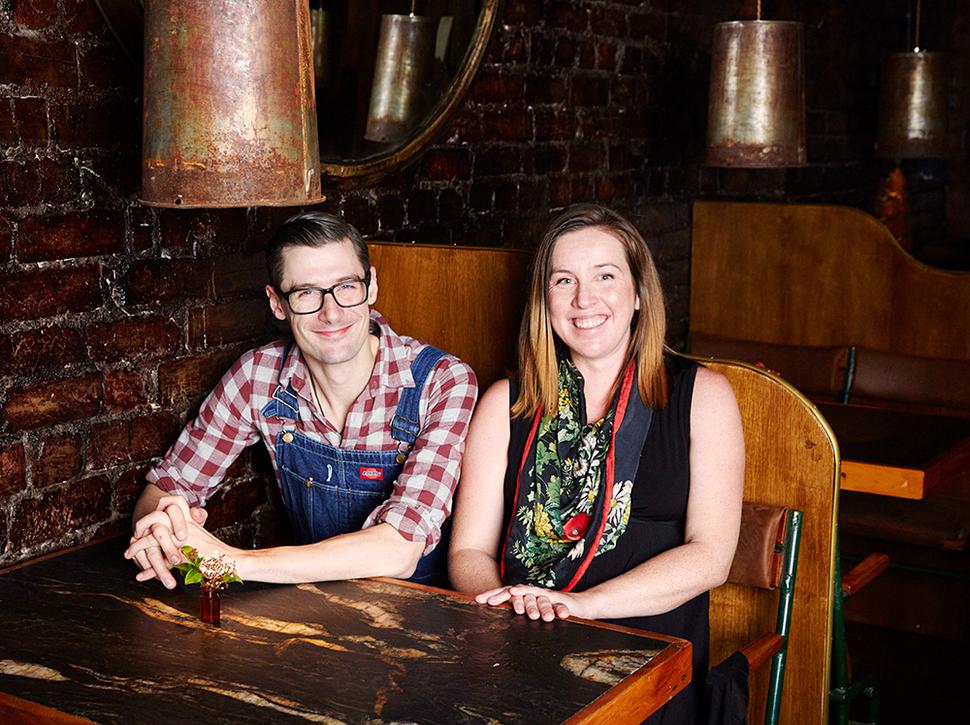 Favourite Drinks: Caretaker & Deadshot Bar Owners Alastair Walker & Heather Garland
The cocktail connoisseurs are out to revive the classics at their latest bar
Saturday June 16, 2018
The husband-and-wife team behind Britomart's Caretaker and latest bar Deadshot are pretty serious about serious booze.
Take, for instance, Alastair's favourite cocktail, which comes served in a deceptively tiny glass but packs one hell of a punch thanks, he says, to its base of absinthe. Whereas Heather's favourite is a spicy and savoury concoction of tequila, lime, hot sauce and cucumber, which some may think is a little less hardcore. That is until she mentions it's great shot down alongside breakfast.
We're inside the bartending duo's new drinks den Deadshot (formerly Le Viet restaurant) on Ponsonby Road. The low-lit fit-out is rustic and wooden, nodding to an early settler theme, says Heather, which explains the staff's attire of denim and plaid.
The Viva Team's Favourite Happy Hour Spots For Top-Notch Drinks
"Most bars do London or New York. We wanted to make it feel like New Zealand back in those times," she says. In order to have the bar looking "not too bling," they hunted down an eclectic decor, think old-style dressers for the back bar, antique mirrors and old cinema chairs for the intimate booth seating.
What you won't find is a cocktail list, instead there's table service to craft drinks to your preference. "It's about getting people to explore things they might not normally drink," says Heather.
It's also to ditch any fussy orders and strip it back to the classics, they say. All of which will not be poured for a dainty sipper; the name, Deadshot, comes from cowboy slang for strong liquor.
READ: Where To Find: Auckland's Best Bar Food
"The three-ingredient drinks like a Manhattan or Sazerac often get missed," says Alastair. "Rather than lots of ingredients, it's all about how we make them."
Take the custom-made ice, as a token of that attention to detail, which is filtered and crystal clear. Watching Alastair skilfully carve each chunk to perfect size is almost hypnotic, or would be by the end of a glass. "You want bigger bits at the bottom, and smaller at the top, so it melts slowly and is colder," he reveals.
On a busy night, they'd go through 7000 cubes, says Heather, and up to 2000 cocktails per week between Deadshot and Caretaker.
The couple have been honing their craft for years and met when jointly running Melbourne's award-winning bar The Everleigh. They moved here in 2016 to open Caretaker.
READ: Q&A With World-Famous Bartender Charles Schumann
Their shared passion to create that magic "cheers moment" keeps them in the late-night business, they say, and it's all rather contagious. You'd be hard-pressed to leave one of their spots without smiling and pining for another round.
OUR FAVOURITE DRINKS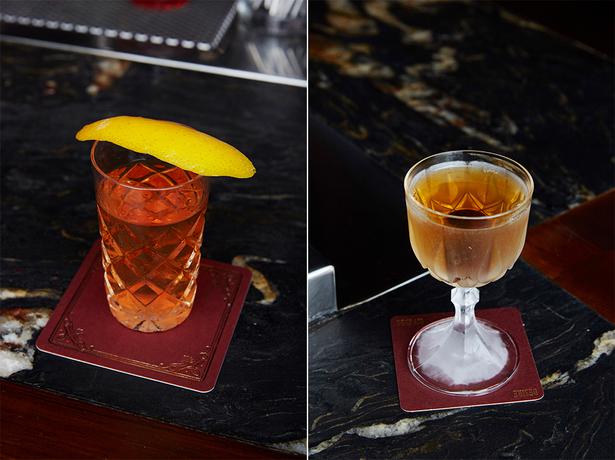 1. Sazerac
A Sazerac is an old drink from New Orleans originally started with cognac but became popular with whiskey. It starts with a sugar cube and Peychaud's bitters, then two shots of rye whiskey, stirred down and put into a glass with absinthe in it. It's one of the few drinks that really improves as it warms up.
2. The Deadshot
One of our signatures, this has orange bitters, absinthe, vermouth, cognac and calvados. It's then garnished with house cherries, which we pit and cook in pinot noir, brandy and spices. With three French ingredients it has a long-lasting flavour and is a touch on the sweet side but not too much. It's also pretty bloody strong.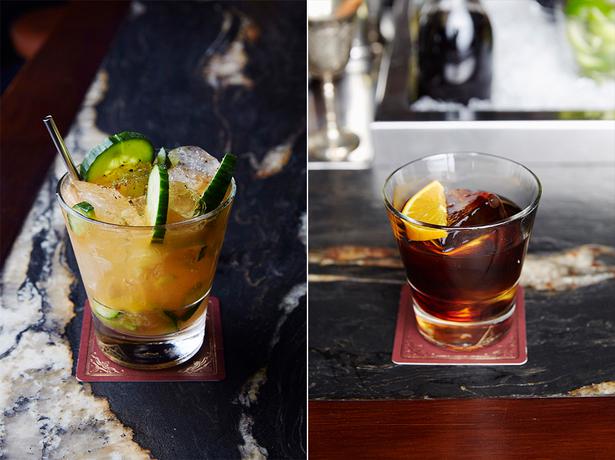 3. El Guapo
This drink has tequila, lime and sugar, hot sauce and cucumber. There's salt and pepper on top too so it's kind of savoury and spicy.
4. Migration
A Migration is kind of like an old-fashion, which has Gosling aged rum, sweet vermouth, cynar and Cruzan blackstrap rum. It has a really dark, rich, slightly bitter and molasses flavour.
Army Navy (left), inside Ponsonby's new drinks den Deadshot (right). Photo / Rebecca Zephyr Thomas

5. Army Navy
This is a sweet, refreshing and nutty flavoured drink. With a base of gin with freshly squeezed lemon juice and Orgeat almond and orange blossom syrup.
Share this: