Feijoa Strudel Recipe
Feijoa is delicious baked in a strudel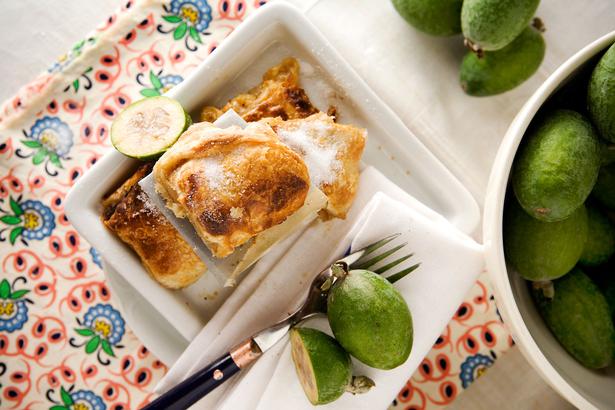 Wednesday April 6, 2011
Cook feijoas with vanilla, a little cinnamon, brown sugar, lemon and a splash of sherry then wrap them in puff pastry and bake to make a scrumptious strudel which is good with either yoghurt or custard.
FEIJOA STRUDEL RECIPE
Serves 4-6
1 packet of puff pastry — preferably made with butter
8 large feijoas
1?2 Tbs butter, plus more to melt and brush overthe pastry before baking
1 tsp vanilla extract
Finely grated zest of one lemon
1?2 tsp cinnamon
2 Tbs sherry
1?4 cup brown sugar
Yoghurt or custard to serve
1. Roll the pastry out on a floured board to an oblong shape, approximately 25cm by 35cm.
2. Halve the feijoas and scoop out the flesh. Roughly chop and put into a saucepan with the remaining ingredients. Simmer gently for 15 minutes then let cool. Preheat oven to 200C.
3. Spread the filling on the pastry to within 3cm of the edges on the side but leave more space at the top. Carefully roll up the pastry from the long side then brush the edge with a little water to seal.
4. Melt 1 tablespoon of butter and brush over the pastry then bake for 20 minutes or until the pastry is golden brown. Slice and serve hot with custard or yoghurt.
Share this:
More Food & Drink / Recipes