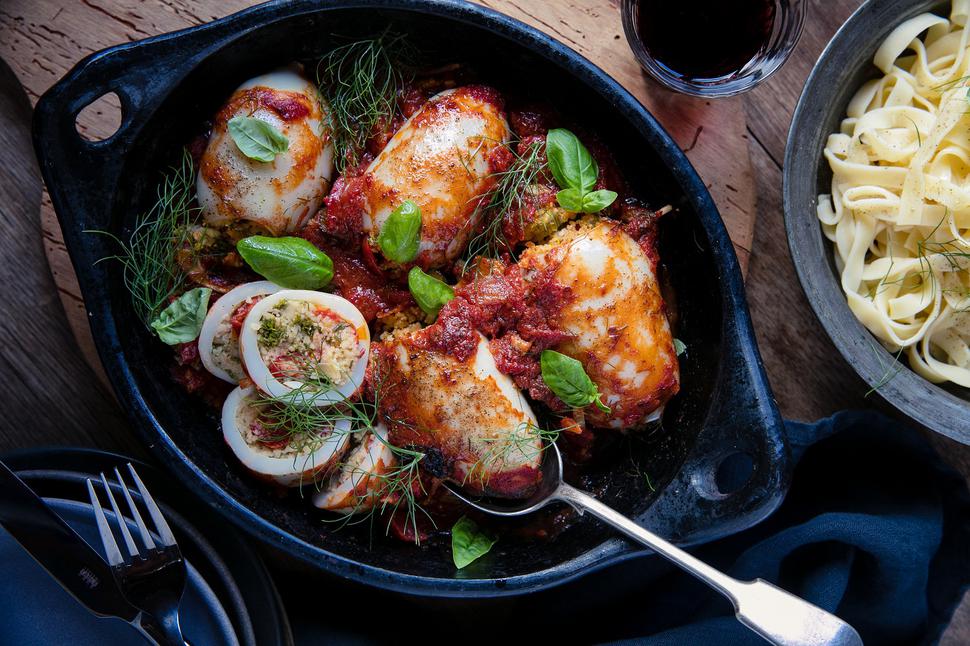 Fennel & Couscous Stuffed Squid
Add something a little different to your dinner routine with this divine stuffed squid
Friday Nov. 2, 2018
Readily available at your local supermarket, squid is fun to stuff, and will surprise guests. Blanching it before cooking will avoid it shrinking when baked. Served whole or sliced as part of a buffet, either way the flavours and texture are surprisingly perfect. The chopped tomatoes keep the mixture moist and add to the flavour.
FENNEL & COUSCOUS STUFFED SQUID RECIPE
1 cup couscous
2 cups hot chicken stock
2 Tbsp olive oil
2 cloves garlic, crushed
1/2 onion, chopped finely
1/2 head fennel, chopped small
8 cherry tomatoes, halved
Zest of 1/2 lemon
1 Tbsp capers
1/2 cup chopped parsley
1/2 cup chopped basil
1 egg
1/2 cup grated parmesan
Salt and pepper to season
6 squid tubes
2 cups passata
Garnish with fennel fronds and basil leaves
1. Soak the couscous in the stock for 10 minutes then fluff with a fork. Set aside.
2. Heat the oil in a frying pan. Add the onion, garlic and half the fennel, cooking until soft but not brown. Add to the couscous, along with the tomatoes, zest, capers, parsley, basil, egg and half the parmesan, mixing well. Season with salt and pepper. Sprinkle over herbs.
3. Preheat the oven to 180C.
4. Dip the squid into boiling water for 30 seconds, refresh under cold water. Pat dry inside and out. Stuff the tubes with the couscous mixture and place into a greased baking dish. Top with passata, remaining fennel and sprinkle over the ¼ cup parmesan. Cook for 25 or 30 minutes.
5. Serve whole or sliced with a salad.
Share this: