Fennel and Gruyere Arancini Balls Recipe
Try these delicious deep-fried arancini balls with fennel and oozing gruyere cheese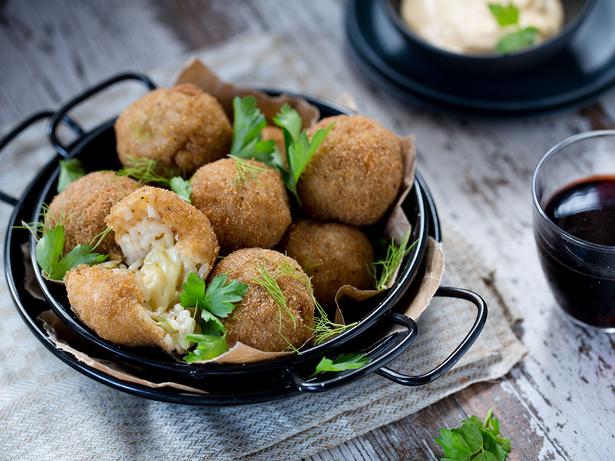 Friday April 7, 2017
Fennel provides a subtle surprise flavour and crunch alongside the oozy gruyere cheese in these delicious deep-fried arancini balls. Add a dollop of aioli for an extra touch.
FENNEL AND GRUYERE ARANCINI BALLS RECIPE
Makes 12-15
1 Tbsp olive oil
20g butter
½ onion, chopped finely
½ head fennel, chopped finely
2 cloves garlic, crushed
1 cup risotto rice
½ cup white wine
3 cups chicken stock
10g butter
½ cup grated parmesan
50g gruyere, cut into cubes
2 eggs, whisked with a fork
1 cup breadcrumbs
Oil for cooking
½ cup aioli to serve
Garnish with 1 Tbsp chopped parsley
1. Heat the oil and butter in a medium-sized pot. Add the onion, fennel and garlic, cooking for 5 minutes until softened but not browned.
2. Add the risotto rice and stir through for 2 minutes. Pour in the wine, and cook until it has been absorbed. Add the stock one cup at a time, allowing it to be fully absorbed before adding the next. When all the liquid is absorbed, remove from the heat. Stir through the butter and parmesan then allow the mixture to cool completely.
3. Roll the cooled mixture into balls, placing a cube of gruyere into the centre of each ball.
4. Dip the balls into egg and breadcrumbs, place on a tray and refrigerate until ready to cook.
5. Either cook the arancini in a deep fat fryer or half-fill a pot with oil and cook in batches for 2 or 3 minutes, turning if need be.
6. Serve with a small bowl of aioli for dipping and a sprinkle of parsley.
Be inspired by the good things in life. Sign up now to receive emails from Viva, and twice a week you will be sent the latest news, profiles, videos, fashion shoots, competitions and more.
Share this: